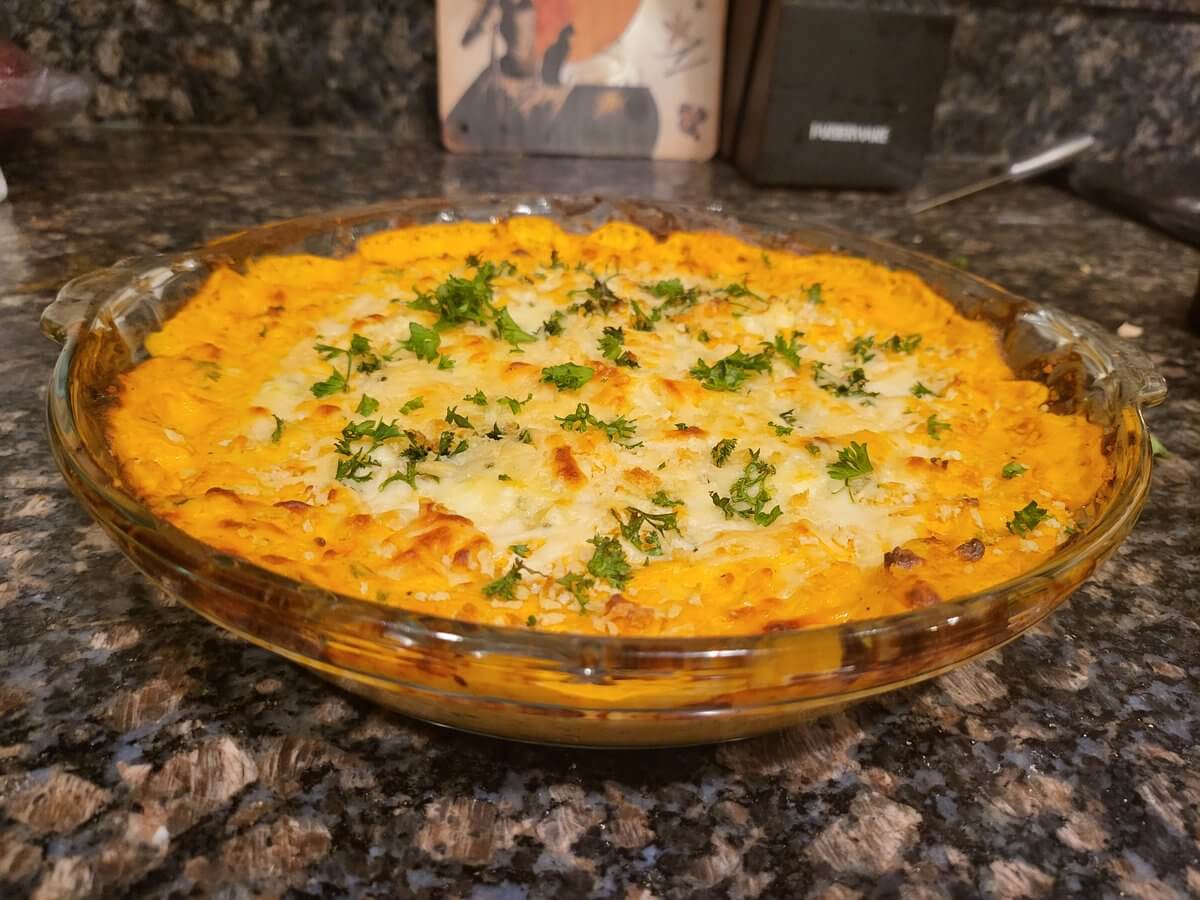 Warm Crack Chicken Dip is a delicious choice for snacking. It is easy to make and just the right drip for game day or movie night.
Variation ideas
Here are a few ways you can change this dip:
Cheese: You can use cheddar cheese, Mexican blend cheese, or Colby jack cheese as well.
Meat: You can use leftover steak or shredded pork/beef/turkey for this recipe as well.
Toppings: Top the dip with freshly chopped green onions, parsley, or dill.
Bacon: Add cooked bacon pieces to the dip for more flavor and texture.
Can you make this dip in a slow cooker?
Absolutely! Making this dip in a slow cooker is actually very easy and convenient. All you have to do is mix all the ingredients to a boil. Next, pour the mixture into the slow cooker or crockpot. Place it over low heat for about 2 to 3 hours or until it is bubbly and hot.
What to serve with warm crack chicken dip?
Here are a few sides that go well with this delicious dip:
Tortilla chips/nachos: Tortilla chips and nachos are just right with this crack chicken dip. The crunch of the chips and the cheesiness of the dip are very satisfying.
Vegetable sticks: You can serve it with your favorite vegetable sticks like carrot sticks or celery sticks.
Bread: Serve it with toasted garlic bread, dinner roll, or any other bread.
Crackers: It also goes well with crackers.
How to store warm crack chicken dip?
This crack chicken dip is very convenient to store. You can store the leftover dip in an air-tight container. Make sure it is completely cool before you refrigerate it. It will last for up to 5 days in the refrigerator. You can reheat it either in the microwave or in the oven until it is warm and bubbly again.
Can you freeze crack chicken dip?
Most people find it very convenient to freeze this dip. However, I don't recommend freezing it. That's because the dip has a high-fat content that comes from cheese. If you freeze it, defrosting will ruin the texture of the dip. So, because it is very easy to make, I recommend you make it fresh every time.
Warm Crack Chicken Dip – The recipe
Preparation time: 5 minutes
Cooking time: 25 minutes
Total time: 30 minutes
Servings: 4
Ingredients:
1 cup cooked chicken, chopped
1 tbsp Ranch dressing mix
½ cup cream cheese, softened
1 cup sour cream
1 cup Monterrey jack cheese, shredded and divided
Preparation:
In a mixing bowl, add cooked chopped chicken, cream cheese, sour cream, and ranch dressing mix. Mix well.
Now add half of the shredded Monterrey jack cheese and mix well.
Pour this mixture into a greased baking dish.
Sprinkle the remaining shredded Monterrey jack cheese on top.
Place the baking dish in a preheated oven at 400 degrees F for about 25 minutes or until the top gets a color and bubbling.
Once done, serve warm with your favorite sides. Enjoy!