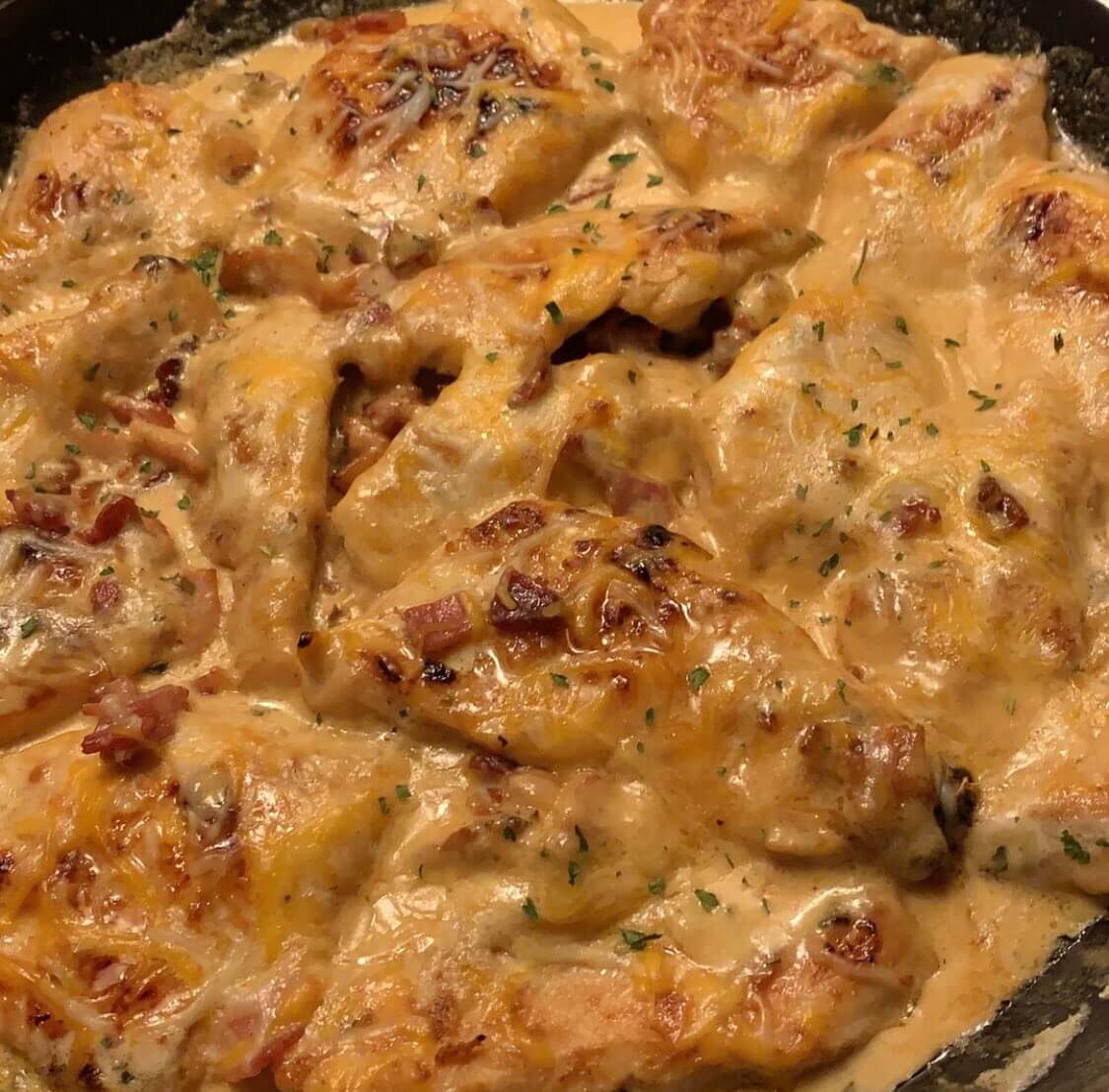 This creamy bacon chicken recipe is a delicious and yummy dinner that is also flavorsome enough to serve to whoever guests you're having. It can also be ready in less than 30 minutes.
We all need to celebrate that bacon and chicken are a perfect match made in heaven. It's, in fact, the most comforting meal you'll ever make, and it's an ideal addition to any of your dinner rotations.
It would help if you took advantage of any opportunity to make a roux with some delicious bacon drippings. It ensures that every bite has the perfect amount of flavorful bacon! This sauce goes great with the creamy mashed potatoes or simple baked potatoes, along with some roasted vegetables.
Ingredients:
6 or 7 strips of cut into pieces bacon
2 cut in half chicken breasts
Some flour for dredging
1/4 teaspoon of garlic
Some pepper to bring the taste
Half a cup of chicken broth
Half a teaspoon of lemon juice
1 tablespoon of butter
1 cup of heavy whipping cream
Instructions:
Start by chopping the bacon and placing it in a skillet. Fry everything until it gets crispy over medium heat temperature for about 10 minutes. Please remove the bacon from the pan and set it aside when you notice the bacon is done. About 2 tablespoons of the bacon fat should be left in your pan.
In the meantime, prepare your chicken by cutting it in half lengthwise so you can have at least 4 small cutlets. Get them coated in the flour after sprinkling them with garlic powder and pepper.

Get the chicken cooked in the remaining bacon fat in your skillet over medium heat temperature for about 5 minutes for each side or until you notice them getting wholly browned. Reduce the heat if it begins to splatter excessively. Remove the chicken from the pan and leave it aside once it gets completely browned.
Add the chicken broth, butter, and lemon juice to your pan. Allow it to bubble until it has been reduced by half for about 4 minutes.
Mix in the cream, and once you notice it starting to bubble, return the bacon and chicken to your pan, and cook for an additional 5 minutes, or until your chicken has been thoroughly cooked and the sauce has reduced to your liking.
Tips:
In our opinion, the heavy cream cannot be substituted for the taste, texture, and richness it provides, and it is also less likely to curdle. By using the half-and-half or simple milk, your sauce will get thinner and more watery, so you'll need to make some adjustments, such as adding some flour or getting the sauce reduced for a more extended time. The Coconut milk or cream will add a coconut flavor, or any other potential substitutes such as sour cream, Greek yogurt, etc.…, may also work if you've tried them before. Still, the taste will differ from the one described in the original recipe.
It would be best to use the skinless and boneless chicken breasts to get butterflied before slicing them in half. This method to cut the chicken keeps it all tender and cooks a lot faster. You can use bone-in chicken breasts or thighs, but you'll need to adjust the cooking time accordingly.