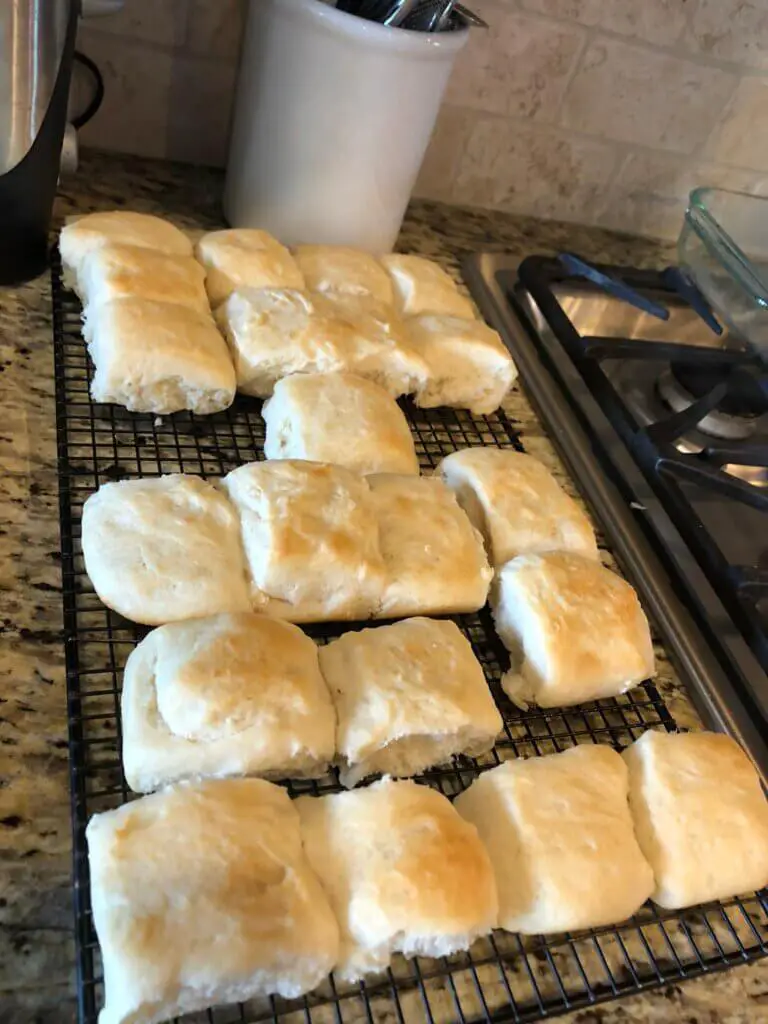 This copycat sweet, fluffy, and battery Texas Roadhouse Rolls slathered liberally with the homemade melted honey cinnamon butter. A delicious breakfast, snack, or addition to any dish for a complete comfort food delight. In every single bite, you'll taste a pure celestial softness.
These delectable rolls are a knockoff of the Texas Roadhouse Rolls. We finally managed to crack the code and recreated the famous bread rolls. And believe us when we say it was not an easy road, but it was well worth it.
They're so fluffy, tender, and buttery, especially when they're brushed with warm, melted butter with just the right amount of sweetness. You will not be able to choose just one of them.
It's a good thing that they're simple to make. The only tricky part of this recipe is waiting for your dough to rise.
Ingredients:
A quarter cup of water
2 and a quarter teaspoon of Yeast
1 cup of milk
6 tablespoons of unsalted butter
5 to 6 tablespoons of sugar
1 and a half tablespoons of salt
1 large-sized egg
3 to 4 cups of all-purpose flour
Some unsalted butter to brush the finished rolls
2 ounces of softened and unsalted butter
2 tablespoons of sugar
2 tablespoons of honey
Half a teaspoon or more of cinnamon spice
Instructions:
Combine some lukewarm water and yeast in a standing mixer. Allow it to sit for about 5 minutes until it completely dissolves.

In the meantime, get a medium bowl that is safe to use in a microwave, combine the milk, pieces of butter, sugar, and salt, and put the heating in the microwave for about one minute. Stir well until all of the ingredients are well melted.
Everything should be thrown into the yeast mixture, then incorporate an egg into the mix.
Allow your mixture to cool to a warm temperature if it is too hot to prevent the eggs from curdling.
Mix everything on medium speed for about 2 minutes. Continue mixing your dough after adding nearly 3 and a half cups of flour.
If necessary, add more flour to make the dough soft enough. To be on the safe side, use less flour rather than more.
Turn your dough out onto a lightly floured surface and knead fr about 4 minutes, or longer if you prefer airy bread.
Get your dough placed in a greased mixing bowl and turn once to coat. Cover it loosely with a clean cloth and set it aside for about 2 hours, or until it gets doubled, in a warm, draft-free place.
Get your dough punched down, then roll it into a 1-inch thick rectangle. To cut the dough into squares, use a sharp object such as a knife or a pizza cutter.
Preheat your oven to over 350°F. Then spray your cookie sheet pan with some oil or butter, then place the rolls about 12-inches apart on our oiled pan. Cover them lightly with a kitchen towel and set them aside for 30 minutes, or until the dough puffs up.
Bake it for about 15 minutes in the oven, or until it gets golden brown. Brush it with the rest of the melted butter, then get it out from the range and set it aside to cool. We recommend eating it while it is still warm.