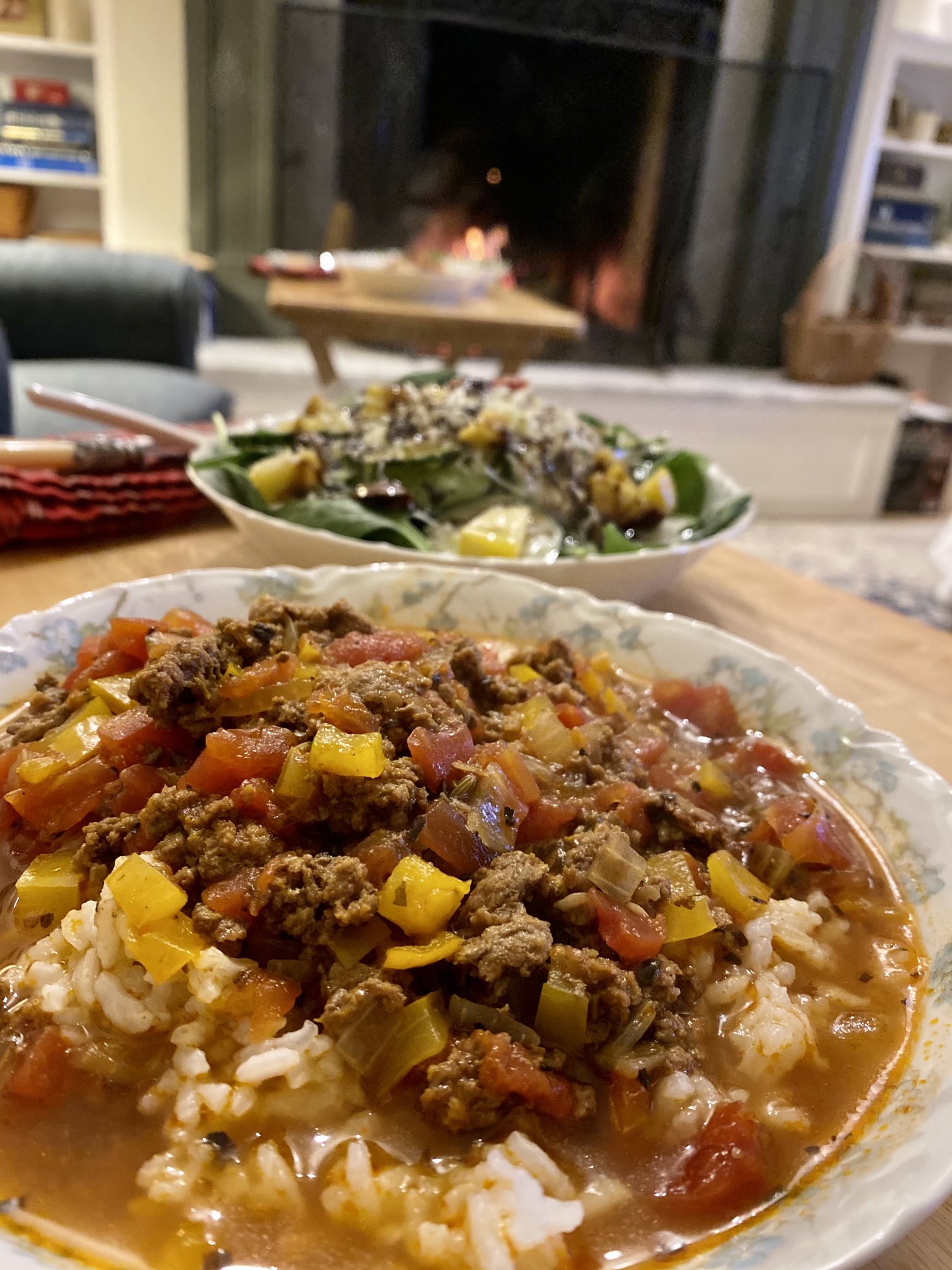 Comforting stuffed pepper soup that is simple to make and contains all the essential components of the traditional recipe. Use your own homemade broth to boost taste.
Ingredients
3 tbsp olive oil
1 small yellow onion
1 green bell pepper*
1 yellow bell pepper*
1 large tomato
1 lb ground beef 85/15 recommended
3 cups beef stock
3 tbsp tomato paste
1 tsp dried oregano
2 tsp dried basil
1 tsp garlic powder
1/4-1/2 tsp black pepper
salt
3/4 cup Jasmine rice**
Instructions
Dice all the vegetables first and set the aside.
Preheat a Dutch oven over medium heat and add olive oil.
Add diced onions and bell peppers and cook until they start to soften. Mix it diced tomato and cook for a few more minutes.
Move vegetables over to the sides and add ground beef to the center of the pan. Break it apart, cover the pot with a lid, and cook for a few minutes. After a few minutes, break up the meat some more and start mixing it with veggies. Close the lid and keep cooking until the beef is mostly done. Make sure to break up as many clumps as you can.
Mix in tomato taste and then, pour in beef stock.
Season with oregano, basil, garlic powder, salt, and pepper, mix well and lower the heat to low. Close the lid but leave a small crack for the heat to escape. Cook for about 20 minutes.
Mix in rice, close the lid back up and cook until rice is done.
Serve right away.
Alternate option:
If you don't plan to eat all of the soup right away, you can cook rice separately and add some to individual soup servings. Cook the rice in salted water according to the package instructions and add it to each bowl of soup as needed.
Store cooked rice separately from the soup. Make sure to keep it refrigerated in an air-tight food storage container.
Notes
* When it comes to the bell peppers, feel free to choose any colors you want. Choosing a couple of different colors will make the soup more fun though.
**Jasmine rice is a personal preference but you can substitute long grain rice, Basmati rice, or even brown rice.