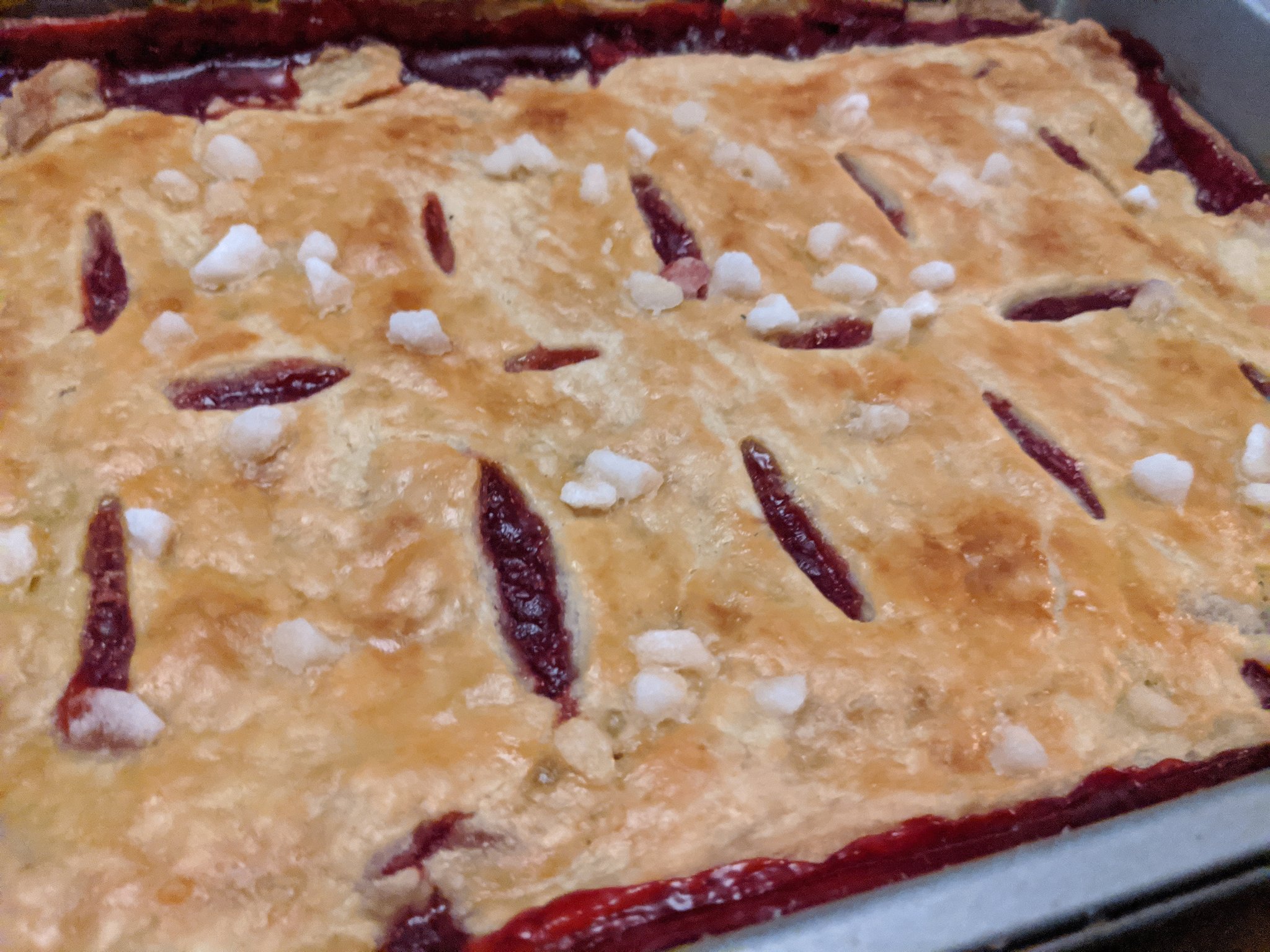 A strawberry slab pie is a delicious pie that takes a different take on the traditional pie. It is easy to make and a perfect dessert for summer parties. Topped with whipped cream, this pie is blissful.
What is a strawberry slab pie?
A strawberry slab pie is a delicious yet traditional pie made from a pie crust and a rich strawberry filling. The pie is called so because, unlike a traditional pie, it is not in a round shape; rather, it is made in a rectangular baking dish.
Can you make pie crust at home?
Although store-bought pie crust really works when making this strawberry slab pie. Plus, it is also convenient. However, if you want to make this pie using a homemade crust, you can do so as well. Here is a quick and easy pie crust recipe for you to follow:
4 ½ cup all-purpose flour
½ cup sugar
½ tsp salt
2 cups butter, cut into cubes
Add all the ingredients to a standing mixer bowl and whisk until you get a dough.
Variation ideas
There are a few ways you can change this recipe to make it more tasteful and enjoyable:
You can skip cooking the filling in the oven and make a no-bake version as well. For that, you will have to mix strawberry jelly, cornstarch, sprite, sugar, and salt in a saucepan over medium heat. Once everything combines, and the mixture starts to thicken up, pour it over the crust and garnish it with strawberries. Refrigerate until it is set.
Another way is to follow the traditional pie, i.e. Cut strips of pie crust and place them over the pie before making. Brush with egg wash and bake.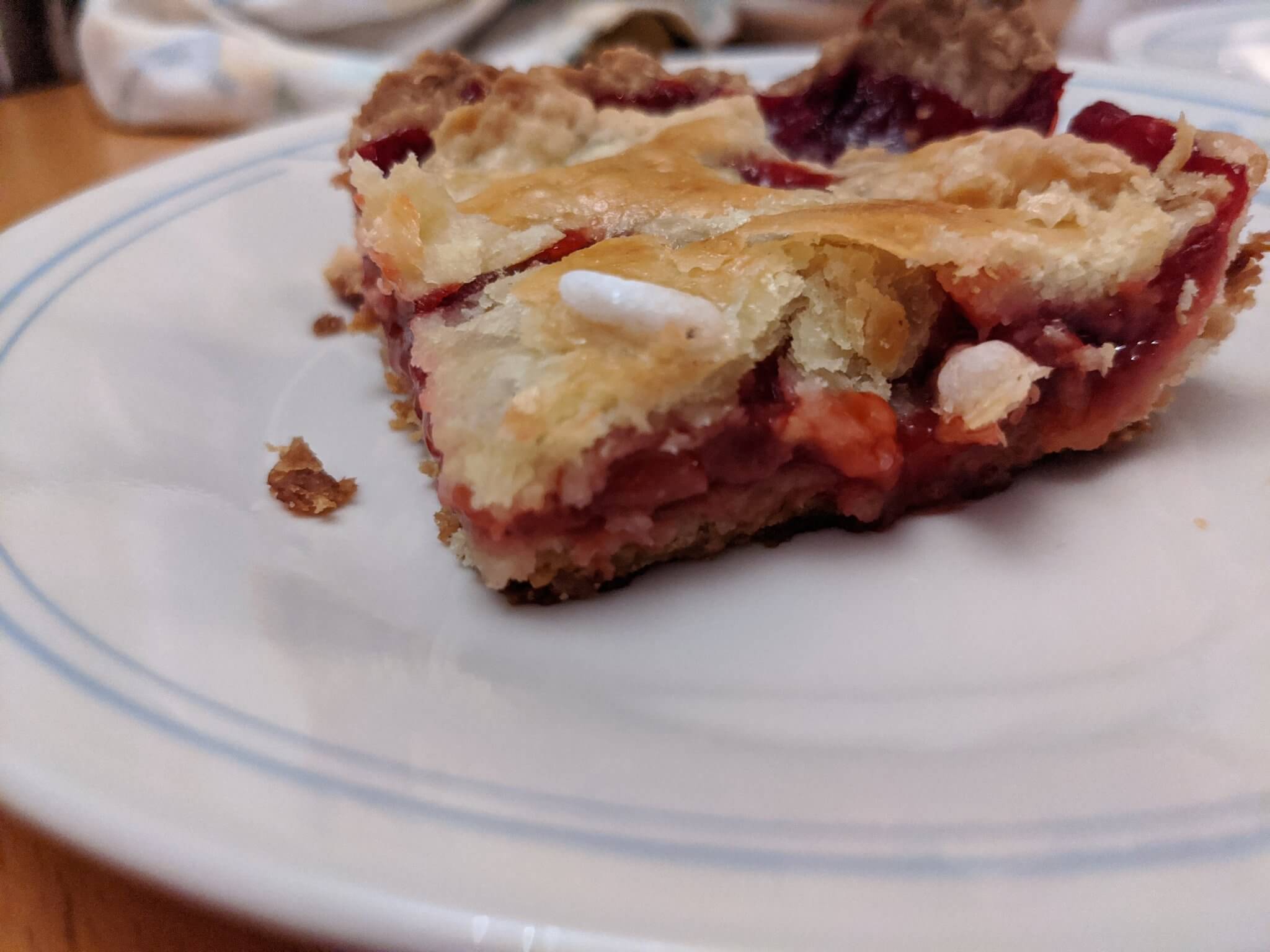 Strawberry slab pie – the recipe
Preparation time: 5 minutes
Cooking time: 60 minutes
Total time: 1 hour
Servings: 4
Ingredients:
1 tube pre-made pie crust
4 cups fresh strawberries, more for topping
1 cup white granulated sugar
¼ cup cornstarch
½ tsp lemon zest, finely grated
¼ tsp kosher salt
Whipped cream for garnish
Preparation:
Roll the pie pastry and place it on a rectangular pie sheet. Pierce the pastry with a fork along its surface.
Place the pie crust in a preheated oven at 325-degree for about 25 minutes until it gets a golden colour. Once done, remove the pan from the oven and set it aside.
Wash the strawberries and remove the top. Cut them into a quarter.
In a large bowl, add diced strawberries, corn starch, sugar, lemon zest and salt. Mix well.
Once the pie crust is at room temperature, add the strawberry mixture over it and spread it evenly using a spatula.
Place the pie back in a preheated oven at 350-degree f for about 35 to 40 minutes or until the filling is set and the liquid evaporates.
Once done, remove it from the oven and set it aside to cool down.
Garnish with whipped cream and fresh strawberries, and serve. Enjoy!