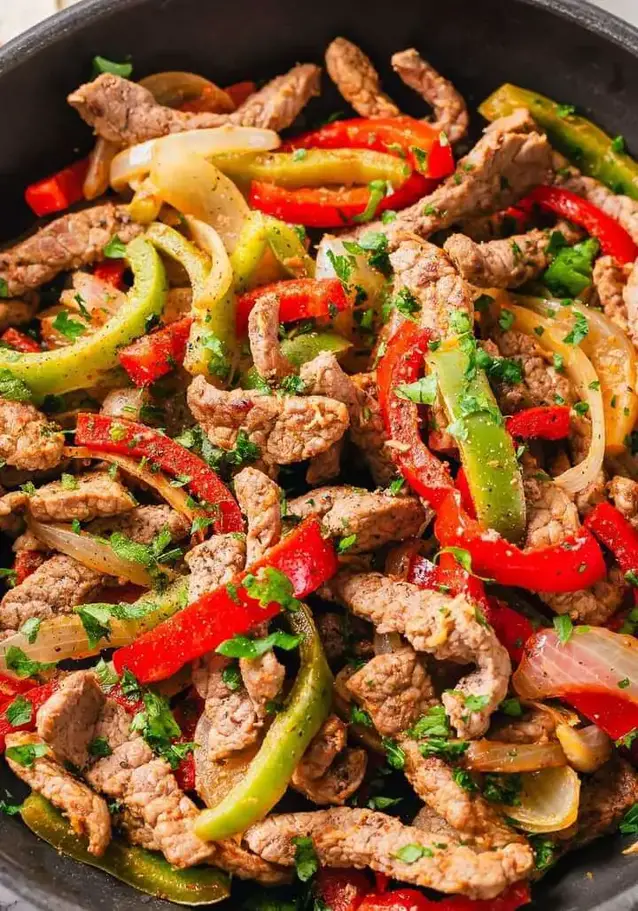 Steak fajita is a quick and utterly delicious dish loaded with flavors. This Mexican-inspired dish offers flavors from spices like cumin, cayenne, etc. it is quick and very easy to make. It goes well with a number of sides and thus is a perfect lunch or dinner recipe.
What to serve with Steak Fajitas?
Here is what you can serve with this Steak Fajitas recipe:
Tortilla: This Mexican-inspired dish goes so well with tortillas. It is a match made in heaven. You can even make a burrito or a taco out of this recipe.
Guacamole: Fresh and tasteful guacamole serves as a perfect garnish for this dish. You can pair the two together and enjoy a complete meal.
Salsa: Bring in the zing by serving salsa alongside this recipe. It adds freshness and tons of flavor to this dish.
Sour cream: Nothing can beat a dollop of sour cream on top of steak fajitas. Its freshness and tangy flavor are just right.
Rice: Pair it with plain or garlic rice. You can serve it with either white or brown rice. It is a complete meal.
Quinoa: And if you are looking for something healthy, try this fajita recipe with quinoa.
How to store Steak Fajitas?
You can store the marinated ingredients for up to 24 hours. Moreover, you can store the cooked dish in a container and refrigerate it for 5 days. This steak fajita recipe is perfect for making ahead of time. You can make it on weekends and enjoy it on weekdays as well.
Steak Fajitas – The Recipe
Preparation time: 15 minutes
Marinade time: 6 hours
Cooking time: 10 minutes
Total time: 25 minutes
Servings: 4
Ingredients:
2 tbsp olive oil
1 ½ lb. flank steak, ½ inch strip-cut
1 medium white onion, cut into strips
1 medium red bell pepper, cut into strips
2 garlic cloves, minced
1 medium yellow bell pepper, cut into strips
1 ½ tbsp Worcestershire sauce
2 tbsp lime juice

¼ tsp chili powder
¾ tsp cumin powder
¼ tsp cayenne pepper
¼ tsp black pepper
½ tsp salt
Preparation:
Pat the steak dry using a kitchen towel and cut it into ½ inch equal strips. Place the meat in a bowl.
In a separate bowl, add red bell pepper, yellow bell pepper, and onions.
In a bowl, add olive oil, minced garlic, Worcestershire sauce, lime juice, cayenne pepper, chili powder, cumin powder, black pepper, and salt. Whisk using a whisker or a fork.
Pour ½ of this marinade on steak strips and the remaining half on the vegetables. Mix each element so that the marinade reaches every bit. Cover each bowl with cling film and let it sit for 6 hours overnight in the refrigerator.
Place a skillet over medium heat. Add marinated steak and let it cook for about 7 minutes. Stir frequently for even cooking.
Add the marinated vegetables and continue to cook until all the juices dry up.
Serve alongside your favorite side.