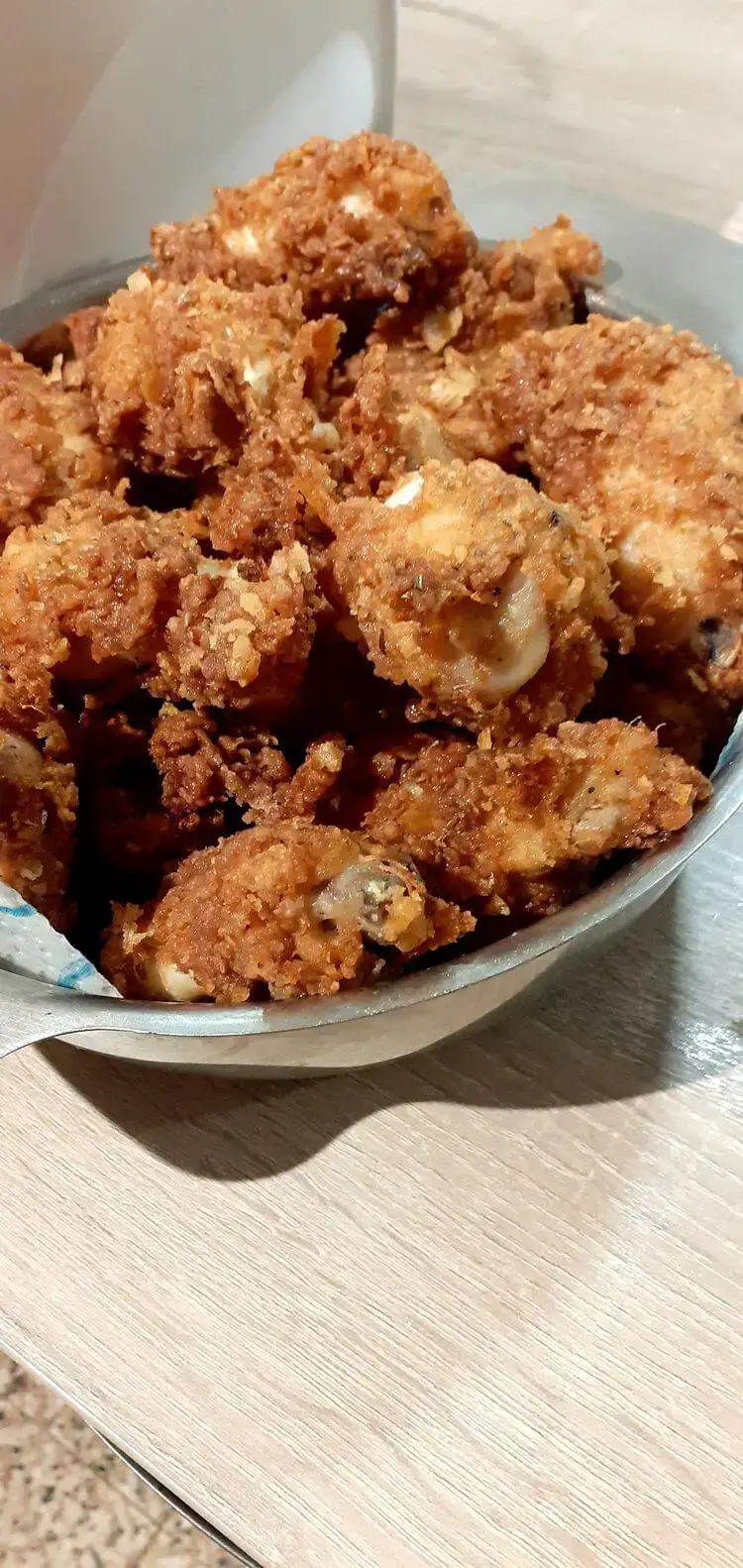 Spicy southern fried chicken is simply delicious. Fried chicken is loved by all, and when you make a spicy southern version, the love is multiplied by ten. This recipe is easy and gives you amazing flavor, crisp and tender and juicy chicken. It is a perfect recipe for both kids and adults.
Tips for making Spicy Southern Fried Chicken
Keep these points in mind when making Spicy Southern Fried Chicken:
Although I have used drumsticks for this recipe, you can use another cut as well. Thigh cut is also perfect for this recipe. You can also use this recipe to make hotshots or chicken tenders.
I prefer using thigh and leg meat because it cooks fast, doesn't dry out, and stays tender.
To get flakes on the fried chicken, dip it first in the all-purpose flour mixture, then into the egg mixture, and then back into the all-purpose flour mixture. Repeat it several times as per your liking.
You can fry this chicken in an air fryer as well. It will eliminate oil completely, and you will get the same flavors and crispiness.
You can adjust the spice level according to your liking.
Serve this delicious fried chicken with ranch dip, mayo dip, mustard, or ketchup.
Spicy Southern Fried Chicken: The recipe
Preparation Time: 10 minutes
Resting time: 3 hours
Cooking Time: 15 minutes
Total Time: 3 hours 25 minutes
Servings: 4
Ingredients:
3 lbs. chicken drumsticks
Vegetable oil for frying
For the marinade:
4 cups buttermilk
1 tbsp garlic powder
½ cup hot sauce
¼ cup dark soy sauce
2 tbsp salt
For the crumb:
2 cups all-purpose flour

1 tsp baking powder
1 tbsp onion powder
1 tbsp garlic powder
1 tbsp cayenne
1 tsp smoked paprika
Black pepper, to taste
Salt, to taste
Preparation:
In a large bowl, add buttermilk, soy sauce, chili sauce, salt, garlic powder, and mix well.
Pat the chicken drumsticks dry and place them in a large reusable food-grade plastic bag or in an airtight container.
Pour the buttermilk mixture into the bag or container and submerge the chicken drumsticks into the mixture.
Place the bag or container in the refrigerator to marinate for about 3 to 4 hours.
Meanwhile, in a shallow dish, add all-purpose flour, baking powder, garlic powder, onion powder, paprika, cayenne, salt, and black pepper. Mix well.
Once the chicken is marinated, take drumsticks out of the marinade one by one and dip them into the all-purpose flour mixture until they are completely coated with it. Place them on a serving dish and continue until you have coated all the drumsticks.
Heat vegetable oil in a deep skillet until its temperature is 350 degrees F.
Start frying the drumsticks by dropping them in hot oil one by one.
Fry them for 12 to 15 minutes or until they a golden brown and cooked through.
Take them out of the oil and onto a kitchen towel.
Serve with your favorite dip.