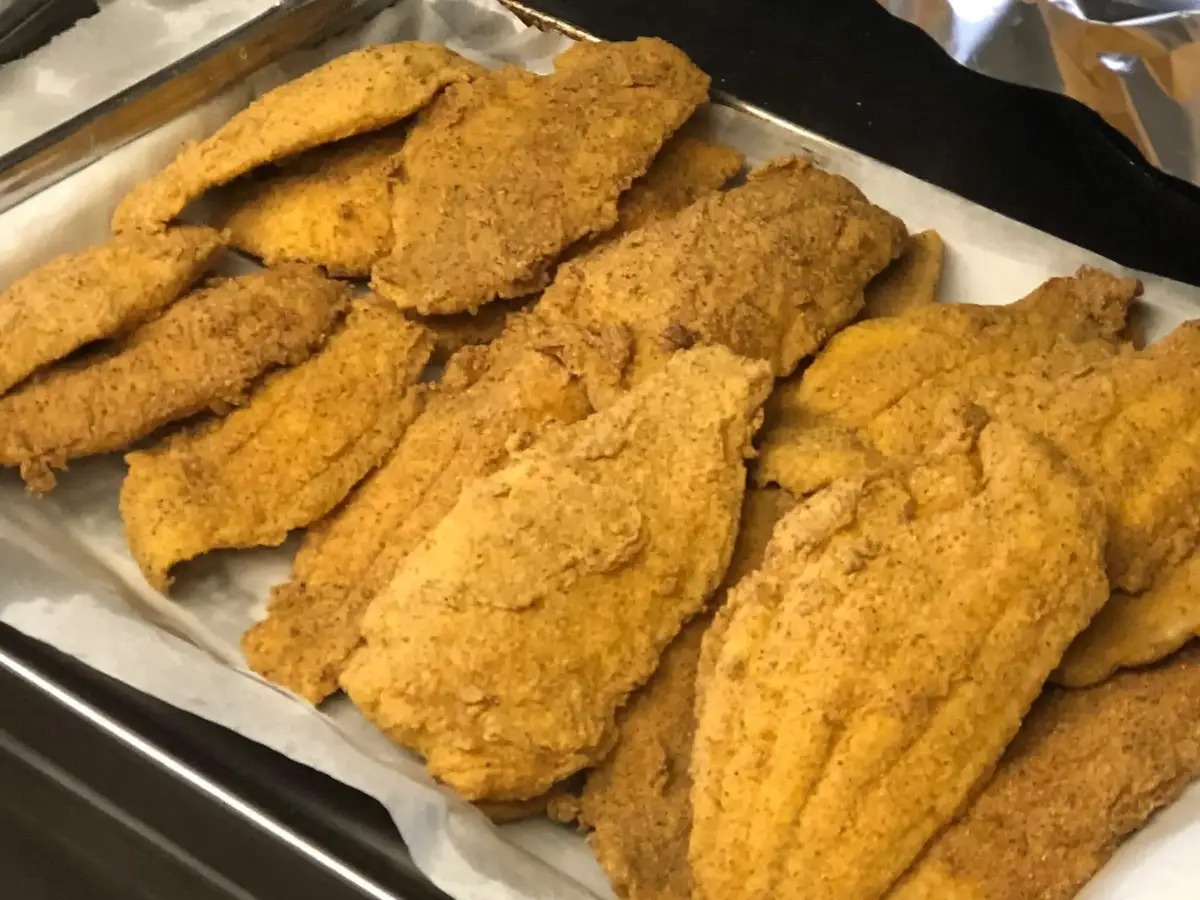 This southern fried catfish recipe is a must-have in any Southern Kitchen. You cannot beat some freshly caught catfish filets hovered in perfectly seasoned cornmeal breading and getting fried until the inside is soft and the outside is golden brown and crispy.
The Fried Catfish is a southern cooking icon: there is just no other way to make it prepared for many people. Many arguments rage over whether it's deep-fried, cornmeal-breaded, breaded, or just dredged in flour. This is, however, a very healthy debate.
If you can find some easy, use the fine white cornmeal for the breading. Unfortunately, this is not always easy outside of the South. In the absence of fine, white cornmeal, use some regular cornmeal mixed with flour. An all-cornmeal crust tastes very gritty unless it's gently ground.
The Fried Catfish conjures visions of finger-licking, crispy and crunchy fried delicacy. The simple act of thinking about that first bite will surely make your mouth water, a fantastic flavorful crust that gives way to the soft and flaky fish. Nothing beats the deep-fried seafood drizzled with some fresh lemon and getting served with a side of tartar sauce.
Ingredients:
Dry:
2/3 of a cup of cornmeal
1/4 cup of whole wheat flour
1 and half teaspoon of salt for seasoning
Half a teaspoon of lemon pepper seasoning
1/4 teaspoon of paprika
1/4 teaspoon of cayenne pepper
Wet:
2 medium-sized eggs
3 tablespoons of buttermilk
2 teaspoons of Tabasco sauce
Serving:
Some lemon wedges
The delicious tartar sauce
A little extra Tabasco sauce
Instructions:
In a large mixing bowl, combine the wet ingredients, buttermilk, eggs, and hot sauce.
Immerse the catfish fillets in the egg mixture for a few minutes. Check that the fillets are completely coated. Allow this to sit while you prepare the dry ingredients.
Get the dry ingredients combined in a large mixing bowl, flour, salt, cornmeal, pepper, paprika, and lemon pepper. Mix everything thoroughly to ensure that the seasoning is evenly distributed.
Dredge the soaked fillets in your cornmeal mixture, making sure that they are entirely coated. Remove any excess breading, place the fillets on a plate and cover it with a foil.
Allow them to rest in the refrigerator for about 15 minutes while you get the oil heated. This will assist the breading to adhere to the fish.
Get the deep fryer heated to 350°.
When you notice that the oil is hot enough, add your filets and cook them for about 10minutes, or until you notice them getting brown and the internal temperature is 340°.
Place the finely cooked fillets on a wire cooling rack instead of a simple towel to get the crispiest fish.
Tips:
Get the fillets fried in small batches to avoid crowding in the oil; if you put too many fish inside the oil at once, you will get a drop in the temperature, and the fish will not get cooked.
We recommend using peanut or canola oil when deep frying. They may not be your favorite oils, but they're the best for frying. We also like using avocado oil when shallow frying on the stove.