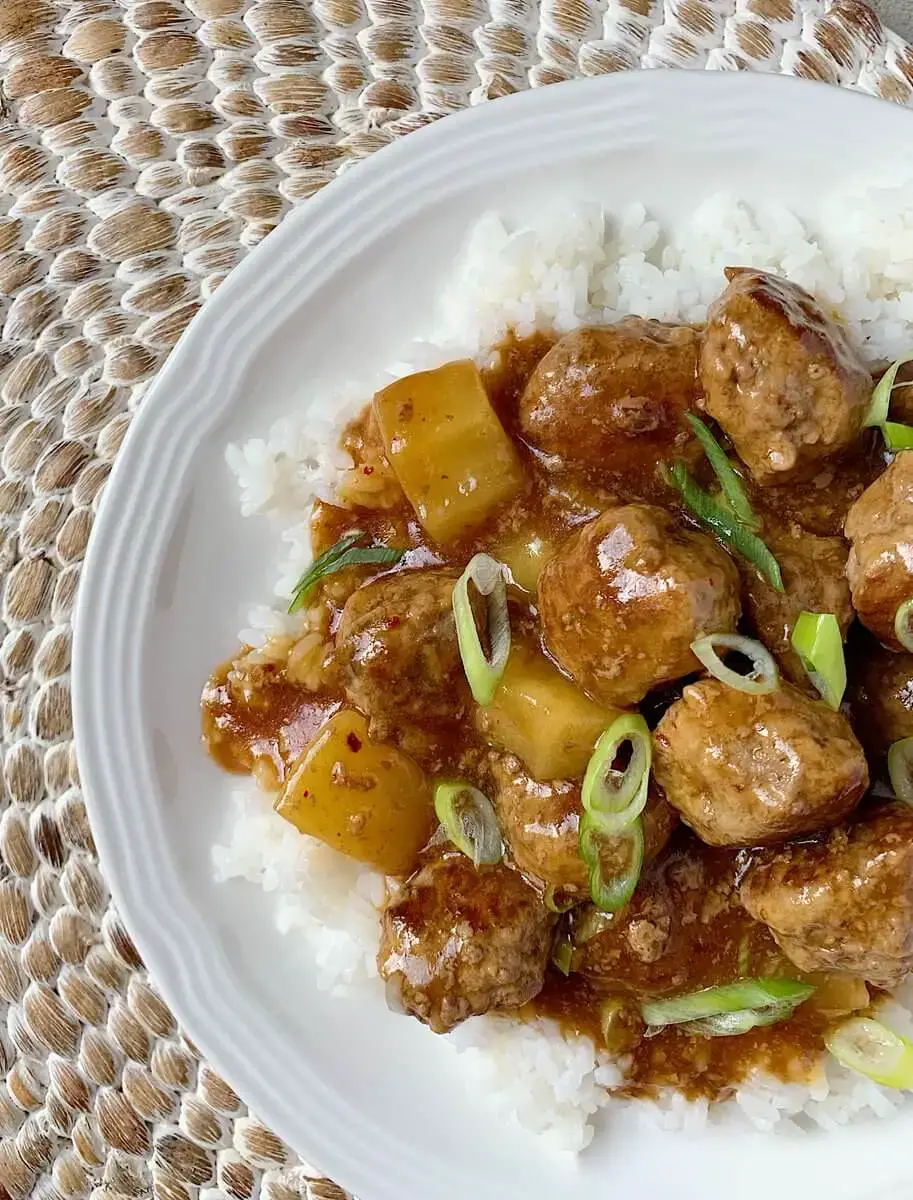 Sweetness and Sourness are 2 excellent flavors that complement each other perfectly. It has a vinegary pineapple and tender beef combo, which makes it popular on the spot and also a superb choice for both adults and kids. Plus, due to your trusty slow cooker, it's a straightforward dish that takes a short, budget-friendly list of ingredients without chopping and some stove-time! It's hard to believe that something so basic can be delicious, yet it's very accurate.
Pineapple may be found in almost any grocery store's canned food aisle. It is typically used in baking, but why not try beef instead of ham for a savory twist? Pineapple pulls out the rich tastes of the Sauce and makes it taste even better! If you're looking for a sauce, any barbecue brand will suffice. There's no need to create your own with this dinner because it's all about convenience. One bottle will be enough, and the pineapple juice will be added. It brings out the taste in the meatballs! Thankfully, there are many frozen and refrigerated meatball options (both animal and vegetarian) to save you time.
Nothing ever beats a delectable make-ahead supper that will satisfy everyone at the table and can be served in large quantities as a show-stopper during a party. It's beautiful to think that anyone can enjoy this dish full of savory meatballs, delicious Sauce, and chunky pineapple without even needing to use an oven or a stove! Isn't it just wonderful that an outstanding dinner is just one slow cooker and five ingredients away?
This recipe is for those who want to cook a delicious meal that everyone will like without spending much time in the kitchen. This recipe has a lot of flavors, and you can also taste the pineapple, which is very delicious, and the tangy BBQ.
No one can tell if this is cooked on the top of the stove or in the crockpot when we bring it to a party. It tastes so good that most people have no idea how it was prepared, if not all of them.
Ingredients:
1 can of frozen meatballs (16oz)
1 small bottle of your favorite barbecue sauce (18 oz)
1 can of the pineapple chunks (20oz)
Half a cup of brown sugar
1 teaspoon of garlic powder
Some reserved pineapple juice
Instructions:
In a slow cooker, mix the frozen meatballs along with the barbecue sauce, the pineapple chunks, juice, onions, some bell pepper, and garlic powder. It would help if you used a large spoon to combine all the ingredients until all the meatballs are completely covered in the Sauce. Get the slow cooker coated with the lid.
Cook for about 6 hours on low heat or 3 on high. Before you make the serving, could you give it a well and good stir?
Tip:
Instead of the pineapple chunks, crushed pineapple or pineapple tidbits can also be used. Purchasing a bag of frozen and diced onions, along with the bell peppers, will make your prep even more accessible.