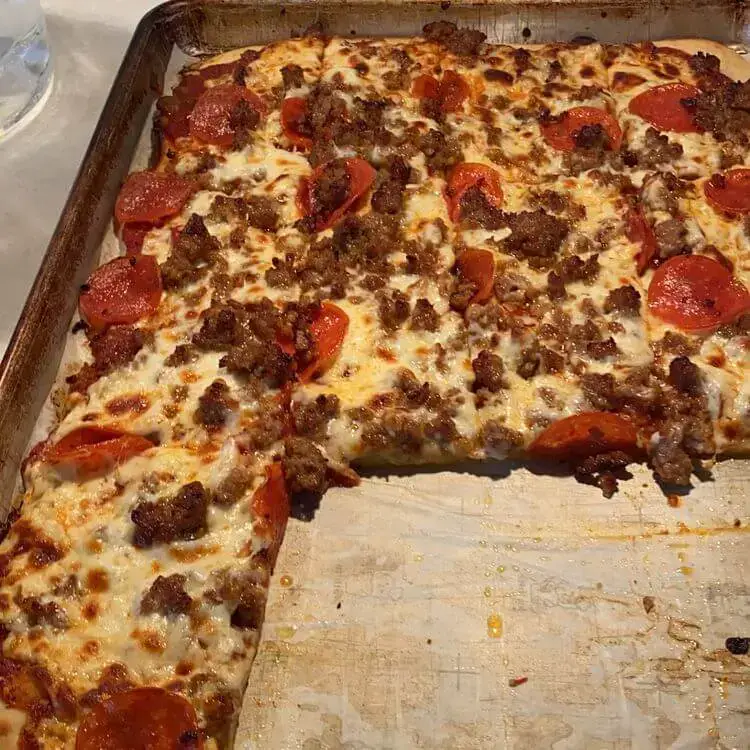 School pizza is a nostalgic dish for everyone. It is named so because it is not the regular circular pizza. Instead, it is rectangular. It is easy to make, fun to eat, and highly customizable. You can make it in advance and store it so that you can enjoy it whenever you like. This school pizza recipe is kids friendly and tasteful.
Can you make school pizza in an air fryer?
If you don't have an oven, you can also use an air fryer. Air fryer gives fantastic results. You will get a perfectly cooked crust with a bubbly top.
Can you freeze school pizza?
Yes, absolutely! You can happily make this school pizza in advance and freeze it. It will last for up to 3 months. Simply thaw and bake as per the recipe.
Variation ideas
Here are a few fantastic ideas you can use to make this school pizza even more tasteful.
• Crust: You can use the premade dough or make it at home. Plus, for a healthy twist, you can also use grated cauliflower and use it.
• Vegetables: You can top the pizza up with your favorite vegetables. You can add tomatoes, cauliflower florets, or other vegetables.
• Italian sausage: Italian sausages come in different types. You can choose your favorite type of sausages, break them up and use them.
• Mushrooms: Mushrooms are another amazing ingredient you can top your pizza with.
• Cheese: You can use a blend of cheese like mozzarella cheese, cheddar cheese, Monterey jack, etc., and enjoy.
School Pizza Recipe
Preparation time: 15 minutes
Cooking time: 20 minutes
Total time: 35 minutes
Servings: 4
Ingredients:
1 roll premade pizza dough
2 tbsp olive oil
½ lb. lean ground beef
2 tbsp tomato sauce
1 cup mini pepperoni
½ cup onions, chopped
½ cup bell pepper, chopped
1 cup pizza sauce
1 ½ cup mozzarella cheese
¼ tsp paprika powder
¼ tsp Italian seasoning
Salt, to taste
Black pepper, to taste
Preparation:
In a saucepan, heat olive oil.
Add ground beef and cook, breaking it apart until it changes color. Cook for about 5 minutes.
Now add tomato paste, paprika, Italian seasoning, black pepper, and salt. Mix well and cook until the ground beef is cooked.
Chop the onions and bell peppers.
Grease the baking tray.
Place the pizza dough on the baking tray, and using your fingers, flatten it until it covers the tray.
Using a fork, pierce the dough at different sides.
Pour the pizza sauce and spread it evenly across the dough's surface.
Add cooked ground beef and spread it evenly as well.
Now add chopped onions bell peppers and spread them evenly.
Top the pizza with mozzarella cheese and finish them off with mini pepperonis.
Place the baking tray in a preheated oven at 375 degrees F for about 15 to 20 minutes.
Once the top is bubbling and the crust is cooked through, take the pan out of the oven and cut it into squares. Serve.