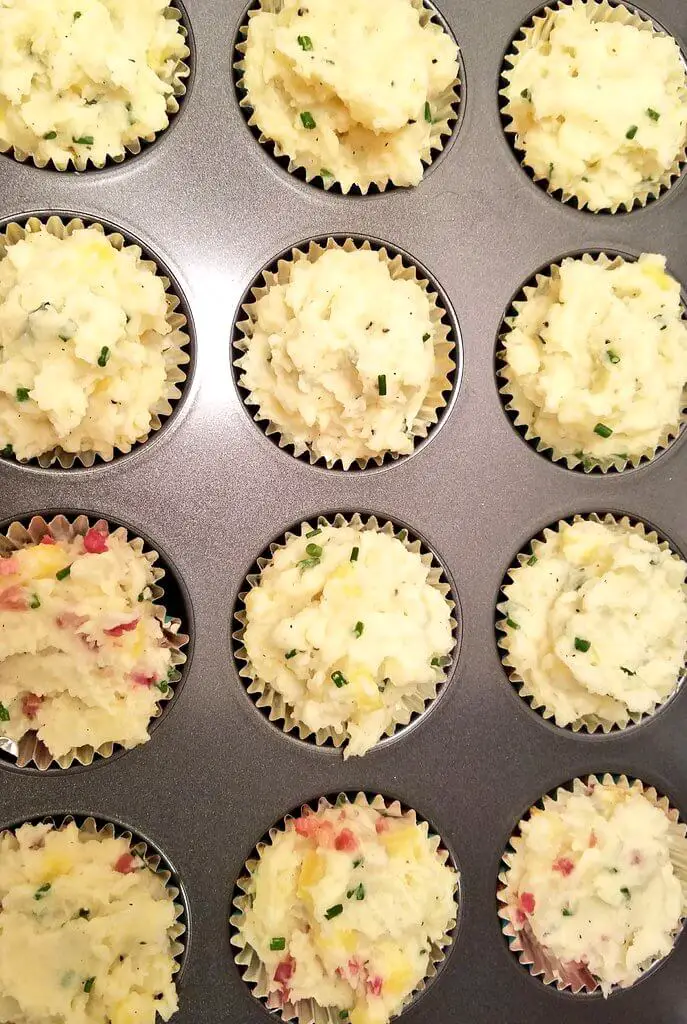 Mashed potato cupcakes are savory, fluffy, light, cheesy, and a great way to use leftover mashed potatoes. These are a great snack or lunch idea and are kid-friendly as well,
When you hear "cupcakes," the first thing that comes to your mind is a dessert or something sweet. However, a cupcake doesn't necessarily have to be sweet. For instance, you can make savory mashed potatoes cupcakes and enjoy the delicious flavor. You might think mashed potatoes as a cupcake sound a bit weird, but trust me! It is an amazingly tasteful and unbelievably easy recipe you can try!
Mashed potato cupcakes are a great side dish or snack you can enjoy any time of the day. Especially when you have heaps of mashed potatoes sitting in your refrigerator from holiday dinners, and you don't know what to do with them, bake them into cupcakes! These savory cupcakes are so light and fluffy that you won't stop eating them, literally!
So what are you waiting for? Let's get straight to this super simple recipe!
Mashed Potato Cupcakes: The Recipe
Preparation Time: 10 minutes
Cooking Time: 30 minutes
Total Time: 40 minutes
Yield: 6 cupcakes
Ingredients:
1 ½ cups of mashed potatoes
1 egg
2 tbsp green onion, chopped
½ cup sharp cheddar cheese, shredded
2 tbsp mozzarella cheese, shredded
2 tbsp sour cream
1 tbsp cornflour
¼ tsp red chili flakes
¼ tsp garlic powder
black pepper, to taste
Salt, to taste
Directions:
In a large bowl, crack an egg and whisk until the yolk and the white is combined.
Add sour cream and whisk.
Add mashed potatoes, green onion, cheddar cheese, mozzarella cheese, cornflour, and mix well using a spatula.
Season with red chili flakes, garlic powder, salt, and black pepper. Mix well.
Prepare a muffin tin by brushing it with melted butter.
Scoop the potato mixture into each well, leaving about ½ an inch space at the top.
Place the muffin tin in a preheated oven at 400°F for 30 minutes.
place the time is up, take the tin out of the pan and insert a toothpick to see if it comes our clear. If not, let it sit in the oven for five more minutes or until the top gets a golden-brown color.
Once cooked through, take the muffin out and let it sit for about 5 minutes. Transfer the potato cupcakes onto a cooling rack or serve sour cream and chives. Enjoy!
variation ideas:
you can customize these simple cupcakes by adding these ingredients:
Ham: Add chopped deli ham pieces to the mixture.
Leftover chicken: You can add the shredded leftover chicken and use up your holiday dinner into cute little cupcakes.
Spinach: Missing leafy greens? Chop the baby spinach, and add them to the cupcake mixture.
Mushrooms: If you love mushrooms, saute them in a pan, let them cool down and combine them with this mashed potato cupcake mixture.
Carrots: You can also add shredded carrots and give these cupcakes some color.