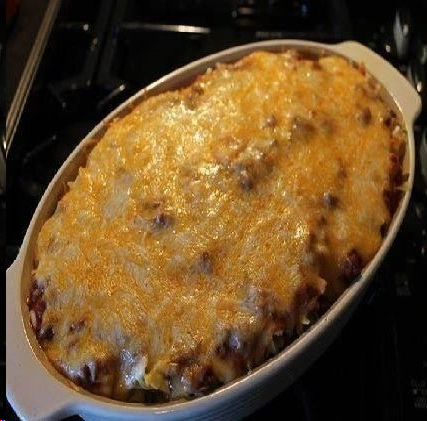 The Poor Man Husband Casserole is a hearty and budget-friendly dish that is perfect for feeding a crowd or for meal prepping for the week. The dish is made with simple and inexpensive ingredients, such as ground beef, potatoes, and canned vegetables. The key to making this casserole stand out is in the seasoning, which adds a depth of flavor to the dish.
Ingredients
1 ½ lbs. Ground beef
2 Cans tomato sauce 15oz. Each
8 oz. Cream cheese
8 oz. Sour cream
8 oz. Egg noodles
1 ½ C. Cheddar cheese
2 tsp. Minced garlic
1 tsp. Italian seasoning
1 tsp. Sugar
Salt and pepper to taste
Instructions
Preheat the oven to 350 degrees.
In a skillet over medium-high heat on the stove, saute the ground beef until it is completely browned. Drain any extra grease.
Add the Italian seasoning and minced garlic to the skillet, and saute for 30 seconds longer.
Pour the tomato sauce and sugar into the skillet with the meat, add salt and pepper to taste, and saute for 3-5 minutes longer.
Mix together the sour cream and the cream cheese in a bowl.
Cook the egg noodles until done to your liking and drain completely.
Place ½ of the egg noodles in an even layer in the bottom of a greased 9×13 baking dish.
Top the noodles with half of the cream cheese mixture and then half of the meat mixture.
Repeat with another layer of noodles, cream cheese mixture and then ground beef on top.
Sprinkle the cheese on the top of the casserole and bake for 20-25 minutes.