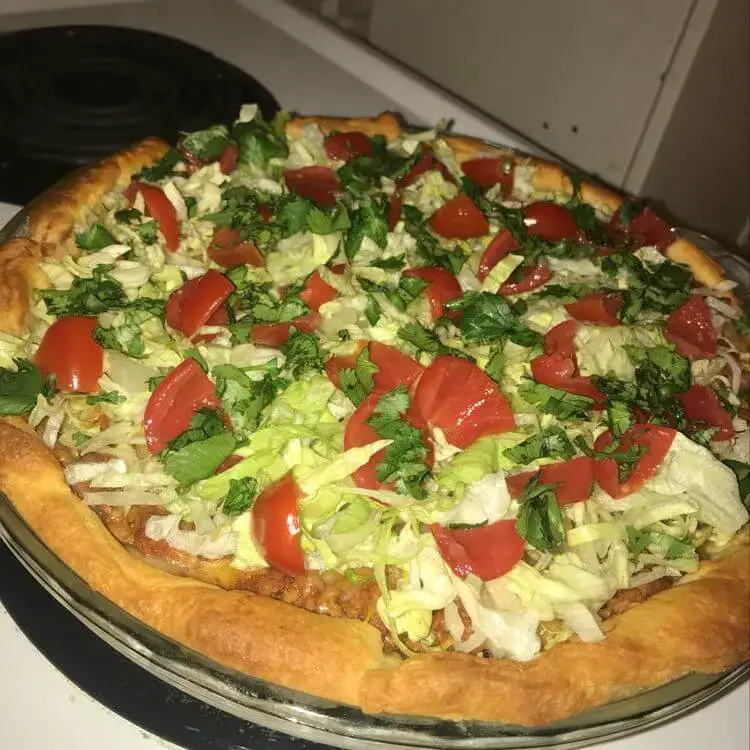 Pillsbury Crescent Roll Taco Bake is an unusual dish to make. However, it is unbelievably easy and very satisfying. This taco bake actually looks a lot like a pizza. However, it uses all the ingredients of a taco. So, we can say that it is a cross between a taco and a pizza.
You can make this taco bake for lunch or as a snack for your game day or movie night. This dish is very kid-friendly, and you can enjoy it any time of the day.
Components of a crescent roll taco bake:
There are three main layers that make a taco bake. Each layer may use more than one ingredient. Here is a breakdown of these layers:
Crust: The crust for this taco bake is a crescent roll. It is a premade dough that is readily available in every grocery store. Pillsbury is a premium brand that offers crescent rolls. However, you can use any brand for this recipe.
Beef layer: The next layer of this taco bake is ground beef. You can easily cook it using a skillet. Season it with taco seasoning to add flavors to this dish. Sprinkle shredded cheese on beef and bake.
Topping: The third layer is a blend of different ingredients like shredded cabbage, sliced tomatoes, and onion. You can add more vegetables like bell peppers or corns as well.
Garnish: Use sour cream and chopped green onions to garnish this taco bake before digging in.
Without any further waiting. Let's get to the recipe.
Pillsbury Crescent Roll Taco Bake
Preparation time: 10 minutes
Cooking time: 30 minutes
Total time: 40 minutes
Servings: 3 to 4
Ingredients:
1 tbsp olive oil
1 Pillsbury crescent roll
½ lb. lean Ground beef
½ Pack taco seasoning
¾ cup cheddar cheese, Shredded
½ cup tomatoes, chopped
½ cup lettuce, Shredded
¼ cup onion, chopped
Sour cream, for garnish
green onions, chopped for garnish
Preparation:
In a skillet, heat olive oil.

Add ground beef and cook using a wooden spoon. Break the ground beef so that it cooks evenly.
Once the meat starts to get a color and all the juices evaporate, add taco seasoning and mix well.
Take the skillet off the heat and set it aside.
Prepare a baking dish or a pie pan by spraying it with cooking spray.
Unroll the crescent dough and place it at the bottom of the pan. You can trim off the excess dough.
Now add the cooked ground beef and spread it evenly on the dough.
Sprinkle cheddar cheese generously over the meat.
Place the pan in a preheated oven at 350-degree f for about 25 minutes or until the dough is cooked through.
Once done, take the pan out of the oven and let it rest for about 10 minutes to cool down.
Now, sprinkle shredded lettuce, chopped onions, and tomato on top.
Garnish with sour cream and chopped green onion.
Enjoy!