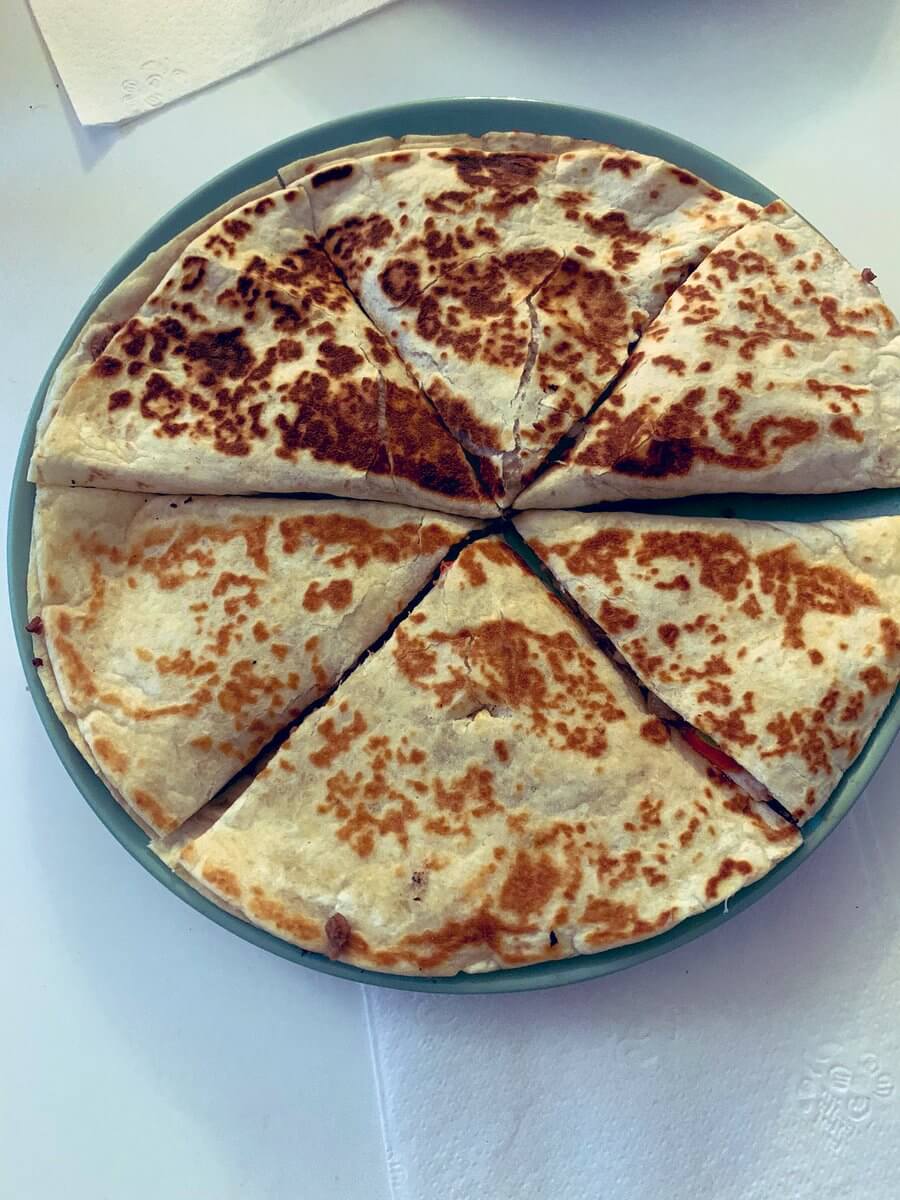 The Philly Cheesesteak Quesadillas are soft tortillas filled with beef and melted cheese made toasted on a regular skillet until they get crispy. This recipe is perfect for quick meals that you can make in less than half an hour.
You'll love the traditional and classic Quesadillas recipe. Combining all these flavors in one meal is brilliant and makes things even more accessible. The Quesadillas can be frozen without any problems, and they can also be reheated, making it a perfect make-ahead recipe and ideal for meal prep.
A Quesadilla is a traditional Mexican dish. It's a tortilla that has been filled with cheese, your choice of spices, beans, meats, and vegetables, to get them cooked well on a skillet. They are better described as a flat and loaded taco.
For this recipe, we used the Philly Cheesesteak-inspired ingredients such as cubed beef, peppers, mushrooms, cheese, and onions, which are then baked until the tortilla gets crispy and the filling is hot.
Ingredients:
2 medium-sized flour tortillas
Half a pound of thinly sliced beef can be replaced with ribeye or top round
A half chopped medium onion
Some diced red pepper
Diced green pepper
6 oz of diced mushrooms
3 slices cut in half of provolone cheese
1 tablespoon of divided light olive oil
1 minced clove of garlic
A quarter teaspoon of salt to taste
1/8 of a teaspoon of ground black pepper to taste
2 teaspoons of mayonnaise
Instructions:
Start by getting a large skillet and heating 2 teaspoons of oil, then add the chopped meat. Make some seasoning by adding salt and pepper, and continue to cook until the beef gets thoroughly cooked. Please remove it from the skillet and cover it with a lid to keep warm.

In the meantime, finely chop your onion and get the mushroom and peppers diced. In the same skillet, sauté the vegetables until they get soft, adding a teaspoon of oil if necessary.
Return your beef to the skillet along with the minced garlic, stir it, and get it cooking until the meat is reheated.
Spread your tortillas with some mayonnaise. Divide the filling among your tortillas, placing it on each side of the tortillas. Close the tortillas by sprinkling the sliced cheese on top of the filling.
Warm your skillet over medium-temperature heat, then adds a little oil to the pan to get a crisper tortilla. Please place it in the hot pan and cook, flipping it from time to time, until the cheese is completely melted and the outside is all golden and crispy. Cut it into slices and serve.
Tips:
If you enjoy eating spicy foods, mix some sriracha and hot sauce into the mayo before spreading it on the tortillas.
You can use any tortilla size you want and as much filling as you wish. A smaller tortilla requires less filling and yields more quesadillas.
Make sure to keep the heat in a medium setting. If you get the tortillas overheated, it will burn, and the cheese will not melt.
It's easiest to use a pizza cutter to cut your quesadillas finely, but a sharp knife will also do the job.