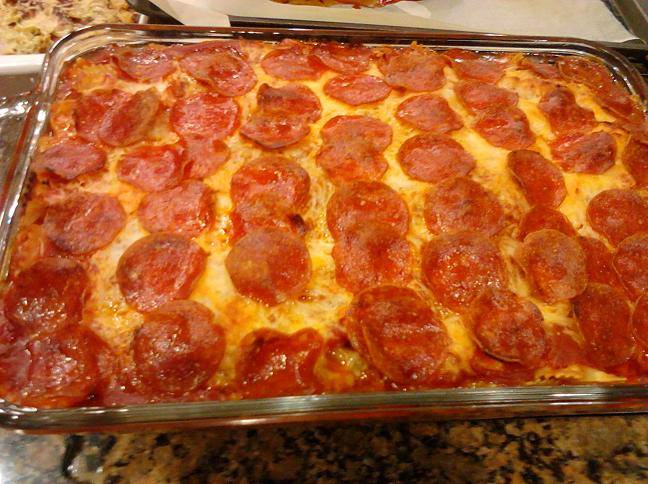 The entire family will enjoy this simple pizza casserole dish! Recipe for a simple dish. Pizza pasta casserole is also a simple freezer dinner. Try it now!
INGREDIENTS
1 lb ground beef (or Italian Sausage)
6 oz pepperoni
3 cups Mozzarella cheese
28 oz can of crushed tomatoes (or 2 15 oz cans of crushed tomatoes)
1 teaspoon garlic salt
1 Tablespoon Italian Seasoning
16 oz penne pasta
1/4 cup Parmesan cheese
INSTRUCTIONS
Preheat oven to 350 degrees. Brown the ground beef and drain any sausage.
Pour in the crushed tomatoes, Italian seasoning, and the garlic salt. Stir to combine.
Meanwhile boil pasta according to directions but cook to al dente, meaning you want the pasta to be firm and undercooked.
Drain pasta and pour half of the pasta in a 9×13 baking dish.
Spoon half the meat mixture over the pasta.
Top with half the Mozzarella cheese.
Lay half the pepperonis on top.
Then later the remaining pasta, meat sauce, cheese and pepperoni.
Sprinkle the parmesan cheese on top.
Cover with foil and bake for 30 minutes at 350 degrees F.
Remove foil and bake another 15 minutes until bubbly and brown.
Allow to cool for 5 minutes and then serve.