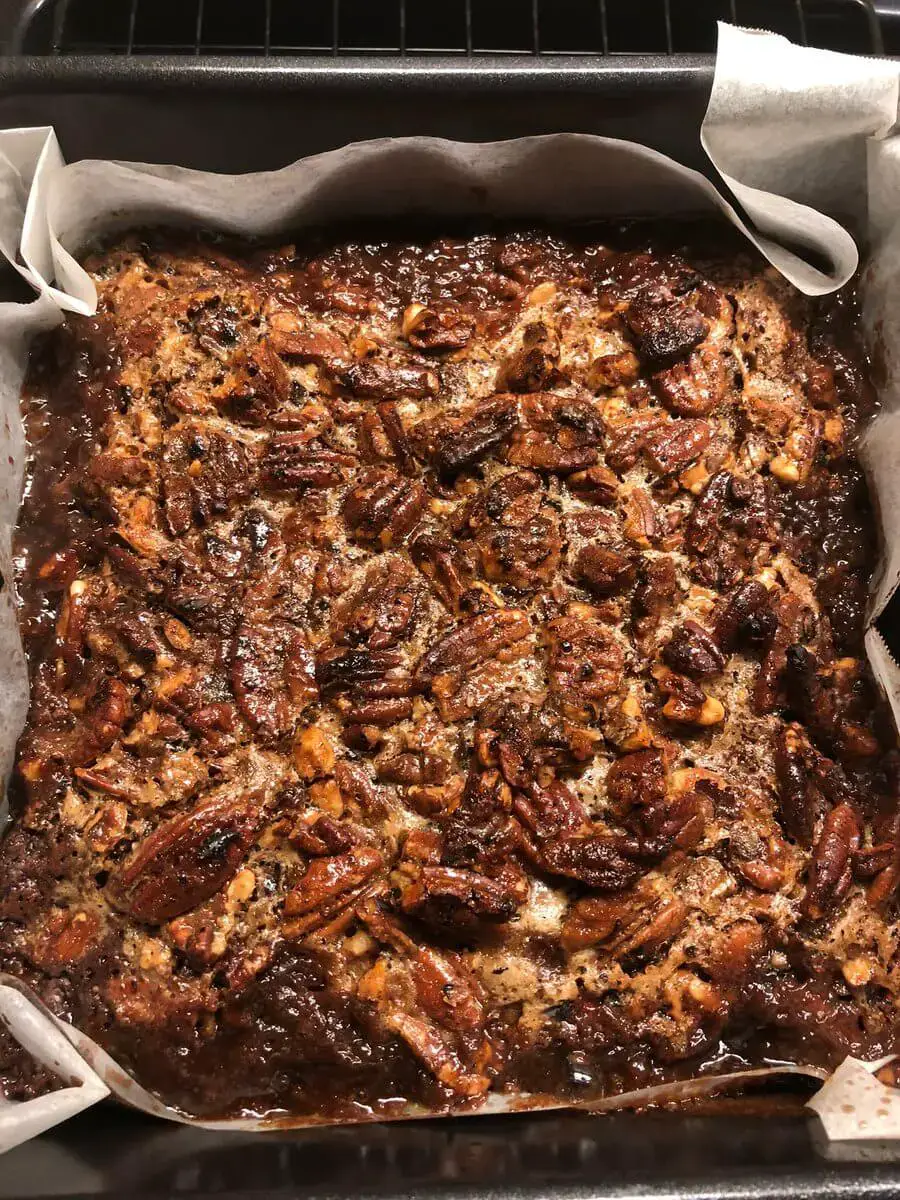 If you're looking for a dessert that's going to satisfy your sweet tooth yet leave you feeling like you haven't eaten a brick, then this is the recipe for you!
Everyone loves a good brownie, but when you add pecans and chocolate chips, you get a world-class dessert. This is the kind of recipe that your friends will beg for, and your family will be over the moon.
The pecan pie flavor is a classic Christmas flavor, but it works perfectly well all year round. These delicious brownies are the best of the two worlds, with a rich chocolate flavor and a delicious pecan. They're guaranteed to be a crowd-pleaser and are so easy to make. You'll find yourself making them again and again, as they're so simple and delicious.
Serving: 16
Prep time: 25 mins
Cook time: 1 hour
Total time: 1 hour 25 mins
Ingredients:
For Brownies
1 cup butter, melted
4 eggs (at room temperature)
3 cups sugar
1 ½ cups all-purpose flour
1 Tbsp. vanilla
1-1/4 tsp. salt
1 cup unsweetened cocoa
For tossing chocolate :
1 tsp. flour
1 cup chocolate chips
For Pecan Pie topping:
1/3 cup corn syrup
2 eggs (at room temperature)
¾ cup brown sugar
¼ cup butter, melted
2 tsp. vanilla
3 ½ cups pecans
1/2 tsp. salt
Instructions:
Preheat your oven to 350 °F and grease 9″ x 13″ casserole dish.
Take a bowl and sift flour, cocoa, salt in it. Set this dry mixture aside.
Take another large bowl and add sugar, butter, eggs, vanilla, and mix together.
Combine wet and dry mixture and mix them well. Sprinkle 1 tbsp of flour over the chocolate chips and toss them in a small bowl.
Now add these coated chocolate chips to the mixture and mix them.
Then add the flour mixture into the bowl and mix well.
Take a small bowl and sprinkle the flour over the chocolate chips and toss. Add these flour-coated chocolate chips to the mixture and mix them well.
Pour this mixture into a greased casserole dish and bake it for 25-28 minutes. Remove it from the oven and set it aside.

If you are using a boxed mix, follow the steps mentioned on the package.
For Pecan Pie Topping
Then take a medium-size bowl and add brown sugar, corn syrup, vanilla, melted butter, and salt. Mix them together.
Add pecans to the same bowl and mix them with a spoon until all pecans are covered.
Pour these well-coated pecans over the brownies and spread them gently. Bake it again for 28-30 minutes.
Your Pecan Pie Brownies are ready. Cut into pieces and serve.
Tips & Tricks:
Feel free to use box mix instead of using the ingredients for brownies, mentioned above.
If you are using a boxed mix, the baking time will remain the same in each step. Don't increase or decrease the temperature and cooking time.
Transfer the pan with brownies over a wire rack to cool completely. Then cut into 16 equal squares.
Leave about 2 inches of excess parchment paper on each side. It will help you to lift the cooked brownies out of the pan.
We hope you enjoyed our article about our favorite Pecan Pie Brownies. These brownies are delicious, and we know that you will enjoy them just as much as we do. If you would like to view more similar types of blog posts and check out the more interesting recipes, please visit our blog.