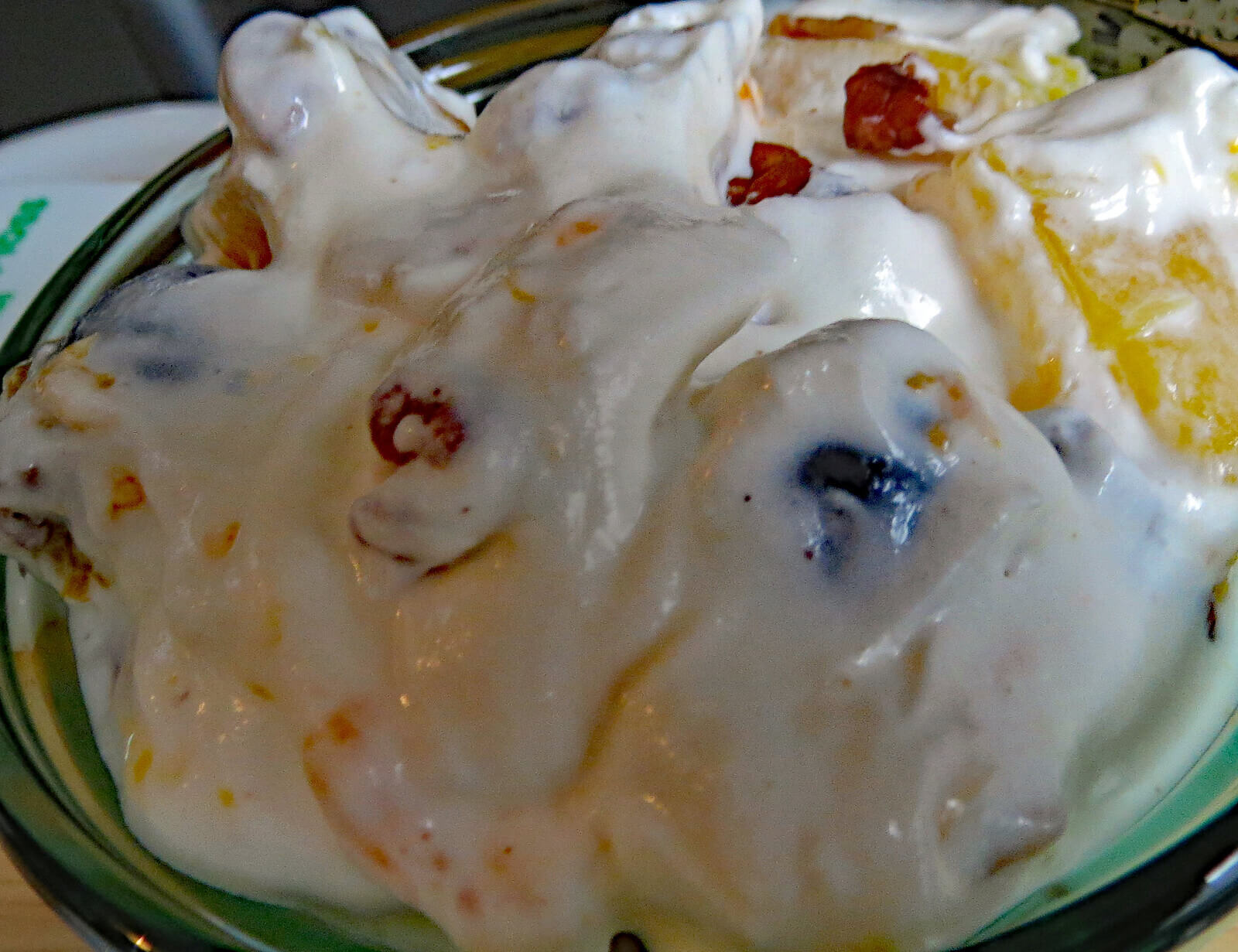 The Orange Cream Fruit Salad is a delectable fruit salad made with simple ingredients such as oranges, bananas, and pineapple, topped with a sweet orange cream! It's the ideal fruit salad dish to serve with your holiday meal.
The Orange Cream Fruit Salad has been a favorite family dish for years. While fresh fruit is always the preference, this is a terrific dish to prepare in the winter when excellent fruit products are tough to come, without mentioning the high cost, because it is made chiefly using canned fruit. It's also helpful when you need to cook a side dish but do not have much time to rush to the store because many of the items keep with you daily.
You can cook this fruit salad for family meals, potlucks, and Easter every single year if you want. One of the best things about fruit salads is how readily they can be customized. This dish is terrific with canned pineapple, bananas, and mandarin oranges, but you can easily substitute with other fruits you prefer. You can add apples, kiwi, grapes, raspberries, and strawberries, and they'll all be delicious with a lovely orange or vanilla coating.
Ingredients:
3 to 4 oz of instant vanilla pudding mix
Cups of milk ¾ to 1 ½
1/3 cup of frozen and concentrated orange juice
8 oz container of Cool Whip
20 oz of well-drained canned pineapple chunks or tidbits
11 oz of well-drained, canned mandarin oranges
2 sliced bananas
Instructions:
Get a mixing dish and combine the pudding mix with milk and the concentrated orange juice.
Keep beating it for about 2 minutes on a medium speed with the help of an electric mixer, then fold in the Cool Whip.
Gently fold in the canned fruit and place in the refrigerator for about 3 hours, or until it's all ready to serve. Feel free to add extra fruit if desired. We recommend adding different oranges or bananas or occasionally strawberries and tiny marshmallows. If you're going to add apples or bananas, make sure to do so right before serving it. And you can finally enjoy it.

This dish has been prepared countless times with great success; however, many people may complain that the salad gets too soupy. We recommend using the milk to ¾ of a cup at first, and then keep adding more if the consistency is too thick for you.
If you cannot locate the Cool Whip in your local area or choose not to use it in recipes, you can substitute it with stabilized whipped cream. If you use the standard whipped cream, your consistency will get too light, and the cream will not stand up well when incorporated into the salad. Making your own whipped cream stabilized is straightforward and takes very few minutes.