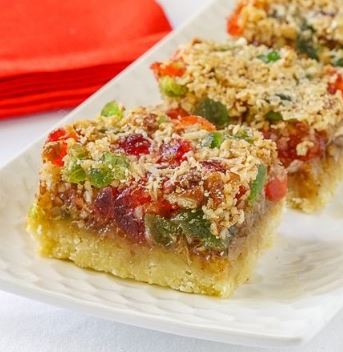 Authentic Cherry Bars. An ancient recipe that is simple to make and freezes quite well. They have a highly holiday-themed appearance.
Ingredients
For the bottom layer
2 cups flour
1/4 cup icing sugar (powdered sugar)
1 cup butter
For the top layer
1 1/2 cups firmly packed brown sugar
2 cups glacé cherries (cut in quarters)
4 eggs
1 cup dried coconut, fine cut
1 tsp vanilla extract
1 cup chopped pecans (optional)
Instructions
Lightly grease a 9×13 baking pan and line it with parchment paper. Preheat oven to 350 degrees F.
Combine the flour icing sugar and butter together by rubbing the butter through the flour and icing sugar with your hands until it resembles a coarse crumbs. You can do this quicker and easier in a food processor if you like.
Press the crumb mixture evenly into the bottom of the prepared pan.
Bake for 20 minutes until the bottom crust begins to brown around the edges. Remove from oven.
Mix together the remaining ingredients until well combined and spread evenly over the bottom layer.
Return to the oven and bake for an additional 25-30 minutes until the top sets and gets a little golden colour.
Cool completely in the pan before cutting into squares or bars.