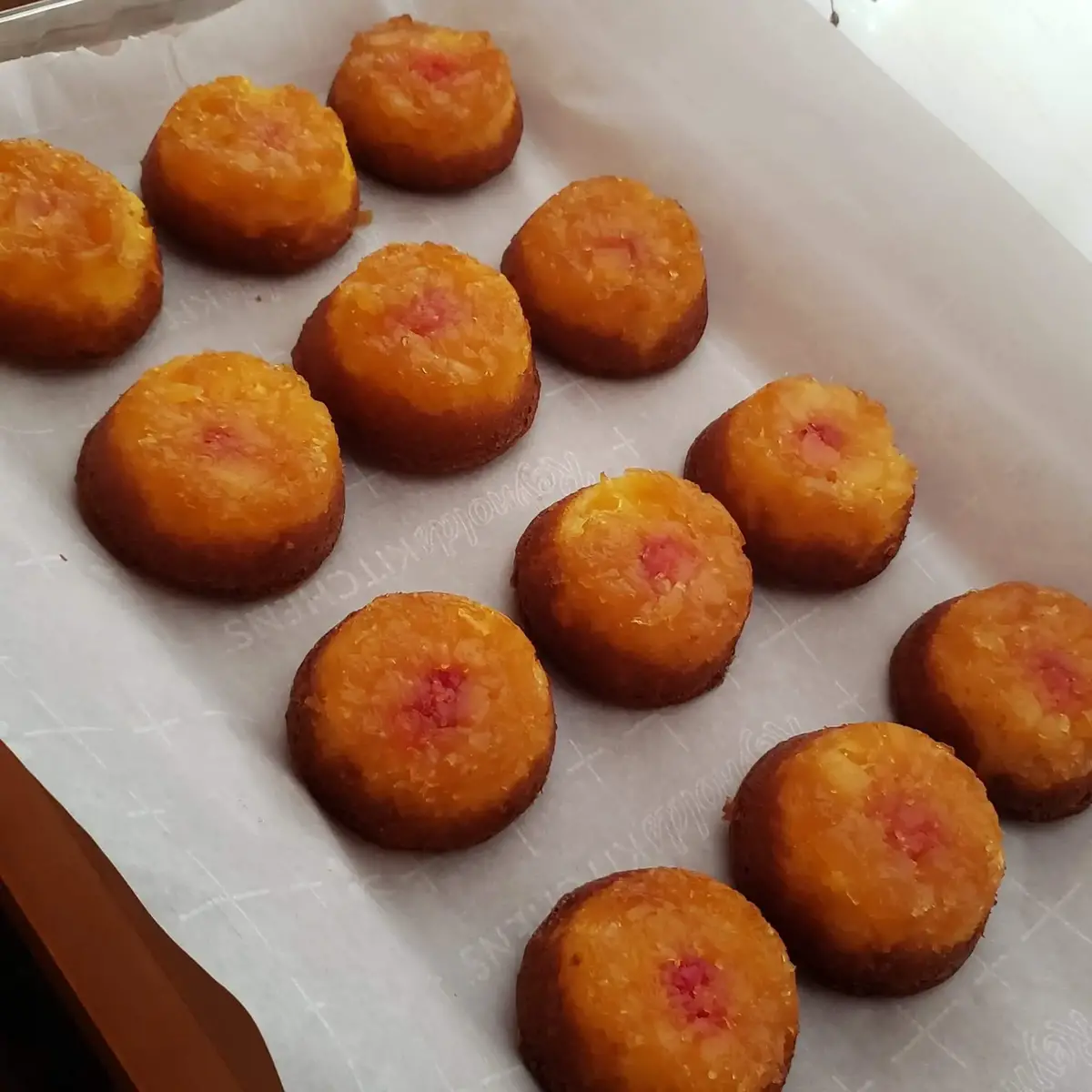 These mini pineapple upside-down cakes have a golden crust and are best topped with cherries and pineapple rings. They are incredibly moist and make excellent individual treats for your guests!
Anything looks cute when it's small, including the upside-down pineapple cake. These mini pineapple cakes are made with a boxed cake mix, maraschino cherries, canned pineapple rings and are exceptionally incredibly simple to make. They look just like the original, but in smaller portions, and they still have that enticing caramel-like crust that everyone adores.
For the pineapple, although we prefer using the canned pineapple rings, the freshly sliced pineapple rings can easily be a substitute for them. If you choose to, you can substitute with the pineapple tidbits or the crushed pineapple.
Concerning the cake, you'll need a boxed cake mix in either white or yellow and the ingredients listed on the back of your box, except for water, which we will replace with some canned pineapple juice. However, if you want to make your delicious batter, you can go ahead! An excellent batter substitute is our upside-down pineapple cake.
Ingredients:
Half a cup of butter
A third of a cup of dark brown sugar
20 oz of canned pineapple rings with one-third of its juice reserved
6 small maraschino cherries
Yellow or white cake mix along with the ingredients on the back of the box, with reserved pineapple juice instead of water
Instructions:
Start by preheating the oven to over 350°, get a non-stick spray and start spraying your jumbo muffin pan.
Melt half a butter cup in a small saucepan over medium heat temperature. When the butter has melted, add your brown sugar and constantly stir for about 3 minutes. Fill each cavity in your jumbo muffin pan with 2 tablespoons of your brown sugar mixture.
Fill each of the muffin sections with one pineapple ring and place a cherry right in the center.

In a medium-sized mixing bowl, combine your dry cake mixture, along with the ingredients listed on the back of the box of your cake mix, except for the water, of course, which we substituted with the 1/3 canned pineapple rings' juice. Use a hand mixer to get it thoroughly combined.
Divide your mixture equitably among the cups of muffin.
Leave it for about half an hour in the oven, remove it, then set it aside for about 10 minutes.
To loosen the cakes from the pan, you can use a butter knife. Now place an upside-down cooling rack on the top of your muffin pan, and try to flip both the stand and your pan in one motion, upside down directly onto a large baking sheet to catch any of the drippings.
Allow it to cool for about 5 minutes. Your cakes will come out by simply lifting your pan slowly.
Tips:
If you do not own a jumbo muffin tin, you may use a regular-sized muffin tin, and it'll suffice. However, if you intend to use the pineapple rings, you should remember that they must be cut to fit inside a standard muffin pan. Cut around your edges with a knife to make them a bit smaller. You can substitute the crushed pineapple or the pineapple tidbits with the rings to make things easier for you.