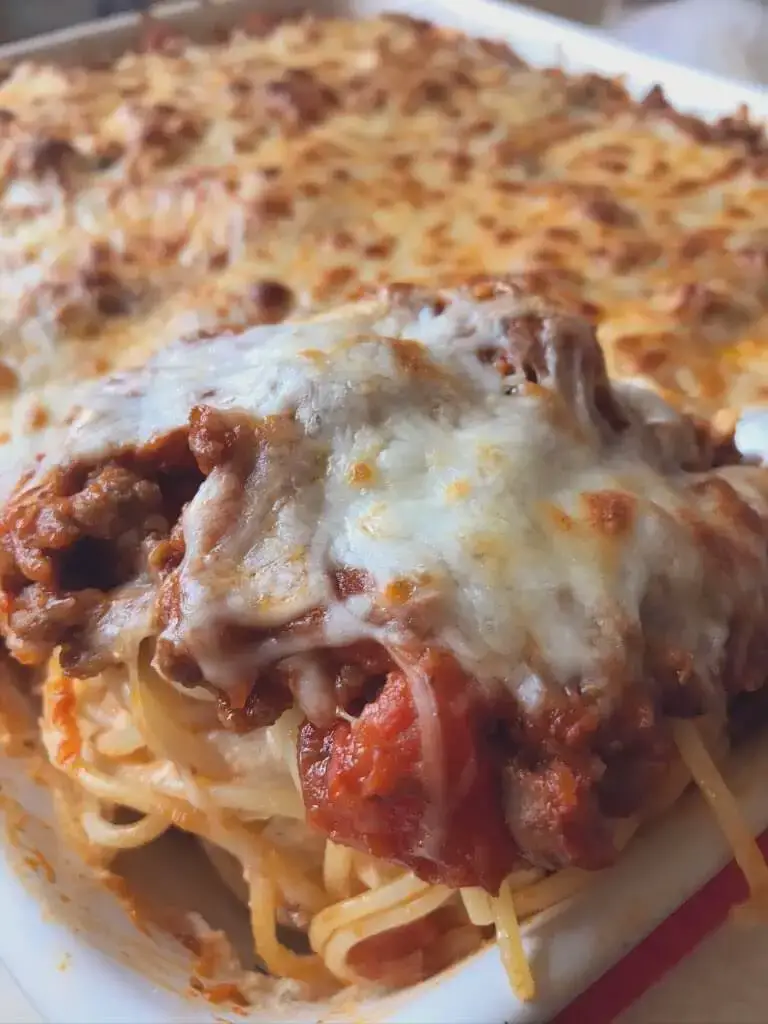 Million Dollar Spaghetti is an Italian -inspired casserole dish filled with pure cheesy goodness and a delicious beef sauce. What makes it named a Million Dollar spaghetti is not the choice of expensive ingredient but the medley of flavors that rejoice and make a perfect dish for you and your family. This on-to-go recipe is very easy to make, especially for busy weekdays, over the weekend, and for the holiday and family gatherings as well.
Million Dollar Spaghetti – The Recipe
Preparation Time: 10 minutes
Cooking Time: 45 minutes
Total Time: 55 minutes
Servings: 8 to 12
Ingredients:
1 pound or 16 ounces of spaghetti
½ pound or 8 ounces of Ground Beef
½ pound or 8 ounces of Ground Italian Sausages
1 medium Onion, chopped
3 Garlic cloves, minced
1 tbsp Italian Herb Seasoning
Salt, to taste
Pepper, to taste
2 ½ cup Marinara Sauce
½ cup canned diced Tomatoes
1 tbsp butter, unsalted and at room temperature
1 tbsp Olive Oil
8 ounces of Cream Cheese
1 cup Ricotta cheese
1 cup Parmesan cheese, grated
1 ½ cup Mozzarella cheese, grated
Basil, for garnish
Method:
Start with preheating the oven at 350-degrees.

Prepare a casserole dish around 8" x 12" by greasing it with butter.
In a pan, add olive oil and let it heat over low to medium heat.
Add onions and sauté them until translucent or for 2 minutes. Then add garlic and sauté for another minute or until fragrant.
Now crack up the heat from medium to high. Add ground beef and sausages to the pan and stir continuously to have a ragu-styled texture. Let it brown a little.
Drain the excess juices, if any, and then add the diced tomatoes.
Let the tomatoes dry up a little, then add 1 ½ cup of marinara sauce.
Seasoning with half of the Italian herb seasoning, salt, and pepper.
Let it bubble for 5 to 8 minutes or until the beef is cooked, then set aside.
Boil the spaghetti in the salted water till al dente according to the package instructions and drain.
Put the drained spaghetti into the pot again and add the remaining 1 cup of marinara sauce and toss them well.
In a mixing bowl, whip cream cheese and ricotta cheese along with remaining Italian herb seasoning and a little pepper.
Finally, assemble the dish in the prepared casserole dish by filling the dish with half of the spaghetti and all of the meat sauce.
Now pour in half of the cheese mixture and spread evenly.
Repeat with half of the spaghetti and cheese mixture.
Finally, sprinkle mozzarella and parmesan cheese and bake the casserole for 30 to 35 minutes or until the crust is golden browned and bubbly.
Let it rest at room temperature for 10 to 15 minutes, then serve and enjoy!
Can I make the Million Dollar Spaghetti Ahead?
Of course, you can prepare the elements of the dish and layer them in advance and even freeze an entire batch. Just bake for 30 to 35 minutes until crusty. Do remember to bake for 40 to 45 minutes if the casserole is frozen.