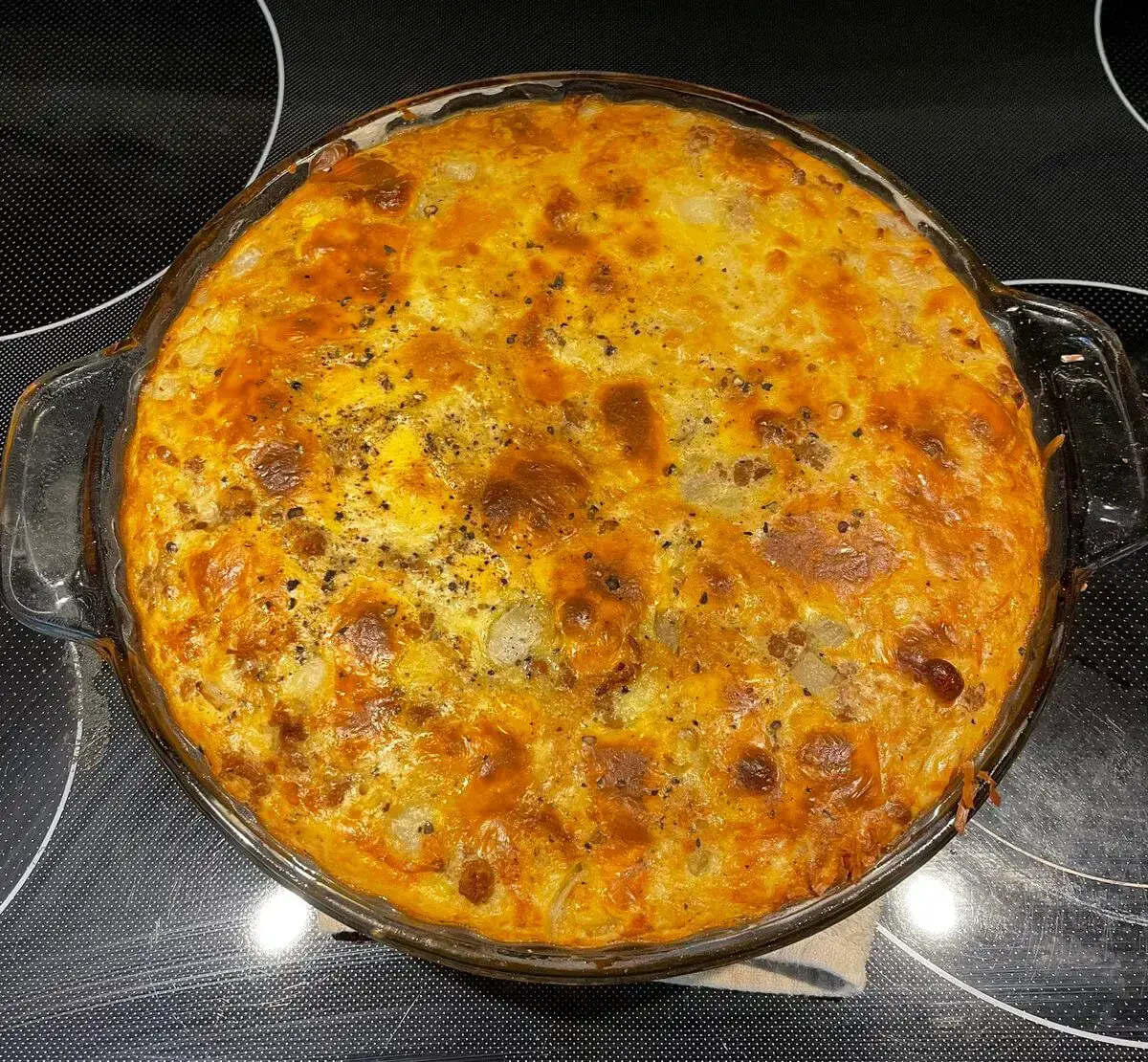 Impossible Cheeseburger Pie is a unique pie recipe. It uses flavours from a cheeseburger and turns them meticulously into a pie. The ingredients are simple and offer maximum flavour. This pie is super easy to make and is a delicious lunch or dinner option for you and your family.
Ingredient breakdown
Here is what you will need to make this tasteful and quick Impossible Cheeseburger Pie:
Olive oil: Olive oil aids in browning the onion and beef. You can use butter or any other cooking oil as well.
Ground beef: The main ingredient used in this pie is ground beef. You can mix it with ground pork as well. Plus, you can also use ground turkey or chicken meat.
Baking mix: Baking mix is a premade mix made from all-purpose flour, baking powder etc. it is a quick and convenient product. It eliminates the need to use several products for this recipe. You can use any brand's baking mix for this recipe, but I prefer using Bisquick.
Onion soup mix: Onion soup mix is yet another quick way of adding ingredients and flavours to this recipe. It is made from onion flakes and spices, which reduce the number of ingredients and make this recipe super easy.
Eggs: Eggs act as a binding agent and make a crust on top of this pie.
White onion: You will need white onions for their savoury flavour with the ground beef.
Whole milk: Use whole milk to get the runny consistency of the batter. Plus, as the pie cooks, the liquid will evaporate, and milk will ensure the crust has the perfect texture.
Cheddar cheese: No cheeseburger is complete without cheddar cheese. Although I have used mild cheddar cheese, you can use sharp cheddar cheese or any other cheese as well.
Impossible Cheeseburger Pie – The Recipe
Preparation time: 15 minutes
Cooking time: 35 minutes
Total time: 50 minutes
Servings: 4 to 6
Ingredients:
1 tsp olive oil
1 lb. ground beef
½ cup baking mix
2 tbsp onion soup mix
2 whole eggs
1 cup white onion, chopped
1 cup whole milk
1 cup mild cheddar cheese, shredded
Preparation:
In a cast-iron skillet, heat olive oil.
Add chopped white onions and sauté for a minute or until they turn translucent.

Now add ground beef and cook by breaking it apart using a wooden spoon.
Cook for about 5 to 7 minutes or until it gets brown in colour. Turn off the heat.
Scoop this mixture onto a greased pie pan.
Sprinkle cheddar cheese evenly over the meat mixture and set it aside.
In a large bowl, pour milk.
Add baking mix, onion soup mix and crack eggs.
Whisk everything together until you get a smooth mixture.
Pour this mixture over the cheese in the pie pan.
Place the pie pan in a preheated oven at 400 degree F for about 20 to 25 minutes or til the top is of golden colour.
Take it out of the oven and let it cool down a bit.
Serve.