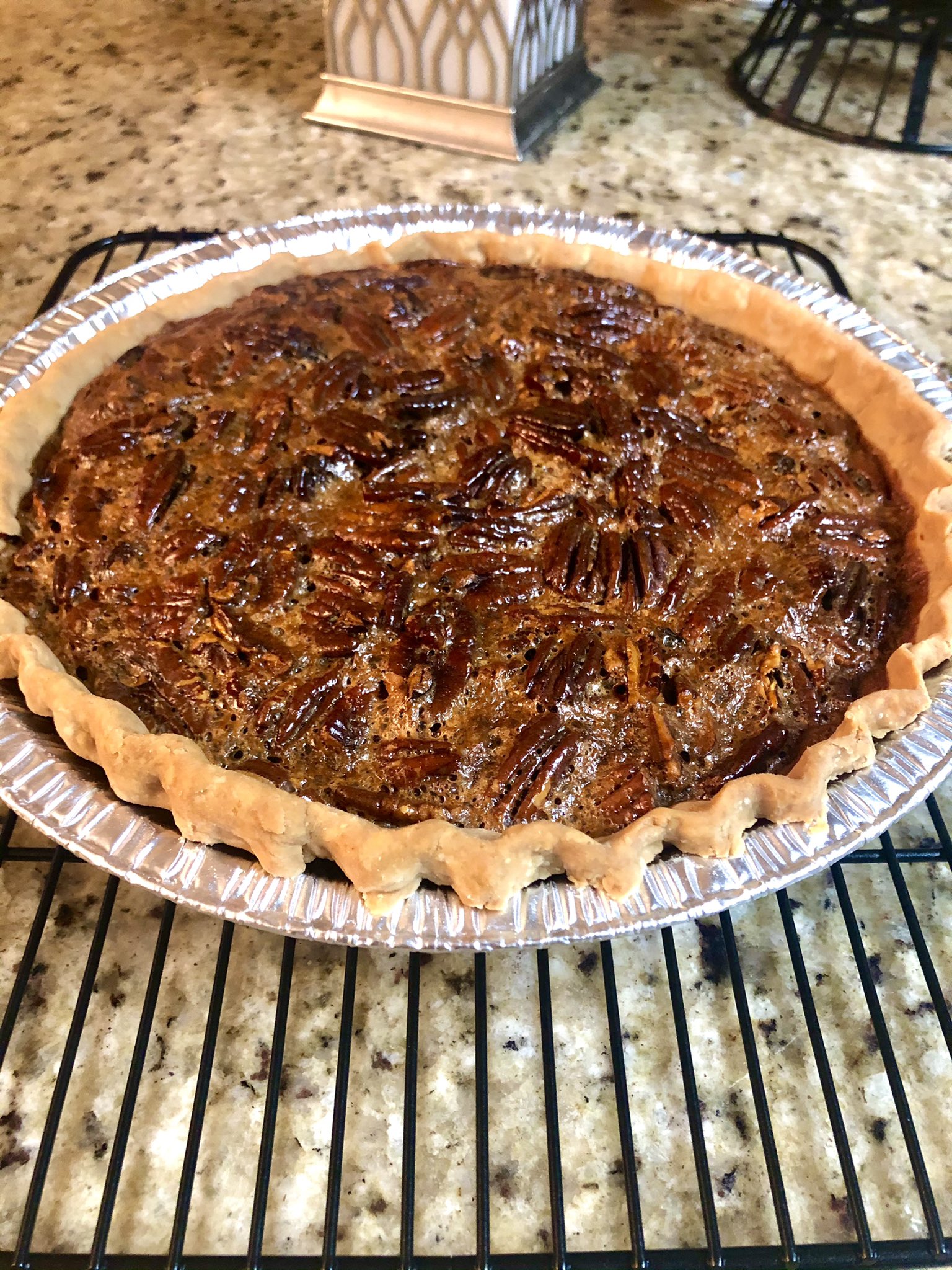 The traditional handmade pecan pie has a buttery, flaky crust and a rich, ooey, crunchy, and toasted pecan filling. ideal dessert for Thanksgiving!
Ingredients
1 batch pie dough
2 cups (227 grams) pecan halves
4 large eggs, at room temperature
1 cup (312 grams) light corn syrup
3/4 cups (150 grams) dark brown sugar
1 teaspoon vanilla extract
1/4 teaspoon fine salt
1/4 teaspoon ground cinnamon
4 tablespoons unsalted butter, melted and cooled
Directions
Prepare the pie crust:
Roll the dough out on a generously floured work surface. Keep turning the dough after every roll to ensure it doesn't stick to the counter and is of even thickness. Add additional flour to the dough, the counter, and your rolling pin as needed. Roll out into a 12 to 14-inch circle, depending on how deep your pie tin is.
Gently roll the dough up and around the rolling pin then unroll and drape over a 9-inch pie tin. Gently press into the pie tin, being careful to avoid stretching it to fit. Use scissors or a knife to trim the excess dough, leaving a 3/4-inch overhang. Fold the overhang under itself and crimp or flute. Pierce the base of the dough with a fork.
Wrap the dough in plastic and refrigerate for at least 2 hours, or overnight.
Preheat oven to 400°F.
Line the chilled crust with foil, pressing all the way to the edges to ensure they don't slump down. Fill the crust completely with pie weights, rice, or dried beans.
Place on a rimmed baking pan. Bake for 18 to 20 minutes, or until pale and just beginning to brown but not raw. Reduce oven temperature to 350°F.
Make the filling:
Place pecans on a rimmed baking sheet and toast in a 350°F oven until fragrant, about 8 to 10 minutes. Set aside to cool completely. Maintain oven temperature.
In a large mixing bowl, whisk together the eggs until well beaten. Add the corn syrup, brown sugar, vanilla, cinnamon, and salt. Gradually whisk in the melted butter until combined.
Place pecans in cooled pie crust. Pour egg mixture into crust.
Bake for 40 to 50 minutes, or until the edges of the filling are set but the center is still slightly wobbly. Your pie should have an internal temperature of 200°F when finished. If the crust begins to brown too much, cover with a pie shield and continue baking. Remove from the oven and let cool completely before slicing and serving.