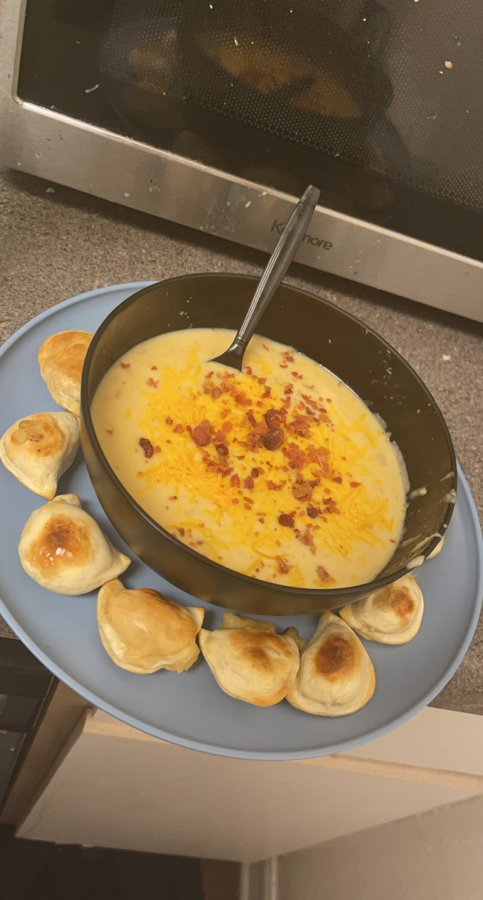 Craving something warm and hearty on a cold day? Look no further than Crockpot Potato Soup! This easy to make, slow-cooked soup is loaded with flavor, chunks of creamy potatoes, and the perfect blend of spices. Not only is it comforting and delicious, but it's also a great way to use up any leftover potatoes you have in the house. Enjoy this simple, yet satisfying dish that will be sure to satisfy even your pickiest eaters.
Ingredients:
1 30oz. bag of frozen diced hash browns
1 32 oz box of chicken broth
1 can of cream of chicken soup (10 oz)
1 pkg. cream cheese (8 oz, not fat free)
3 oz bacon bits
1 cup shredded cheddar cheese
salt and pepper to taste
Directions:
Put the hash browns in the crockpot. Add in the chicken broth, cream of chicken soup and half of the bacon bits. Add a pinch of salt and pepper.
Cook on low for 7-8 hours or until potatoes are tender.
An hour before serving, cut the cream cheese into small cubes. Place the cubes in the crock pot. Mix a few times throughout the hour before serving.
Once the cream cheese is completely mixed in, it's ready to serve.
Top with cheddar cheese and some additional bacon bits.