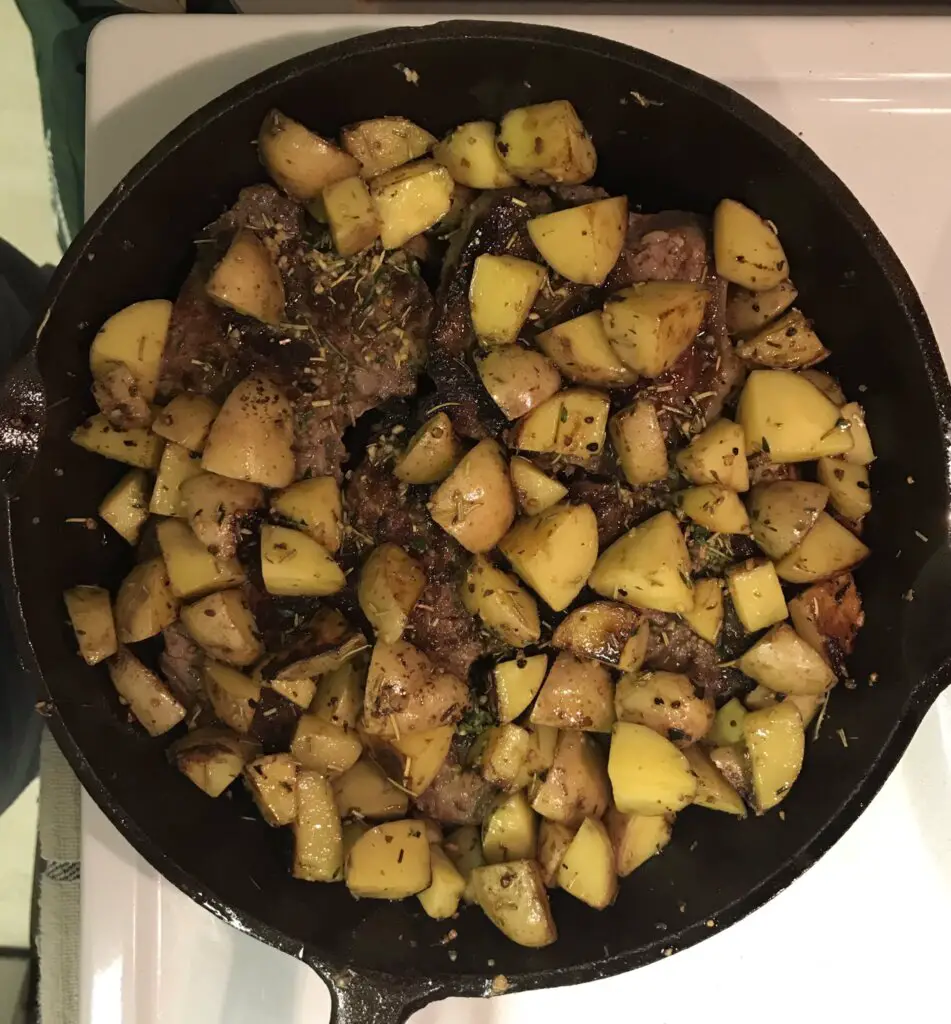 With the long weekend ahead, I am looking for some delicious recipes that can be prepared in minutes. I will use my favourite kitchen gadget, the cast iron skillet, to cook garlic butter steak and potatoes skillet.
Cooking is an art. You have to adjust to a number of factors to get the perfect result. Garlic butter steak and potatoes skillet is a very delicious dish but, it requires a little bit more work to prepare. This blog will provide you with the exact steps to prepare this dish.
Garlic Butter Steak and Potatoes Skillets: The Recipe
Preparation Time: 10 minutes
Cooking Time: 20 minutes
Total Time: 30 minutes
Servings: 4
Ingredients:
2 to 4 Petite Steaks
Salt
Pepper
1 tsp of Garlic Powder
1 tbsp of Olive oil
2 to 4 pounds of Baby Potatoes (cut in dice shape)
2 to 6 tbsp of Salted Butter
2 tsp of Garlic
1 tsp of Dried Italian Herb Blend
1 tsp of Fresh Thyme
1 tsp of Fresh Parsley
Directions:
Prepare the oven for baking. Preheat it up to 400 degrees Fahrenheit.
Take a bowl and add ingredients including, butter, dried herbs, and garlic powder. Mix these ingredients.
Mix salt, pepper and garlic powder. Use this seasoning on the steaks on both sides.

Take a skillet and put it on a stove with medium flame.
Add oil for shallow frying. Fry steaks from both sides until they are cooked. Sear each side for at least 2 to 3 minutes.
Once cooked, take them out on the plates.
Now add potatoes to the skillet. Sprinkle salt, pepper and garlic powder on them. Saute them for 3 to 5 minutes. Cook until they turn brown.
Move the potatoes to one side of the set and set the steaks on the other side of the skillet.
Put them in the oven and bake. This may take fifteen to twenty minutes. Potatoes and steak will completely cook and be ready to be served with toppings.
Take them out and put some garlic butter on steak and potatoes. Let the butter melt. Now coat them in butter and sprinkle thyme and parsley. Serve hot.
Variation Ideas
You can try variations in the original recipe as per the taste and appearance. Below is some variation ideas for this recipe.
Use dipping sauce instead of Butter for creamy textures. You can use any dipping sauce, preferably your favourite one.
Try different herbs like rosemary or chive. It will add more colour and flavours to the recipe.
Use spice rub or either try variations like Blackening seasoning or any other.
If you don't want to add or subtract any ingredient then swap originally used potatoes with red potatoes or fingerling potatoes. Again, use one you like. Whichever type you used, ensure that they are fork-tender and not so soft once microwaved.
For a spicy hot, add red pepper flakes along with herb butter.
Can you store garlic butter steak and potatoes skillets?
Yes, you can store the leftovers. Use an air-tight container to store in the refrigerator. Storage time is 3 days and prolonged storage will ruin the taste.