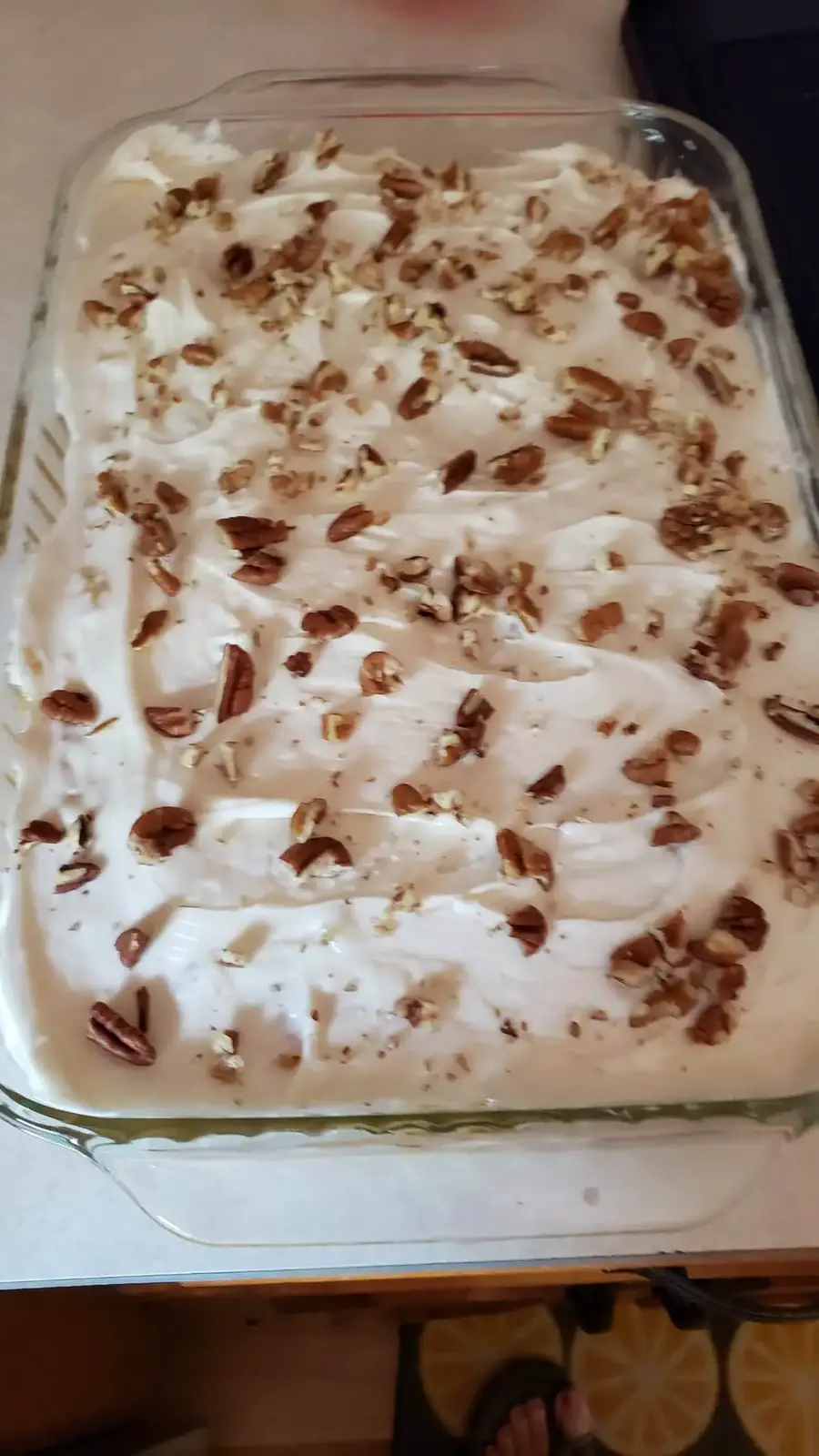 Who doesn't know the legendary Elvis Presley? I mean, he truly was a legend. And he was so popular that he even had a cake named after him. The popular "Elvis Presley sheet cake" is a simple yet delicious and fully loaded cake. It is made using simple ingredients and is a perfect dish to include to have a good time with your friends and family.
The cake has a simple base and is topped with a pineapple mixture. Finished off with cream cheese frosting and pecans, this cake is ultra-moist and very tasteful.
The fluffy cake base, tropical pineapple flavor, richness and creaminess from cream cheese frosting, and crunch of pecans make it everyone's favorite.
The best thing about this cake is that it is super easy to make. Thanks to the premade cake mix, you just have to follow the instructions, and the cake is made. You can still bake a perfectly moist cake even if you are not much of a baker.
Here is what you will need for this tasteful cake recipe.
Elvis Presley Sheet Cake – The Recipe
Preparation time: 10 minutes
Cooking time: 30 minutes
Total time: 40 minutes
Servings: 12
Ingredients:
1 box of Cake Mix
1 ½ cup canned Pineapple, Crushed
2 cups chopped Pecans
1 cup white granulated Sugar
3 cups white Powdered Sugar
1 cup Cream Cheese
½ cup Butter softened
1 tsp Vanilla Extract
Preparation:
First of all, prepare the white cake mix as per the directions given on the back of the box.
Once you have prepared the batter, pour it into a parchment-lined baking pan.
Bake the cake as per the directions given on the back of the pack.
Once the cake is made, insert a toothpick to check its doneness. If the toothpick comes out clean, it means the cake is ready. Take it out of the oven and set it aside to cool down.

Poke small holes in the cake using a wooden spoon or a knife. Make sure the holes are poked at half-inch intervals. Set the cake aside.
In a saucepan, add crushed canned pineapples with juice and white granulated sugar. Bring the mixture to a boil while constantly stirring until the sugar dissolves completely.
Pour this mixture onto the baked and cooled cake. Spread it evenly across the cake's length and set it aside to cool down.
Meanwhile, in an electric mixer bowl, add cream cheese and butter.
Start mixing the two ingredients at low to medium heat until they are well combined.
Now add powdered sugar and continue to beat the ingredients.
Once everything is well combined, and forms stiff peaks, add vanilla extract and roughly chopped pecans. Gently fold using a rubber spatula.
Now spread this frosting over the cool cake and level it using a spatula. You can add more pecans to garnish the cake.
Place it in the refrigerator for an hour or so to chill.
Serve.