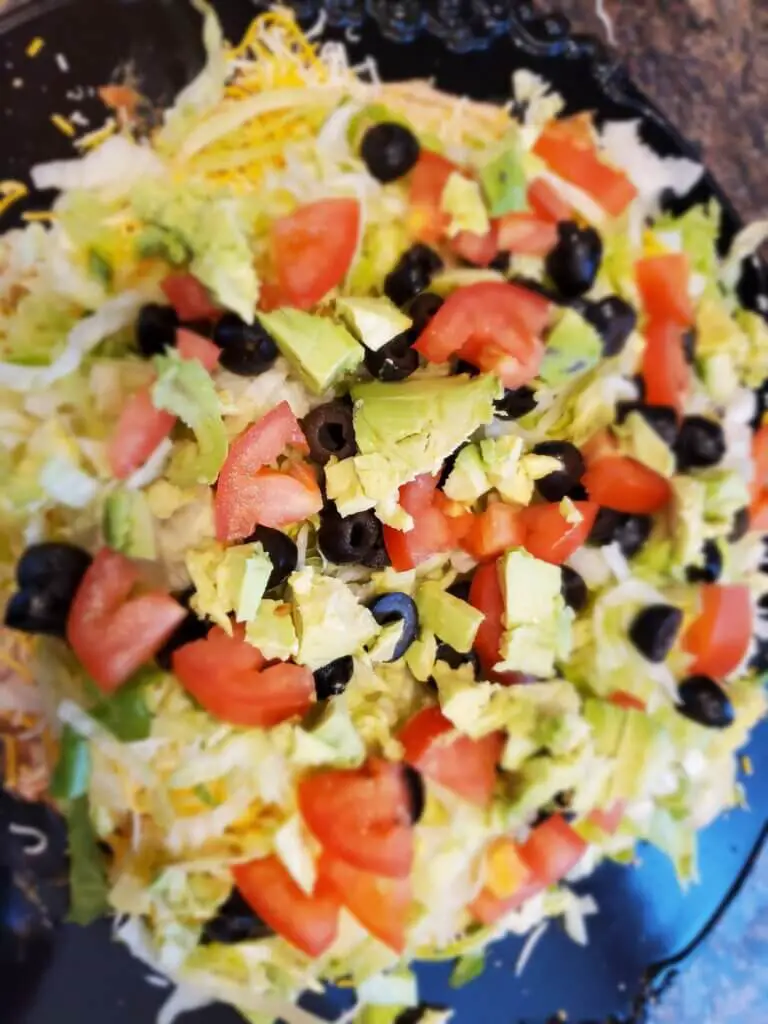 7 layer dip is versatile and tasteful, and the best part is that it is super easy to make. All you need is simple ingredients. Combine them to make something rich, creamy and delicious. Serve this dip with tortilla chips, nachos etc. and enjoy!
What is a 7 layer dip?
7 layer dip is a delicious dip that is built upon different flavours and textures. There are seven different ingredients used that are layered upon one another. As you dig into this dip, you find layers of different flavours, making it fun and utterly delicious. This dip is super popular on game day, movie nights or parties where friends and family get together and enjoy delicious snacks.
Variation ideas
Here are a few ways you can change the actual recipe and add more flavours or layers to the dish:
You can use pica de Gallo or salsa as one of the layers. Both these are super easy to make and go very well with the rest of the layers. These add a Mexican flair to this dip.
You can add chopped bell peppers or jalapenos to the final layer as well.
You can use Greek yoghurt or cream cheese instead of sour cream as well.
How to store 7 Layer Dip?
Once you refrigerate the dip, it will stay fresh for up to 5 days in the refrigerator. Just remember not to put the wet spoon in it; otherwise, the ingredients will start to go bad. Also, always keep it covered tightly because the contact of air with the ingredients, especially with guacamole, will cause it to start turning brown.
Easy 7 Layer Dip – The Recipe
Preparation time: 10 minutes
Cooking time: N/A
Setting time: 2 hours
Total time: 2 hours 10 minutes
Servings: 4 to 6
Ingredients:
1 cup refried beans
½ cup Rotel tomatoes, diced
1 tbsp taco seasoning
¾ cup sour cream
½ cup cheddar cheese, finely shredded
½ cup Monterey jack cheese, finely shredded
¼ cup Roma tomatoes, diced
2 tbsp cup black olives, sliced
2 tbsp green onions, sliced
For the guacamole:
2 medium avocados
¾ tbsp lime juice
2 tbsp cilantro, chopped
½ red onion
1 garlic clove, minced
Salt, to taste
Preparation:
In a large bowl, add refined beans, taco seasoning and Rotel tomatoes. Mix well so that everything combines.

Spread this mixture at the bottom of a casserole dish evenly.
Cut the avocado in half, remove the seed and scoop it out into a large bowl. Using a potato masher or a spoon, mash the avocado. Add lime juice, chopped cilantro, red onions, and salt. Mix well.
Spread this guacamole mixture evenly over the refined bean mixture.
Mix sour cream to give it a smooth consistency. Now spread it evenly over the guacamole layer.
Cover the sour cream with shredded cheddar cheese and Monterey jack cheese evenly.
Now add diced Roma tomatoes, green onions and black olives.
Cover the casserole dish with plastic wrap and place it in the refrigerator to chill.
Serve.