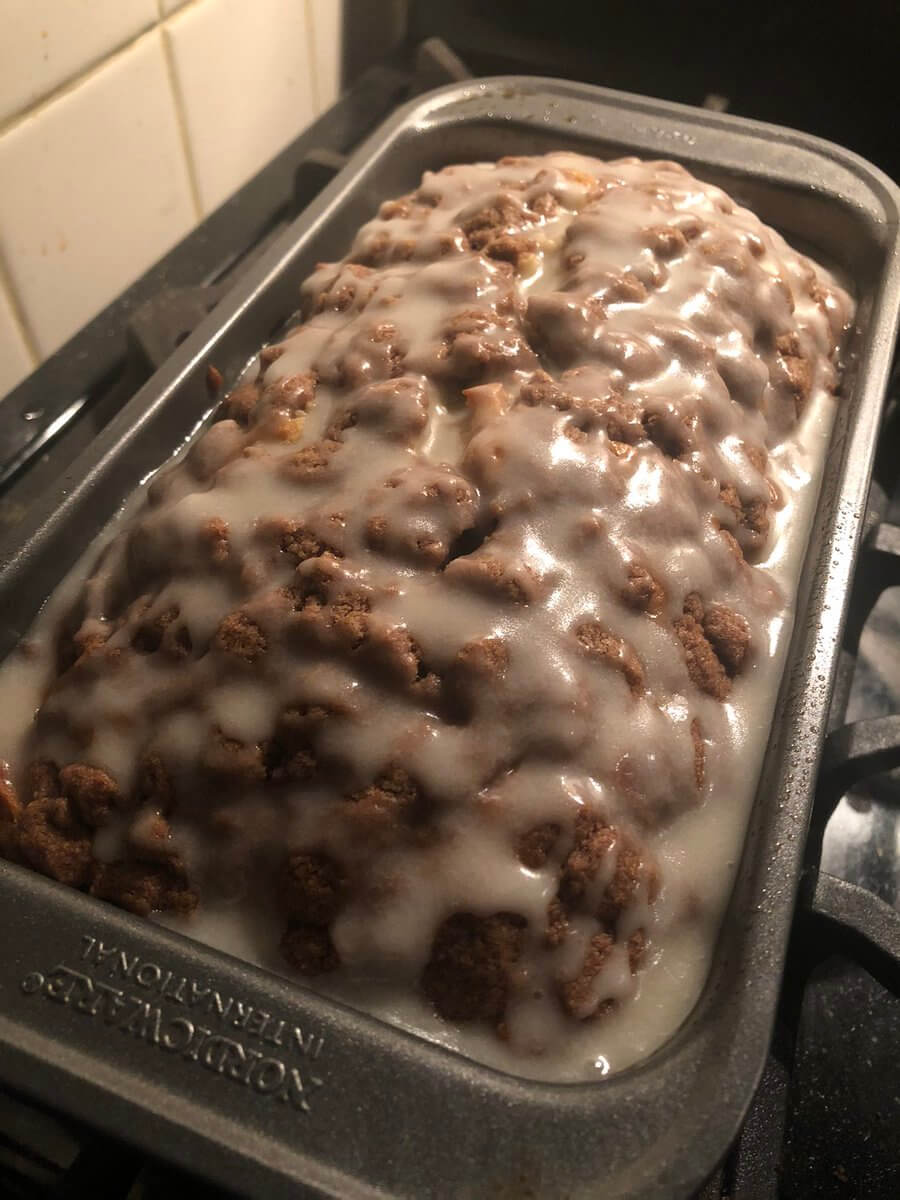 Dutch Apple Bread is a delicious bread you can easily make at home. It is a perfect ingredient for breakfast for tea parties. The bread is not just flavoursome but has a beautiful aroma. The sweetness of the apples with a crunch from walnuts and moist bread is a perfect combination. Adding the cinnamon-flavoured crumble and a glaze, add the cherry on the top and make this bread simply irresistible.
Tips for making Dutch Apple Bread:
When making this delicious apple bread recipe, you can use Pink Lady, Fuji or Granny Smith. These varieties give you crispy apples, and they work well for this recipe.
Make sure the butter and egg for the bread are at room temperature.
You can add dried raisins and mulberries to this bread as well.
Dutch Apple Bread – The Recipe
Preparation time: 15 minutes
Cooking time: 50 minutes
Total time: 1 hour 05 minutes
Servings: 4 to 6
Ingredients:
For the Bread
1 cup all-purpose flour
¾ cup fresh green apples, decored, peeled and chopped
¼ cup butter softened
1 whole egg
¼ cup dairy milk
½ tsp vanilla extract
¼ cup walnuts or pecans chopped
½ cup white granulated sugar
½ tsp baking powder
¼ tsp salt
For the Dutch Crumb Topping
2 ½ tbsp all-purpose flour
2 ½ tbsp butter, cold
2 tbsp light brown sugar
1 tsp cinnamon powder
For the Vanilla Glaze
¼ cup powdered sugar
½ tbsp milk
½ tbsp melted butter
¼ tsp cinnamon powder
Preparation:
For the Bread
In a bowl of a standing mixer, add softened butter and white granulated sugar. Whisk the two ingredients at low to medium speed until they are creamed.
Now add an egg and dairy milk and continue to whisk.
Add vanilla extract and gently fold it into the mixture.

Add all-purpose flour, baking powder and salt. Continue to whisk until everything is well combined and you get a sticky batter.
Add chopped apples and walnuts. Gently fold using a rubber spatula.
Place this mixture into a parchment-lined bread tin and set it aside.
For the Dutch Crumb Topping
Add all-purpose flour, butter, cinnamon, and brown sugar to a bowl. Mix well using a spoon so that everything is well combined, and you get a crumble.
Spread this crumble evenly on the bread mixture and place it in a preheated oven at 350 degrees F for about 50 minutes or until the internal temperature of the bread reaches 200 degrees F.
Take the bread tin out of the oven and let it cool down completely.
For the Vanilla Glaze
In a microwave-safe bowl, add butter and microwave for 30 seconds or until the butter melts.
Add powdered sugar, cinnamon and daily milk. Mix well until you get a smooth mixture.
Once the bread is cool enough, take it out of the bread pan and place it on the cooling rack.
Drizzle the prepared glaze on top and serve.