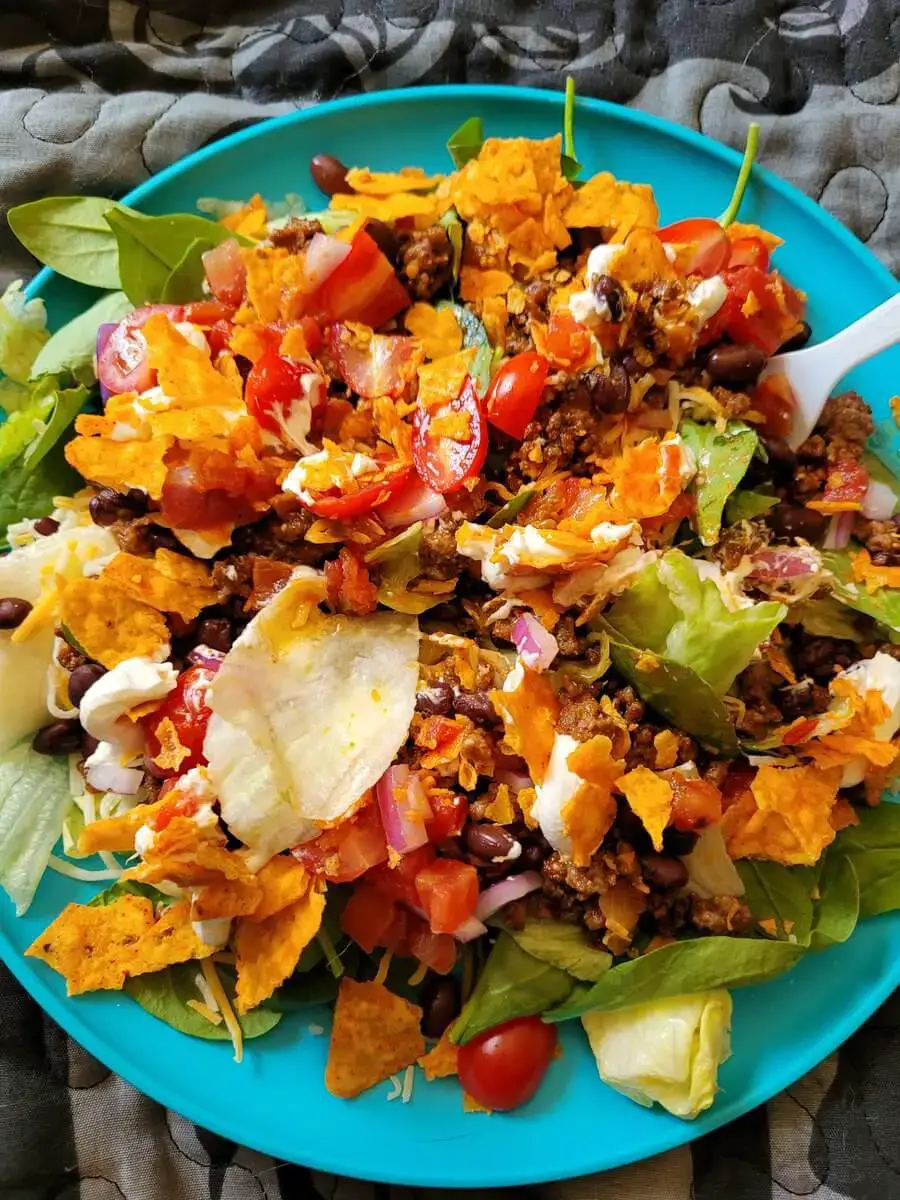 Dorito Taco Salad is a great dish for any occasion. It is full of flavor and easy to make. The best part about this dish is that it can be made ahead of time and served cold or at room temperature. This salad is perfect for a summer BBQ or potluck.
Variations ideas:
The basic ingredients in a Dorito taco salad are Doritos, lettuce, tomatoes, ground beef and cheese. However, many variations of this recipe call for different ingredients. Some variations ideas include:
Ground Turkey: Swap ground beef with turkey, and the dish will taste great. The crunchy texture of the Doritos compliments the ground turkey perfectly.
Black beans: Black beans have a mild, nutty flavor that pairs well with the bold flavors of Dorito taco salad.
Corn: Corn really ties the whole dish together and gives it that authentic Mexican flavor.
Diced onions: Diced onions add a crunchy texture to the salad, pairs well with the other ingredients in the salad and helps to balance out the sweetness of the dressing or sauce that is used in this dish.
Ranch dressing: Ranch dressing is creamy and tangy, with a hint of sweetness. It goes well with Dorito Taco Salad because it complements the flavors of the taco seasoning and the cheese.
Sour cream: The acidity of the sour cream helps to balance out the rich, savory flavors of the dish.
French dressing: French dressing has a slightly tangy flavor that pairs well with the crunchy texture of Doritos and helps to bring out the flavor of each ingredient.
Tips to Remember:
When making Dorito taco salad, it is important to remember a few tips:
Use fresh ingredients, and this will ensure that the salad tastes its best.
Be careful not to overcook the ground beef; otherwise, it will get dry.
You can adjust the spices according to your liking.
Dorito Taco Salad – The recipe
Preparation time: 10 minutes
Cooking time: 10 minutes
Total time: 20 minutes
Servings: 4
Ingredients:
½ lb. lean beef, ground
1/3 cup water
½ packet of taco seasoning
½ head iceberg lettuce chopped into bite-sized pieces
1 small green pepper, chopped
1 small red pepper, chopped

¼ cup black olives, sliced
½ cup diced tomatoes
½ can rinsed & drained pinto beans
½ cup shredded cheddar cheese
1/8 cup green onions thinly chopped
1 cup Catalina salad dressing
2/3 cup Nacho flavored Doritos
Cooking oil spray
Preparation:
Apply cooking spray to a saucepan over medium heat, add beef and cook until no longer pink. Drain if any fat.
Then add water and taco seasoning, allow the mixture to simmer for 5 minutes until thick, remove from heat and set aside.
In a medium bowl, add green onions, cheddar, tomatoes, pinto beans, black olives, pepper and lettuce. Add cooked beef on top.
Crush Doritos slightly and sprinkle on top, drizzle with Catalina dressing and toss gently to make an even coating.
Once done, transfer to the serving bowls and serve immediately.