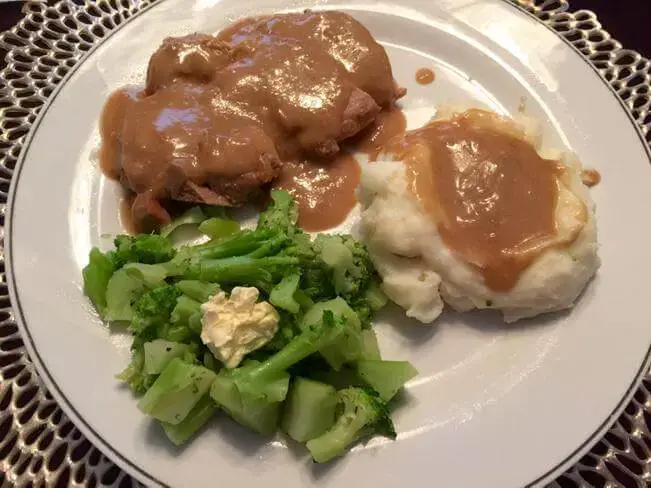 The crockpot is one of the most helpful kitchen devices. With it you can save yourself a ton of money and feed your family healthy meals throughout the week. The best thing about cooking for me is that you can throw a bunch of ingredients into one pot and it'll taste like you've been slaving over the stove for hours.
One of my favorite go-to meals is Crockpot Smothered Pork Chops. They are super easy to make and they are sure to please everyone at the table. My family loves them because they taste great and they are super tender, falling right off the bone. The best part… They are a one-pot meal, so it makes cleanup a breeze! This delicious dish will be a big hit with both adults and kids, as well as look great on the dinner table.
Serving: 6
Preparation Time: 10 minutes
Cook Time: 6 Hours
Total Time: 6 hours 10 minutes
Ingredients:
8 oz Mushrooms Sliced
Boneless Thick Cut Pork Chops
1 can(10.5 oz ) Cream of Mushroom Soup
1/2 Onion Sliced
1 can (10.5 oz) Cream of Chicken Soup
1 tsp Paprika
2 tsp Minced Garlic
1/2 cup Beef Broth
1 tsp Pepper
Instructions:
Take a 6-quart crockpot and place pork chops in its bottom. Then add onions and mushroom sliced on the top of the chops.
Now take a medium-size mixing bowl and whisk together beef broth, cream soup, paprika, garlic, and pepper in it. Pour this liquid mixture into the crockpot.
Cover with lid and cook for 7-8 hours on low until the pork chops are cooked thoroughly or the internal temperature read 165 F.

Your Crockpot Smothered Pork Chops are ready. Serve hot!
Tips & Tricks:
If you are leaving home for more than 7-8 hours, then it is suggested to use a programable crockpot.
Use crockpot liner for making cleanup a breeze.
If you don't have boneless pork chops, feel free to use any available option on sale or in your freezer.
Don't use thin port chops because they will fall apart when serving. If you want fork-tender meat, use thicker port chops.
To make your sauce creamier, add heavy cream.
Skip onion soup mix, if you want to add chopped onions.
Why did I get tough pork chops?
It's not uncommon to find that your pork chops come out tough and dried out. If you're having trouble getting tender and juicy pork chops from your crockpot, you're not alone. There are several things that can cause this, such as cooking them not for the correct amount of time or smothering them in a sauce that's too thick. So, be sure to use proper time as we mentioned in our recipe.
How to freeze Crockpot Smothered Pork Chops?
I like to make a double batch of the pork chops, freeze the leftovers in a freezer bag. If you do this, be sure to add a little bit of water when you reheat it on the stovetop. The sauce will get a little thick as it freezes, but adding some water will make it perfect again.
If you tried the recipe, don't forget to share it with your friends and family on social media. They will love it too.