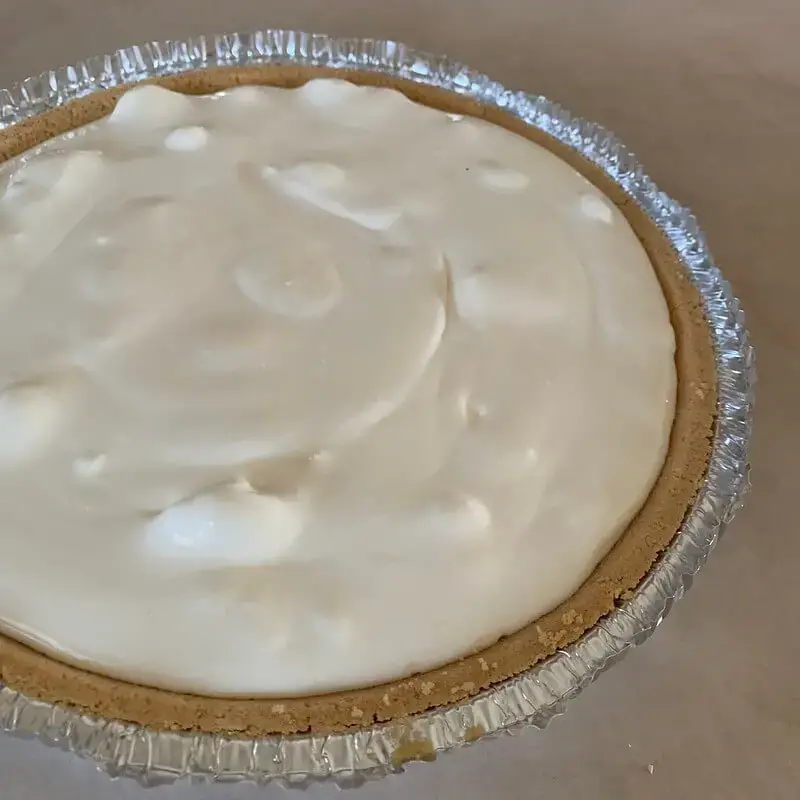 Summer is all out the refreshing flavours of lemon, and one of our favourite summer drinks is the Lemonade. But have you ever thought of making a cream cheese pie out of it? Indeed, it is a clever idea and a satisfying summer dessert that we absolutely love. In this post, we will make this delicious no-bake pie with you. You will love it!
What is Cream Cheese Lemonade Pie?
Cream Cheese lemonade pie is a no-bake pie with a buttery graham cracker crust, filled with creamy smooth cream cheese with popping flavours of lemon. We love the balance with the sweetness from the whipping cream, sugar, creaminess of the cream cheese and the, acidity of the sour cream and a juice of a lemon. Every element of the pie fits right when eaten super chilled.
Can I make the Cream Cheese Lemonade Pie ahead of time?
Yes, of course, you can make this Cream Cheese Lemonade Pie a night before serving. Since we recommend chilling the pie for a minimum of 4 to 6 hours, it is always a good idea to chill the pie overnight. You will see how it sets perfectly together, and the flavours will emulsify.
On the other hand, we will recommend storing the pie for no more than 2 days, especially in summer. The acid in the lemon will start reacting with the milk particles in the cream cheese, sour cream and whipping cream.
Cream Cheese Lemonade Pie – The Recipe
Preparation Time: 15 minutes
Resting Time: 4 to 6 hours
Total Time: 6 hours 15 minutes
Servings: 6 to 8 servings
Ingredients:
For Graham Cracker Pie Crust:
12 to 14 Graham Cracker sheets
½ cup Unsalted Butter, melted
4 tbsp Granulated Sugar
½ tsp Ground Cinnamon
For Cream Cheese Lemonade Filling:
16 ounces or 2 cups of Cream Cheese at room temperature
1 1/3 cup Confectionary Sugar
1 cup Heavy whipping cream
4 tbsp Sour cream

½ tbsp Lemon Zest
Juice of 1 Lemon
1 tsp Vanilla extract
A pinch of salt
Preparation:
For Graham Cracker Pie Crust:
Start by pulsing the graham cracker and sugar and cinnamon in a food processor until fine crumbs are formed.
Gradually add melted butter and pulse until sand-like consistency is formed.
Take it out in the serving 8 by 8-inch serving pie pan.
Gently press the crust with the back of a spoon to spread out evenly and forms a pie crust.
Chill the crust; meanwhile, start making the filling for the pie.
For Cream Cheese Lemonade Filling:
In a mixing bowl, cream together the cream cheese, heavy whipping cream along with sugar until fluffy.
Add lemon juice, lemon zest, vanilla, sour cream, and salt and gently fold in to form a thick and smooth filling.
Pour the filling into the chilled graham cracker crust and let it refrigerate for at least 6 hours to overnight.
Decorate with whipped cream and sprinkle with freshly grated lemon zest.
Serve chilled.