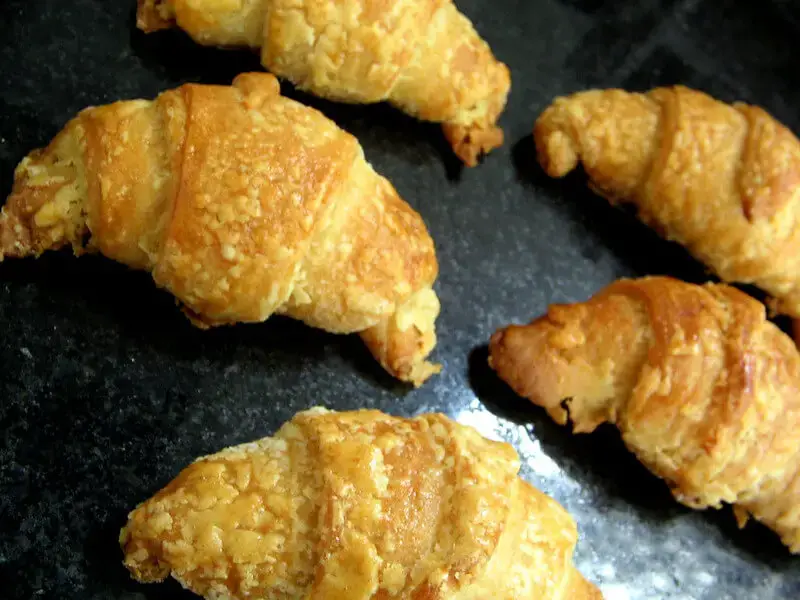 Ingredients:
Semi-foil dough :
125 g flour
95 g butter
100 g cottage cheese
2 pinches of fine salt
1 egg yolk for the finish
Stuffing:
150 g grated Comté or Parmesan cheese
1 dl of milk
a pinch of nutmeg powder
Preparations:
Cut 90 g of butter into pieces and put them in a bowl with the cottage cheese.
Add the salt and flour and, with a fork, work the dough into a smooth ball by hand. Let it rest in a cool place for 2 hours.
Prepare the filling by mixing the cheese with the milk and nutmeg powder in a small bowl.
On a floured baking sheet, roll out the dough to 2 mm thickness. Cut out 10 cm squares, on which you will spread the filling to within 1 cm of the edge.
Roll the dough on itself, starting from one of the corners of the dough. The opposite corner will rest in a triangle on the surface of the roll. Secure it with a light finger pressure on the dough. Carefully seal the ends of the crescents, bending them slightly downward to give them a half-moon shape.
Butter a baking sheet with the remaining 5 g of butter, place the croissants on it and, using a brush, gild them with the egg yolk mixed with a few drops of water.
Bake in a preheated oven at medium heat (gas mark 5) for 20 to 25 minutes.
Serve the croissants warm.