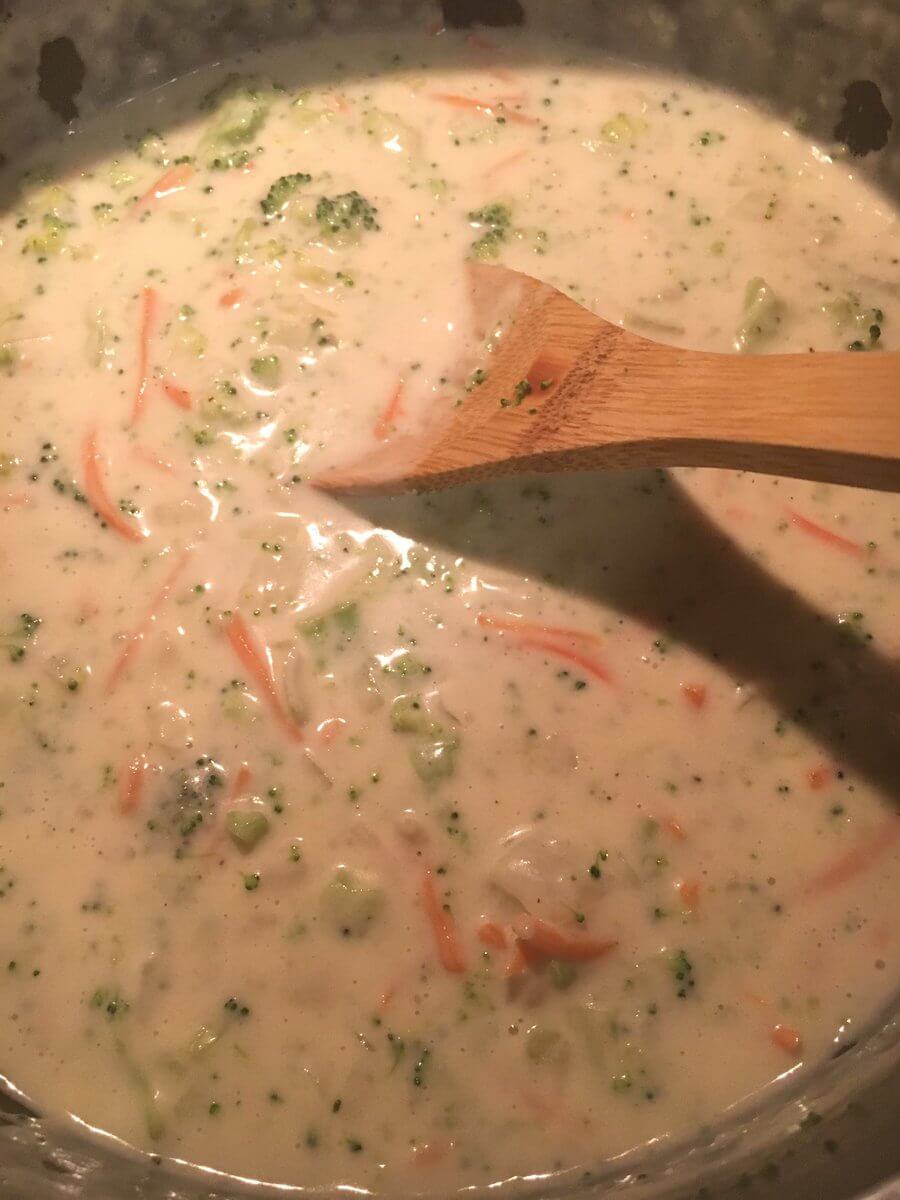 Did you know that Panera Bread is the most-visited fast-casual restaurant in the entire nation? That's a huge number of hungry customers, many of whom are on the hunt for unique, crave-worthy dishes. Did you also know that one of the most popular menu items, the broccoli cheddar soup, is easy to make at home? Yes, now you can make this delicious soup at home.
This soup is so easy to make with things I already have in my pantry. If you have them, and you like Panera Broccoli Cheddar Soup, you'll love this recipe. So, what are you waiting for? Collect the ingredients and make the delicious Copycat Panera Broccoli Cheddar Soup with us.
Serving: 8
Prep: 15 mins
Cook: 50 mins
Total: 1 hr 5 mins
Ingredients:
1 tbsp butter
¼ cup butter, melted
½ onion, chopped
2 cups milk
¼ cup flour
2 cups chicken stock
1½ cups broccoli floret, coarsely chopped
1 cup carrots, matchstick-cut
2½ cups Cheddar cheese, shredded
1 stalk celery, thinly sliced
ground black pepper (to taste)
salt (to taste)
Instructions
Take a skillet and melt 1 tablespoon butter in it over medium-high heat. Add onion and saute for 3-4 minutes until translucent. Set it aside.
Now take a saucepan and whisk flour and ¼ cup melted butter over medium-low heat for 3-4 minutes. You can add 1-2 tablespoons of milk if the flour is burning.

Add milk into the flour mixture and keep whisking. Then add chicken stock and bring to boil. Cook the mixture for 20 minutes until thickened.
Add carrots, broccoli, celery, sauteed onion. Let it simmer for 20 minutes or the vegetables are tender.
Now stir cheddar cheese into the vegetable mixture. When the cheese melts season with black pepper and salt.
You soup is ready. Serve hot and enjoy!
Nutrition Value
Calories:304
Protein: 14.3g
Fat: 23g
Carbohydrates: 10.7g
Is this soup gluten-free?
Panera Bread's Broccoli Cheddar Soup is not gluten-free. The soup contains flour. This is something that most of us don't realize until we try to enjoy the soup. If you skip flour in the recipe, you will not get the desired texture.
How to store?
Panera's Broccoli Cheddar Soup is so good it makes you want to pick up your spoon and eat the entire bowl! And if you're lucky enough to have Panera's Broccoli Cheddar Soup leftovers, you can just pour it out of the container, and store it in the fridge or freezer.
I love that I can make a big batch of this soup and store it in my refrigerator for up to a week, which makes it easy to heat up a bowl of this delicious soup whenever I need a quick meal.
Let's Sum Up
Well, guys, I tried to be as detailed as possible in my blog post. Hopefully, it was helpful. I hope you guys can make this Copycat Panera Broccoli Cheddar Soup and enjoy it as much as I did! If you did try it, I would love to hear your feedback and thoughts, just leave a comment below.
Thanks for reading!