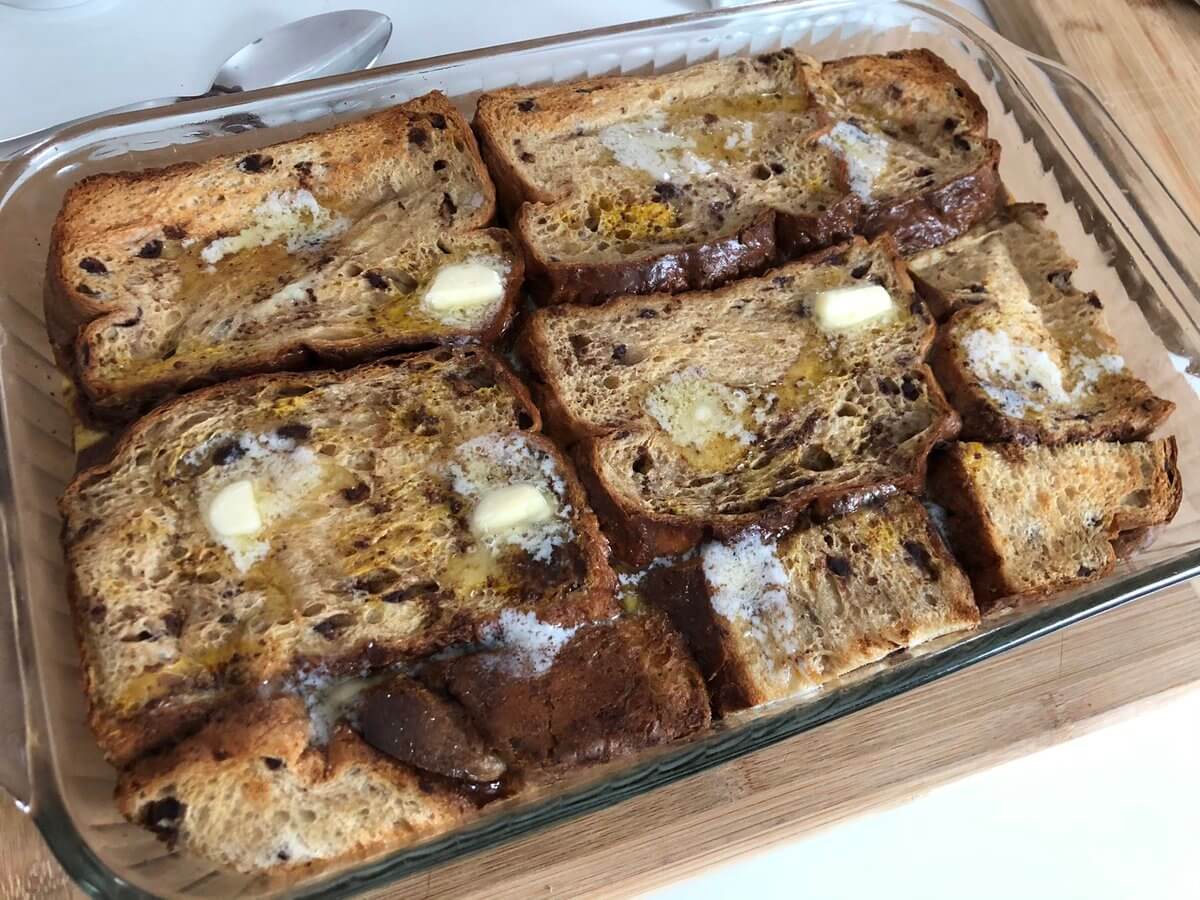 Cinnamon Baked French toast is a delicious take of classic French toast. The dish is warm, comforting, and very tasteful. This recipe is perfect for the holiday and fall season. You can enjoy it with a cup of coffee and satisfy your craving for sweets.
Can you make Cinnamon Baked French toast ahead of time?
Absolutely! The reason why this recipe is super easy to make and very convenient is that you can make it in advance and store it for up to 12 hours. So, if you are having a holiday breakfast for brunch, you can prepare half of the dish at night and refrigerate. So, you just have to bake in the morning. How cool is that!
Topping ideas
Here are a few amazing topping ideas for this recipe:
Dried fruits: Dried fruits like dried mulberries, dates, or even apricots taste so delicious. You can roughly chop these fruits and mix them with the crumble. It adds a nice chewy texture to this dish.
Nuts: For crunch, the nut is a good choice. You can go for candied almonds, walnuts, pecans, and hazelnuts.
Raisins: Raisins are also chewy and sweet. They are a good addition to the topping.
Maple syrup/honey: Drizzle honey of maple syrup to enjoy its rich and sweet flavor.
Crumble: Add all-purpose flour to the topping mixture and layer the toasts with crumbles. Bake for at least 45 minutes to get color. This crumble will add a crunchy texture to this dish.
Can you make this recipe Gluten-free?
Yes, you can make this recipe gluten-free. If you are looking for a gluten-free option, use gluten-free bread. You can also make your own bread and use it for this recipe.
Cinnamon Baked French toast: The Recipe
Preparation Time: 10 minutes
Resting time: 2 hours
Cooking Time: 15 minutes
Total Time: 2 hours 25 minutes
Servings: 4 to 6
Ingredients:
For the French toast:
½ loaf French bread or sourdough
4 whole eggs
1 cup whole milk
¼ cup half and half
¼ cup maple syrup
1 tbsp vanilla extract
For the Topping:
2 tbsp brown sugar
½ tsp cinnamon
2 tbsp unsalted butter, melted
Preparation:
Cut the French bread into equal slices. Place the slices in a casserole or baking dish.
In a bowl, crack eggs. Add milk, half and half, maple syrup, and vanilla extract. Whisk until everything is well combined.
Pour this mixture over the beard to let it soak.
Cover the baking tray with clingfilm and place it in the refrigerator for at least 2 hours.
In another bowl, add brown sugar, cinnamon, and butter. Mix the ingredients.
Take the baking tray out of the refrigerator and pour the butter mixture evenly on top of the toasts.
Place the baking tray in a preheated oven at 350 degrees F for about 15 minutes or until the top gets a golden color.
Once done, take the baking tray out of the oven and serve warm.