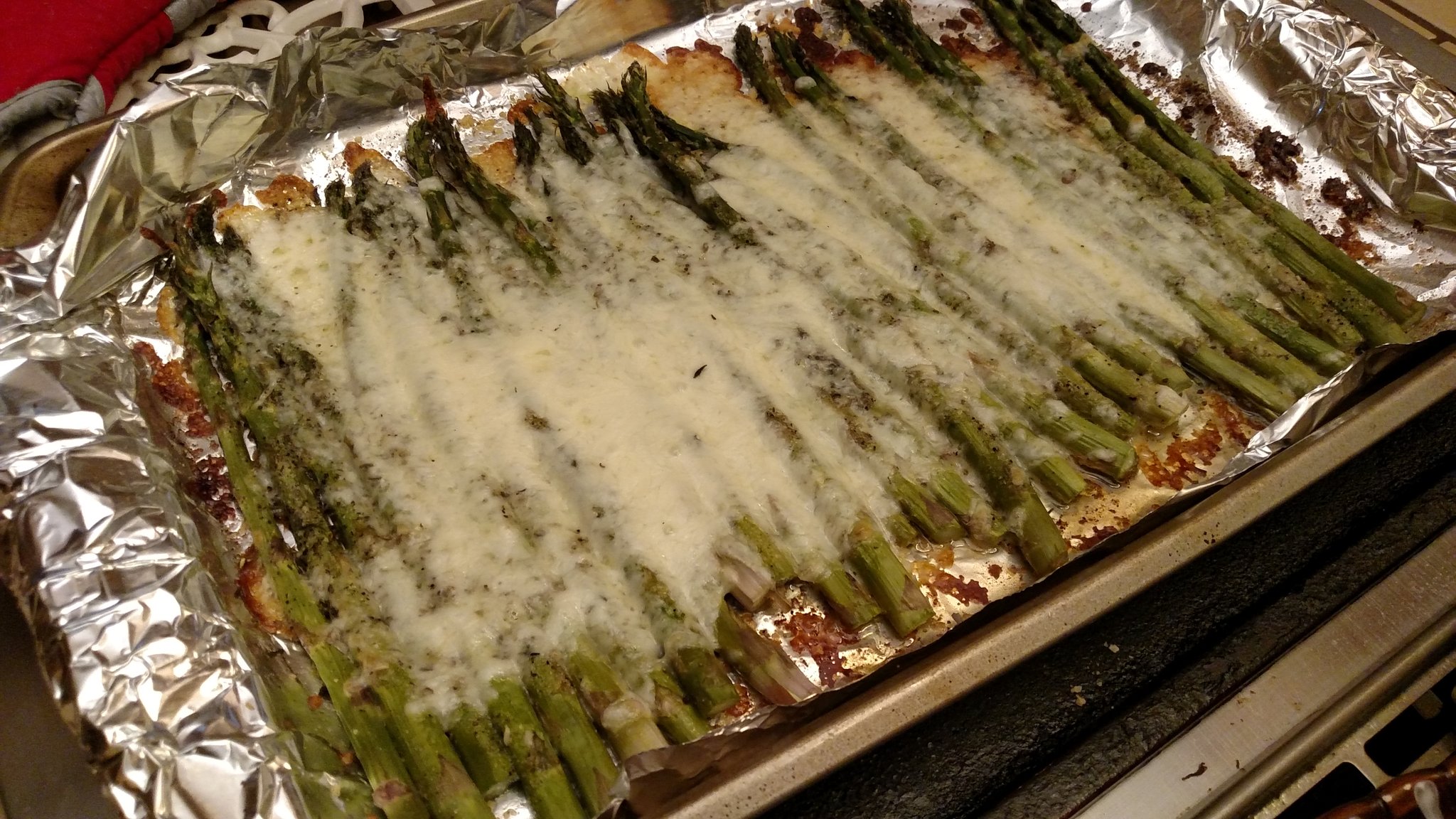 The ideal easy side dish is cheesy baked asparagus. You can prepare this asparagus in only 15 minutes and serve it with almost anything!
Ingredients :
10.5oz Asparagus
3/4 cupMozzarella, shredded
1/4 cup Parmesan, finely grated
2 cloves of Garlic, minced/finely diced
1 tbsp Olive Oil
1/4 tsp Salt
1/8 tsp Black Pepper
Instructions:
Trim the woody parts of your asparagus and toss will 1 tbsp olive oil, 2 minced garlic cloves, 1/4 tsp salt and 1/8 tsp black pepper. Lay out flat on a baking tray.
Pop in the oven at 390f/200c for 8-10mins, or until just starting to wrinkle and soften.
Take out the oven, sprinkle over 3/4cup/75g mozzarella then top with 1/4cup/20g parmesan.
Pop under the grill and broil until the cheese turn golden and bubbly, with the asparagus fork tender. Serve up right away!
Notes:
a) Trimmed Asparagus – The classic way to decide how much asparagus to trim is to hold it at each end and push until it snaps. However, I find this removes more than necessary. Just line up the asparagus and trim if it's visibly white/woody.
b) Asparagus Size – Try and find medium sized asparagus (not the ultra thick and short asparagus or 'fine asparagus'). Either of those are okay, just increase/decrease the baking time accordingly. I personally like my asparagus with a bit of a 'bite' to it, but if you prefer softer asparagus then bake a little longer.
c) Garlic – The garlic compliments this recipe beautifully. However, if you're not too keen on garlic reduce to one clove.
d) Salt – I'd stick with the 1/4 tsp to begin with as parmesan can be quite salty. If you feel like it needs more at the end then adjust accordingly.