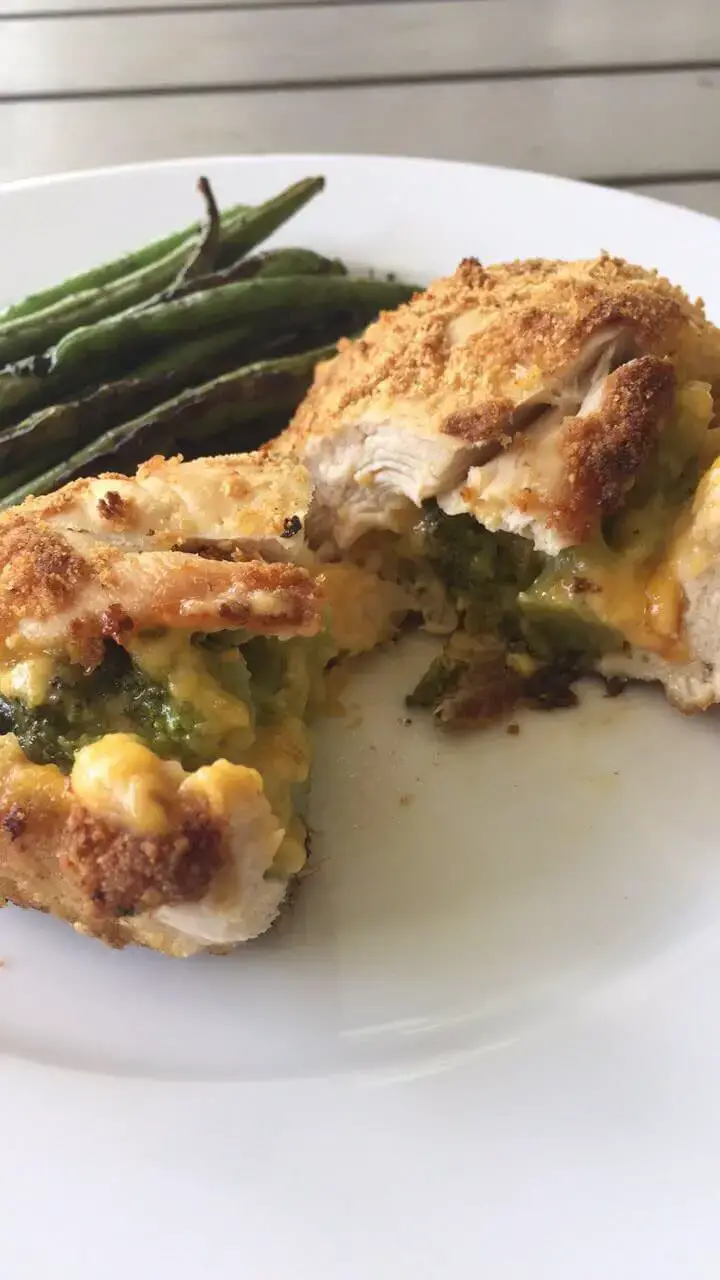 The Broccoli Chicken stuffed with Cheddar Cheese is with the most delicious stuff, delicious broccoli, and a fantastic cheese mixture, seared in a skillet and baked until it's done. Super simple yet super delicious!
It will quickly become a dinnertime favorite. This stuffed chicken couldn't be any simpler to prepare because it's made in just a single pan and ready in less than half an hour. The chicken breasts, skinless and boneless, are lightly spiced and charred on the exterior. They are filled with sharp cheddar cheese and broccoli before baking.
Chicken breasts with a succulent and crispy edge, stuffed with a sweet and creamy filling of cheddar cheese, broccoli, and cream cheese. They are, indeed, oozing with flavor, which makes them the ideal meal or main dish for a hearty weeknight.
Why they are so good:
The simplicity to make, only 10 minutes of prep time, and a few simple ingredients are required.
The chicken breasts are flawless; you can get a fantastic combination of texture from a quick sear and then baking.
Delicious broccoli and cheddar filling, without forgetting the creamy cheese blend.
Ingredients:
4 to 5 large chicken breasts
4 to 5 divided tablespoons of olive oil
1 teaspoon of salt
A quarter teaspoon of pepper
Hal a teaspoon of onion powder
Half a teaspoon of garlic powder
A quarter teaspoon of Paprika
2 cups of chopped into small pieces broccoli
Half a cup of shredded cheddar cheese
6 ounces of softened cream cheese
1 clove of minced garlic
A little dash of salt and pepper to bring some taste and seasoning
Instructions:
Start by preheating the oven to over 375°.
Get a small dish, combine the salt and pepper, onion powder, garlic powder, and paprika. Drizzle the olive oil over the chicken breasts and set it aside. Get the chicken wholly coated with the seasoning mixture you made.

Coat the chicken thoroughly with the seasoning mixture.
In your mixing bowl, combine the filling ingredients and place them aside.
Make a wide pocket in each chicken breast, but make sure not to cut it all the way through.
Get each chicken breast and start filling it.
Heat 2 tablespoons of olive oil in a large oven skillet over some medium heat. When the pan is hot enough, sear the stuffed chicken breasts on both sides but not cook through. Depending on the size and quantity of your chicken breasts, you may need two or more separate batches to do this. Place all of your chicken breasts in your skillet and put them in the oven.
Bake everything for about half an hour, or until you notice the chicken breasts have been cooked thoroughly.
Tips:
You need to make sure that your broccoli florets are small enough to fit inside the chicken breasts.
It's better to choose large chicken breasts.
Make a small pocket in your chicken breasts by not cutting all the way through in the middle.
If you do not possess an oven-safe pan, brown your chicken in a skillet first before transferring it to an oven-safe dish or pan.