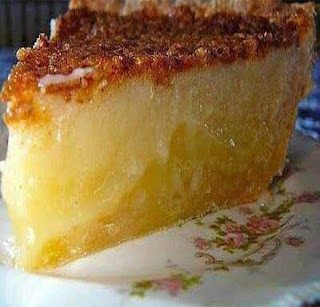 Southern Pie is a popular dessert option in the South and is often served at family gatherings and special occasions. It is a comforting dessert that often brings back childhood memories. It is easy to make and can be customized with different ingredients to suit different tastes.
also is a great way to use up seasonal fruit and other ingredients you may have in your pantry. The pie can be served warm or cold and can be enjoyed with a dollop of whipped cream for extra sweetness. It can also be served with ice cream or with a drizzle of caramel or chocolate sauce.
No matter how you choose to serve Southern Pie, it is sure to be a crowd favorite. It is a classic dessert that will bring a smile to everyone's face.
Ingredients:
½ cup of buttermilk.
1 ¾ cups of sugar.
2 large eggs.
3 tbsps of flour.
A pinch of salt.
1 stick of butter.
1 tsp of vanilla.
Instructions:
In a large bowl, mix all the ingredients together until blended then pour the mixture in an unbaked 9 inch pie shell.
Sprinkle the top with some nutmeg then bake for 15 minutes in a preheated oven to 400 degrees. Reduce the temperature to 350 degrees and bake for an additional 45 minutes.
Let set and cool completely before serving.
Simple, easy and yummy! There's no one who can resist the goodness of this pie. It's like magic. You should really give it a try, you won't regret it.