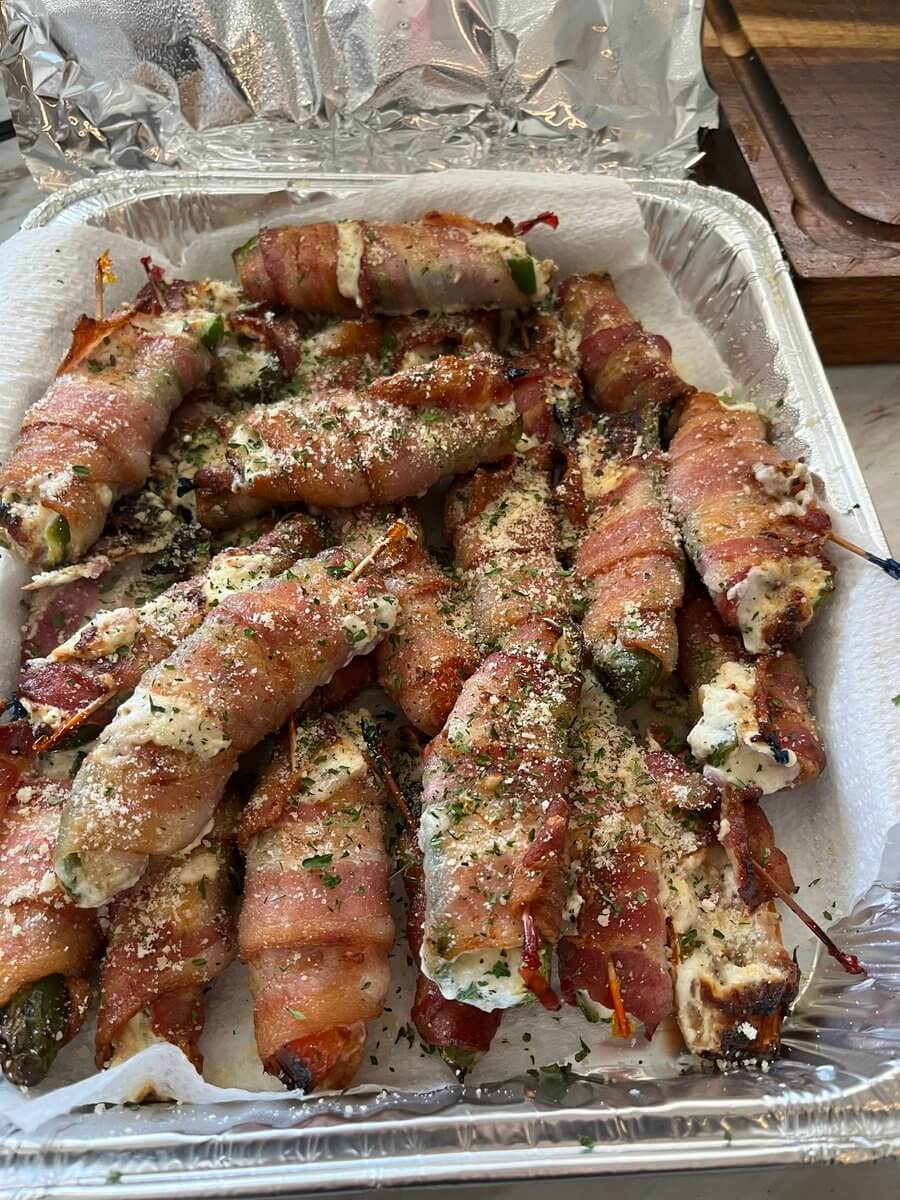 New year, new you – or how about new food? This is a great recipe to start off the new year right. It's super easy and very tasty!
If you've never had bacon-wrapped jalapeno poppers, you're missing out on one of the tastiest appetizers. You see, after eating these, you'll wonder why you've spent so much time eating pepperoni, cheese, and crackers when you could have been stuffing jalapenos with cream cheese and wrapping them in bacon.
They're easy to make and deliver maximum flavor in every morsel. If you're looking for a new appetizer for your game day party or a hot hors d'oeuvre for your cocktail party, this one will go over big with your guests. Throw 'em in a pre-game tail-gate or a post-game celebration. These will be a hit, I guarantee it.
Serving: 12
Prep Time: 15 minutes
Cook Time: 25 minutes
Total Time: 40 minutes
Ingredients:
12 large jalapeno peppers,
12 slices bacon, sliced in half
1 cup sharp pepper jack or cheddar cheese
1 (8 oz) package softened cream cheese
½ tsp salt
½ tsp garlic powder
¼ tsp pepper
Instructions:
Preheat the oven to 400 °F and line a sheet pan with foil.
Slice your bacon slices in half and lay them on the pan. (don't overlap the slices). Bake them for 10-13 minutes.
Remove the bacon and put them on a wire rack.
When the bacon slices are cooking, slice your jalapenos into halves lengthwise and remove the seeds.
Take a medium bowl and mix cheddar cheese, cream cheese, salt, garlic powder, and pepper in it. Mix the well so all ingredients are combined.

Fill this mixture into each jalapeno half with the help of a knife. But don't overfill.
Wrap the
Now take baked bacon and wrap it around the jalapeno. Bake wrapped jalapeno for 20-25 minutes until cheese is melted and bacon is crispy.
Your Bacon-Wrapped Jalapeno Poppers are ready. Serve them immediately with your favorite dipping or dressing.
Tips & Tricks
Cut the jalapeno right through the stems. They will help you to pick up the stuffed jalapeno poppers.
Feel free to follow the same recipe, if you want to bake your jalapeno in an air fryer. Cook them for 12 minutes at 325 °F.
If you want them spicy, don't remove all the membranes and seeds from the jalapeno.
Choose larger jalapeno, they are easier to clean and stuff.
Use thicker bacon for extra flavor. But you need to add extra minutes for baking. Keep in mind that it will be difficult to wrap thicker bacon around the jalapeno. So, it is suggested to use a toothpick to secure the bacon.
How to store and reheat the leftovers?
What if you want to make them for a party or a gathering and you want to store them and reheat them later? Can they be stored in the fridge? Can they be frozen? How long do they stay fresh? It all depends on the storage method. There are a few different ways to store and reheat the leftovers of your Bacon-Wrapped Jalapeno Poppers. And the best among is to put them in an airtight container and place them in the fridge for 2-3 days.
Keep in mind that they will not reheat well in the microwave because they get soggy and are better off in an oven. The best method is to reheat your Bacon-Wrapped Jalapeno Poppers in the oven, on a baking sheet at 375 degrees for 5-10 minutes. This will make the bacon crispy again. You can also store the majority of the leftovers in an airtight container for a day or two in the refrigerator.
If you tried the recipe, share it on social media. And don't forget to rate our recipe.