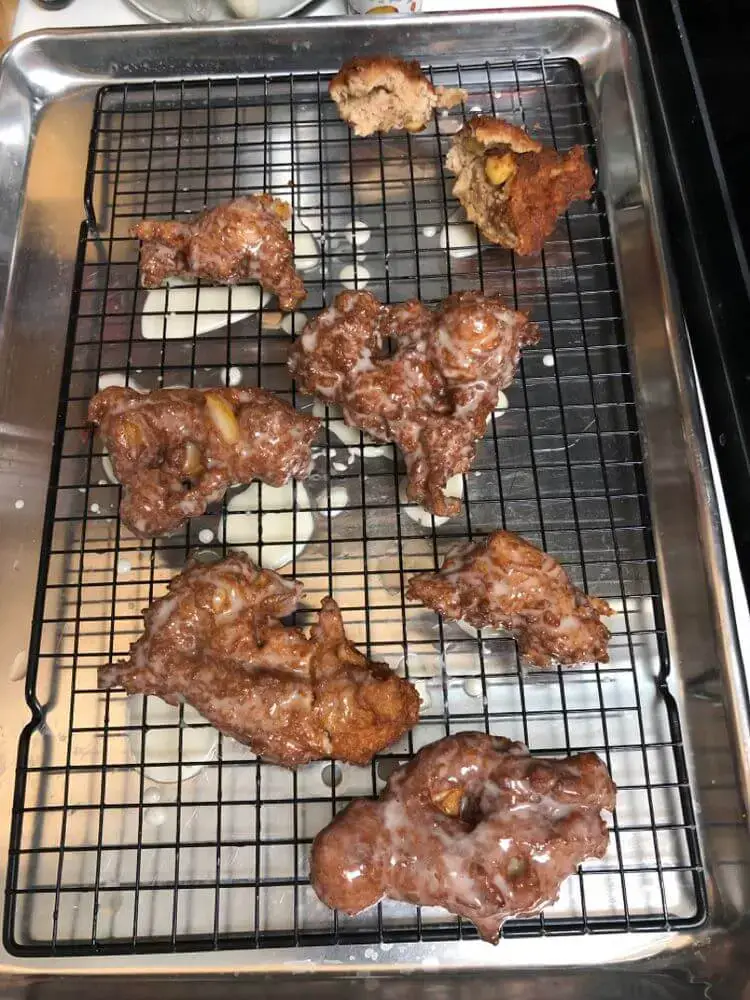 The Apple Fritters are delectable and deep-fried doughnuts stuffed with delicious cinnamon and apple coated with a simple 3-ingredient glaze. In less than half an hour, you may have these delicious raw apple fritters in your hands. Just make sure you save a couple for yourself, or they'll be gone before you know it.
We are completely enamoured with apple recipes. But, let's face it, who is not? And besides, they continue to generate more and more apple recipes.
Wouldn't they be delicious with a steaming cup of coffee? These delightful Apple Fritters are so quick and straightforward to make. In about half an hour, you can have them all. They'll undoubtedly be a great success for your friends and family. They're best eaten right after they've cooked, but they'll keep for up to 2 days in a brown paper bag while loosely covering them with paper towels.
These warm and delicious apple fritters are cooked from scratch and are better than anything you'll get in a bakery. It contains no artificial colours or preservatives, only healthful and natural ingredients. The mixing and frying are effortless and quick. You can choose to make the Fritters in a fryer, a large stockpot, or a Dutch oven.
Ingredients:
1 and a half cups of all-purpose flour
1/4 cup of sugar
2 teaspoons of baking powder
half teaspoon of salt
1/3 cup of milk
2 medium-sized eggs
3 tablespoons of applesauce
1 and a half teaspoons of cinnamon
2 large Honey Crisp or Granny smith peeled, cored, and diced apples
Some canola oil to fry
The Glaze:
1/4 cup of milk
2 cups of powdered sugar
half a teaspoon of vanilla
Instructions:
Get a medium mixing bowl, and combine the flour, baking powder, sugar, salt, and cinnamon. In the middle, make a well, pour in eggs, applesauce, and 1/3 of milk, combine everything with a quick stir and get the apples folded in.
Choose between a Dutch oven, deep fryer, or heavy skillet, and heat one and a half inches of oil to 375°. Pour about a quarter cup of batter/fritter into the oil while spreading it as you go. Keep cooking until it gets golden brown on both sides, about 2 minutes for each side. Get it removed and place it on a plate lined with paper towels to drain it.
A quarter cup of milk, vanilla extract, and powdered sugar are all whisked well together. Dip every fritter inside the glaze while ensuring all the sides are covered. Allow it to air dry and drip it on baking sheets.
Tips:
Make sure you maintain a steady temperature of 375°F. Because the temperature will drop alone once you add the batter, and you'll need to turn up the heat a little. Similarly, when getting the fritter out from the oil, the temperature will generally rise, so reduce it slightly.
When frying, avoid overcrowding the pan to ensure that the doughnuts get cooked evenly, and the oil temperature remains stable.
You can get the cooled cooked fritters stored in a brown paper bag while wrapping them loosely in paper towels.