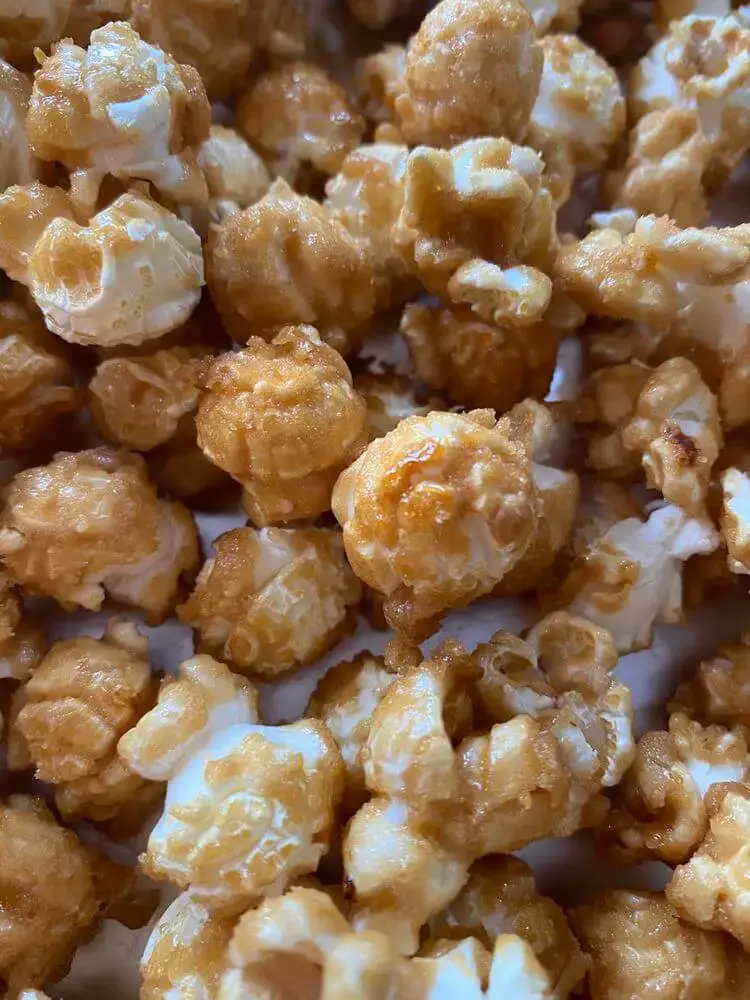 This recipe comes from an Amish family who packages this treat for dear neighbors' and friends' Christmas gifts. It is, without a doubt, the tastiest, most straightforward, and most foolproof caramel corn recipe you will ever find!
The Amish are well known to make the best caramel corn, which melts right in your mouth. You can make this simple holiday treat in just about an hour with a few simple ingredients.
It'll become your favorite go-to recipe for any Thanksgiving or Christmas gathering. These homemade caramel corns are, indeed, a traditional and classic treat. It also makes an excellent present. We like filling those large decorative popcorn cans and giving them to friends, family, neighbors, and anyone else we can think of.
Ingredients:
7 quarts of plain popped corn
2 cups of slivered almonds, you may use some honey roasted peanut, pecans, cashews, or dry roasted nuts if you want)
2 medium-sized cups of brown sugar
Half a cup of light corn syrup
1 teaspoon of salt
1 small cup of butter
1 teaspoon of baking soda
1 teaspoon of vanilla extract
A small dash of cayenne pepper
Instructions:
In your microwave, get the 2 bags of popcorn heating up. Two bags of 3.5 oz of popcorn equal the 7 quarts of popped corn.
Fill two shallow greased baking pans halfway with the popped popcorn. Place it aside. If you prefer, you can use the roasting pans instead. This makes it a little easier to stir without spilling any popcorn.

Get your oven preheated to over 240°degrees Fahrenheit. Combine your brown sugar, corn syrup, butter, and salt in a saucepan while heating. Bring your mixture to boil over medium heat temperature while occasionally stirring to combine. It's essential not to rush things and bring everything to a boil too quickly. You prefer getting a slow, bubbling boil.
When your mixture starts boiling, continue cooking for about 5 minutes while stirring constantly.
Take your saucepan off the heat and stir in your baking soda and vanilla extract. Pour everything over the popcorn in your baking pans right away. For the coating, stir everything together.
Get it baked in the oven for about an hour. However, make sure to remove it from the oven every 15 minutes and give a good stir.
After it has finished baking, line your counter with waxed paper. Pour your popcorn onto a sheet of waxed paper. Allow your popcorn to cool completely before serving it.
Keep everything in an airtight container. It can be stored for up to three months.
Tips:
Cleaning up is a breeze if you use one of those large disposable pans of aluminum.
You also can make this with molasses or maple syrup instead of the light corn syrup if you wish to. They're all equally delicious.
We also like adding up a bag of plain popped corn and regular salty popcorn to get a sweet and savory combination.
Using this recipe as your essential reference, you have many flavor combinations to choose from! To make things a bit spicy, you may add a pinch of cayenne paper.