These Zucchini Lemon Pistachio Cinnamon Rolls are filled with zucchini, lemon, pistachios, cinnamon sugar topped with cream cheese frosting.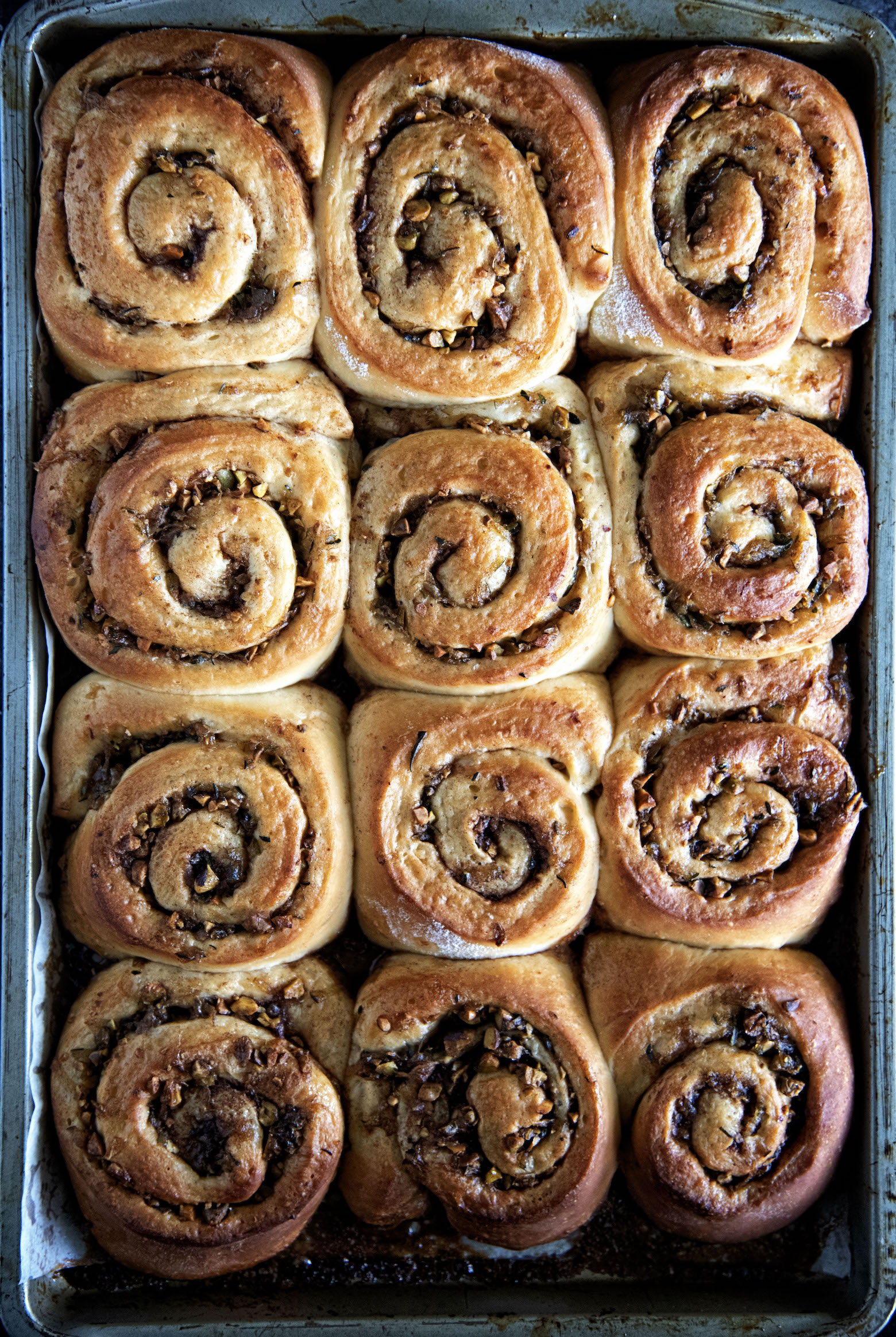 When I lived in Arizona if people grew vegetables they were small and the plant did not produce much.
So when I moved to Washington state and someone said would you like some zucchini from my garden I told them give me as much as they want.
Wrong answer.
Because here in Washington state every one grows zucchini and they get a ton of it.
That day in a large brown bag were 71 zucchini.
I learned my lesson over the years and usually decline zucchini. 🙂
However last week my husband sent me a text that said "do you want this zucchini?"
I only glanced on my phone and saw one zucchini and said sure.
This is what he came home with.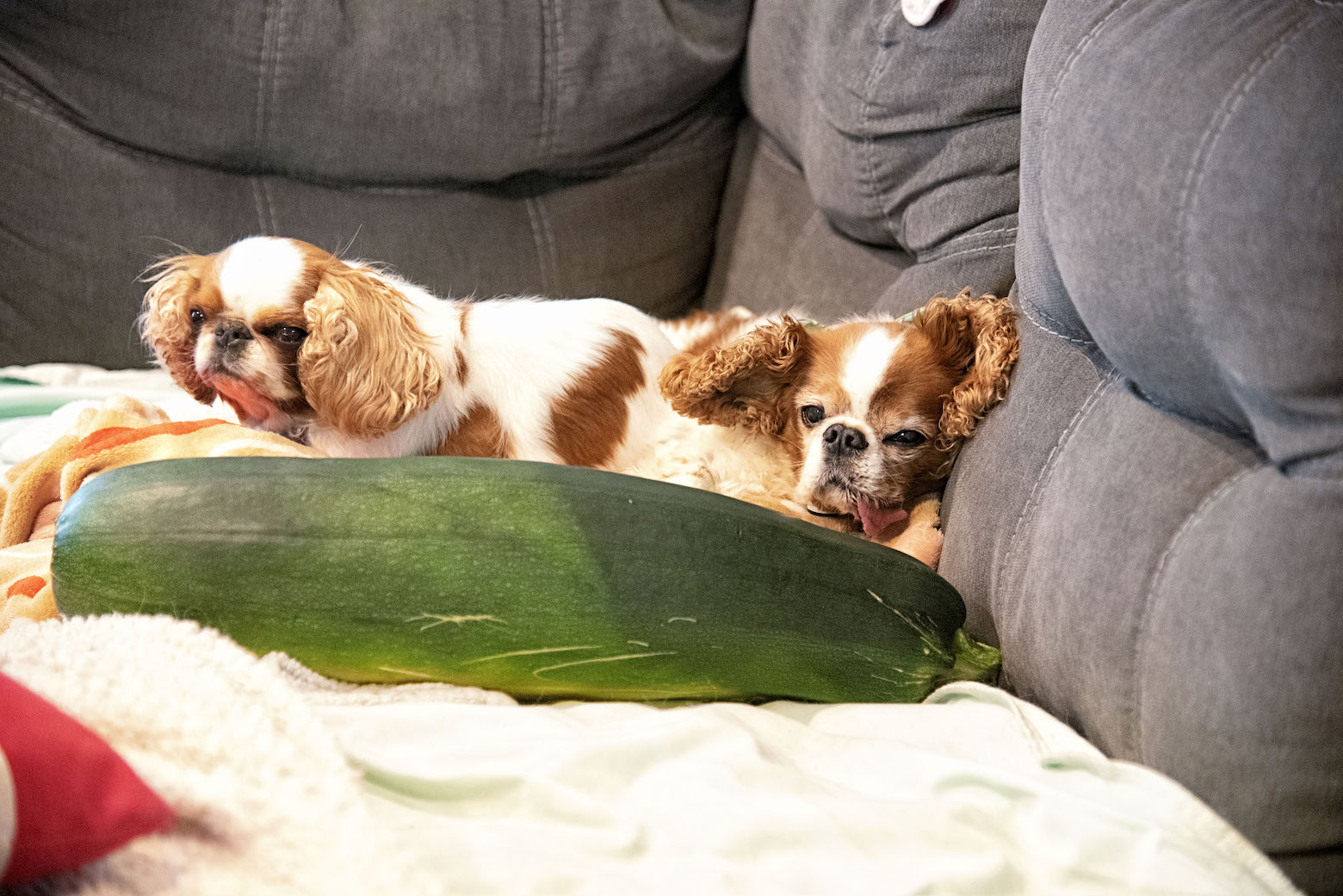 Yes, ladies and gentlemen…I give you Zucchini-zilla.
I had no idea it was that large.
It didn't look that large in the photo.
Partially because there was no frame of reference.
For reference for you all I give you my two annoyed dogs.
Granted they are two of our smaller dogs but zucchini should not come in that size.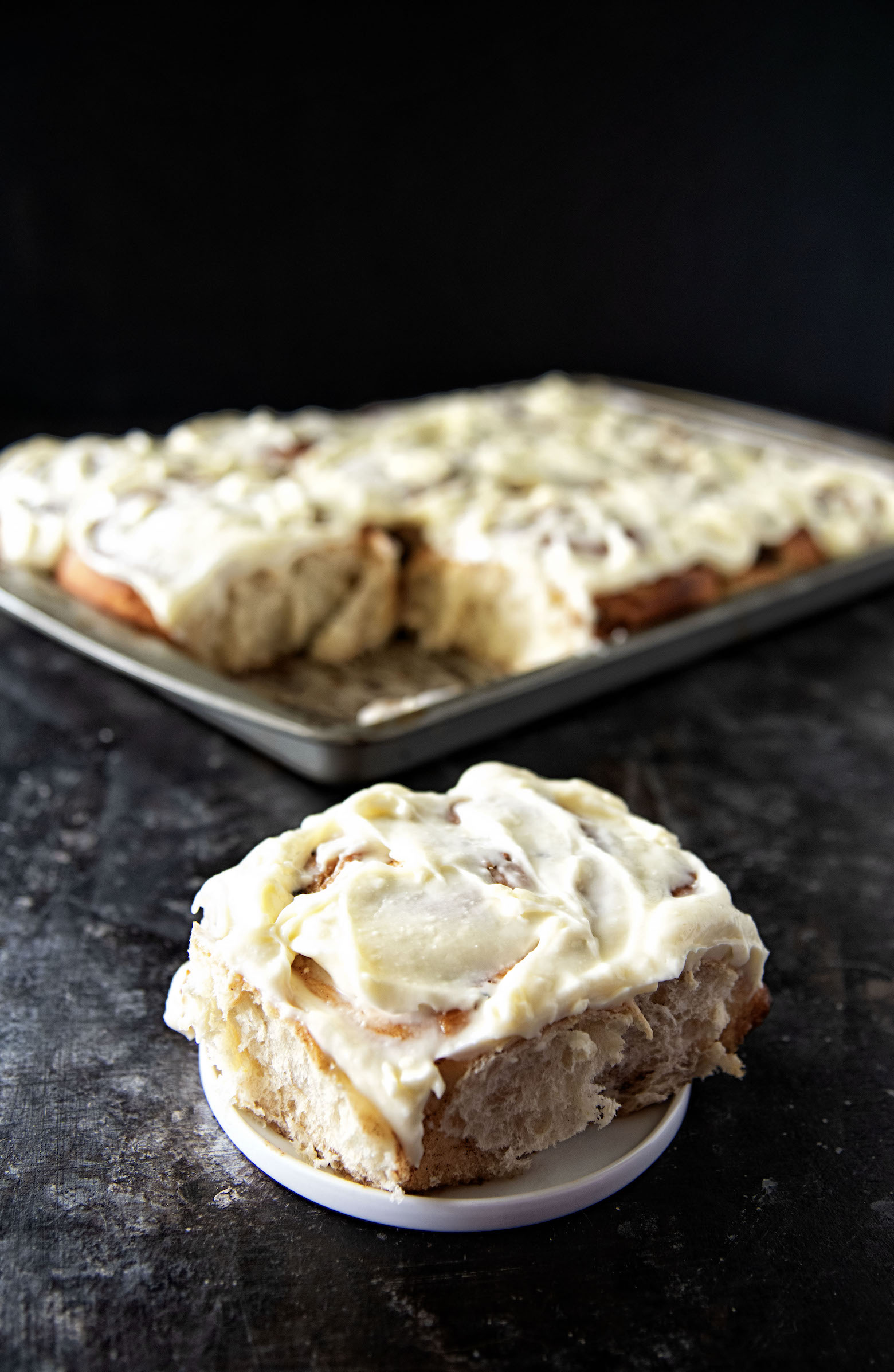 I chopped it all up and looked at it in horror.
How on Earth was I going to use it all up?
I made a few loaves of just zucchini bread.
Then I made one using pumpkin (coming on the blog soon)
Made some muffins (again, coming on the blog soon)
And I made these rolls.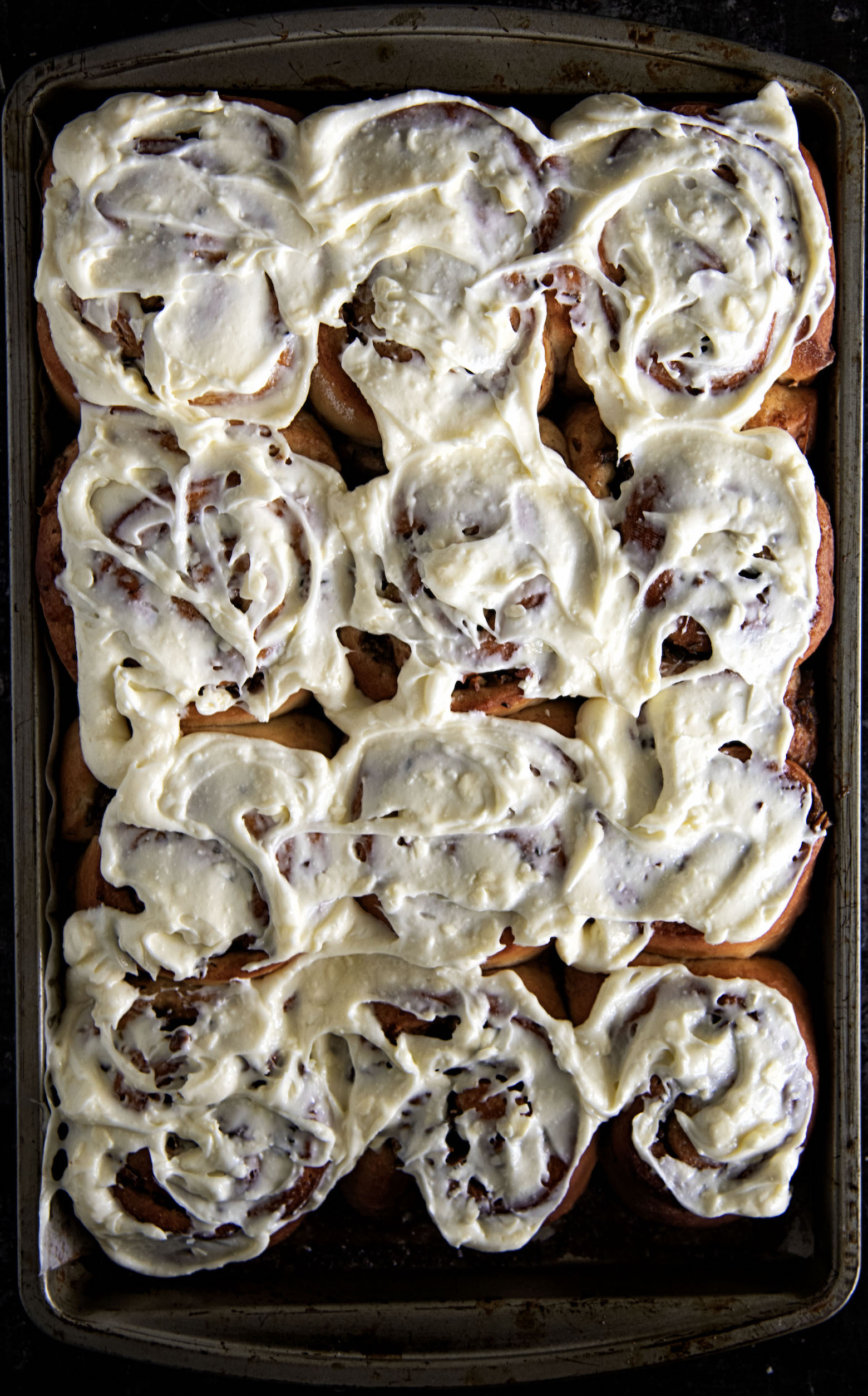 I made these rolls because I hate packing.
Making cinnamon rolls was more fun than packing.
I also made them because I hadn't used up the zucchini.
For the record I still haven't.
But I surrender as I just can't do anymore zucchini. 😛
Send up the white flag.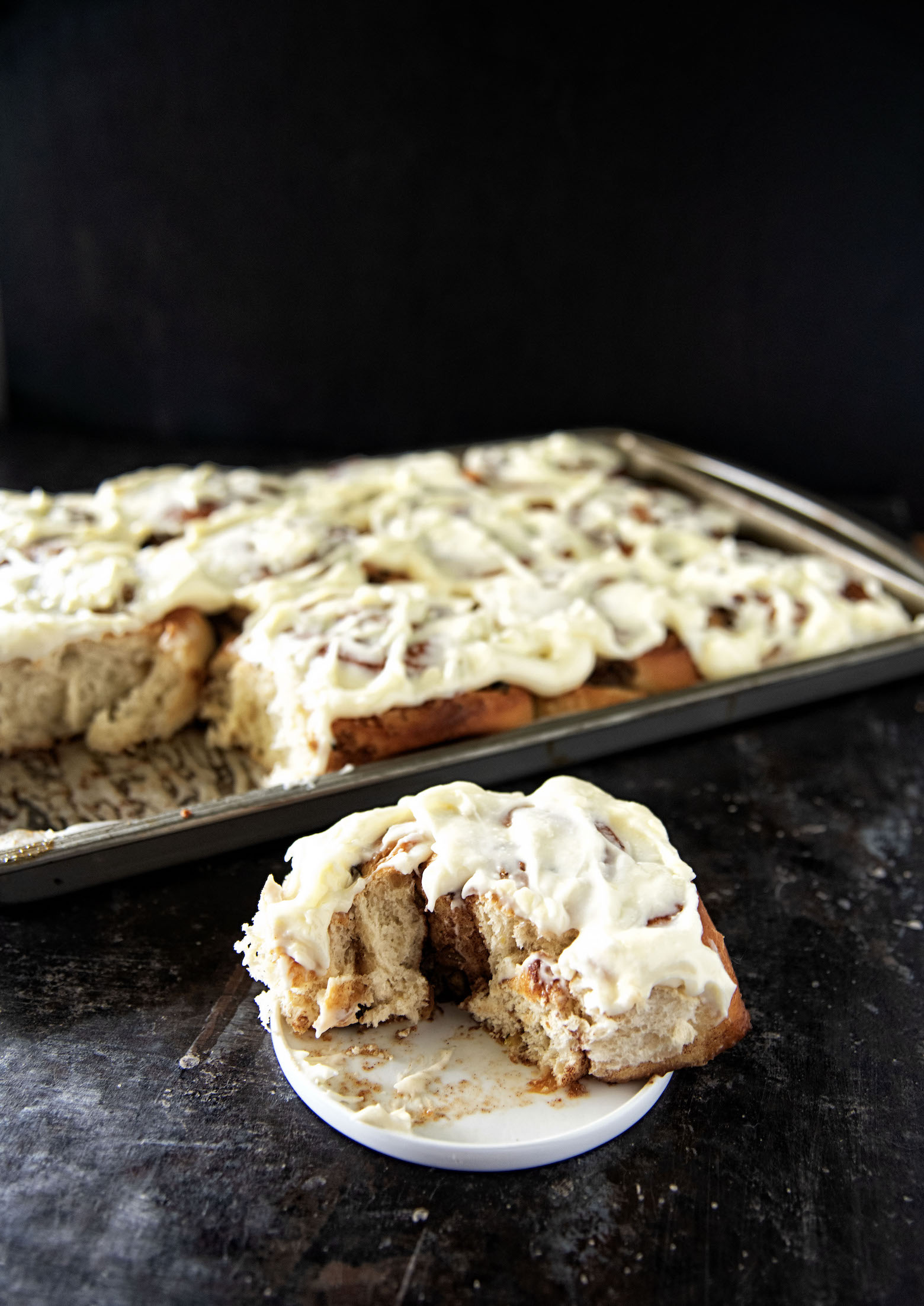 This is my favorite dough to use for cinnamon rolls.
The dough is SUPER soft but in return you get SUPER soft cinnamon rolls.
The zucchini is cooked in honey and brown sugar and then strained before being added to the filling.
I didn't want to risk a raw zucchini filling since that didn't sound good to me.
You don't have to add the pistachios I just had some that I needed to use up.
I do however like them in these Zucchini Lemon Pistachio Cinnamon Rolls .
The lemon in the cream cheese frosting really helps make these pop.
P.S. It's a great day to buy my cookbook.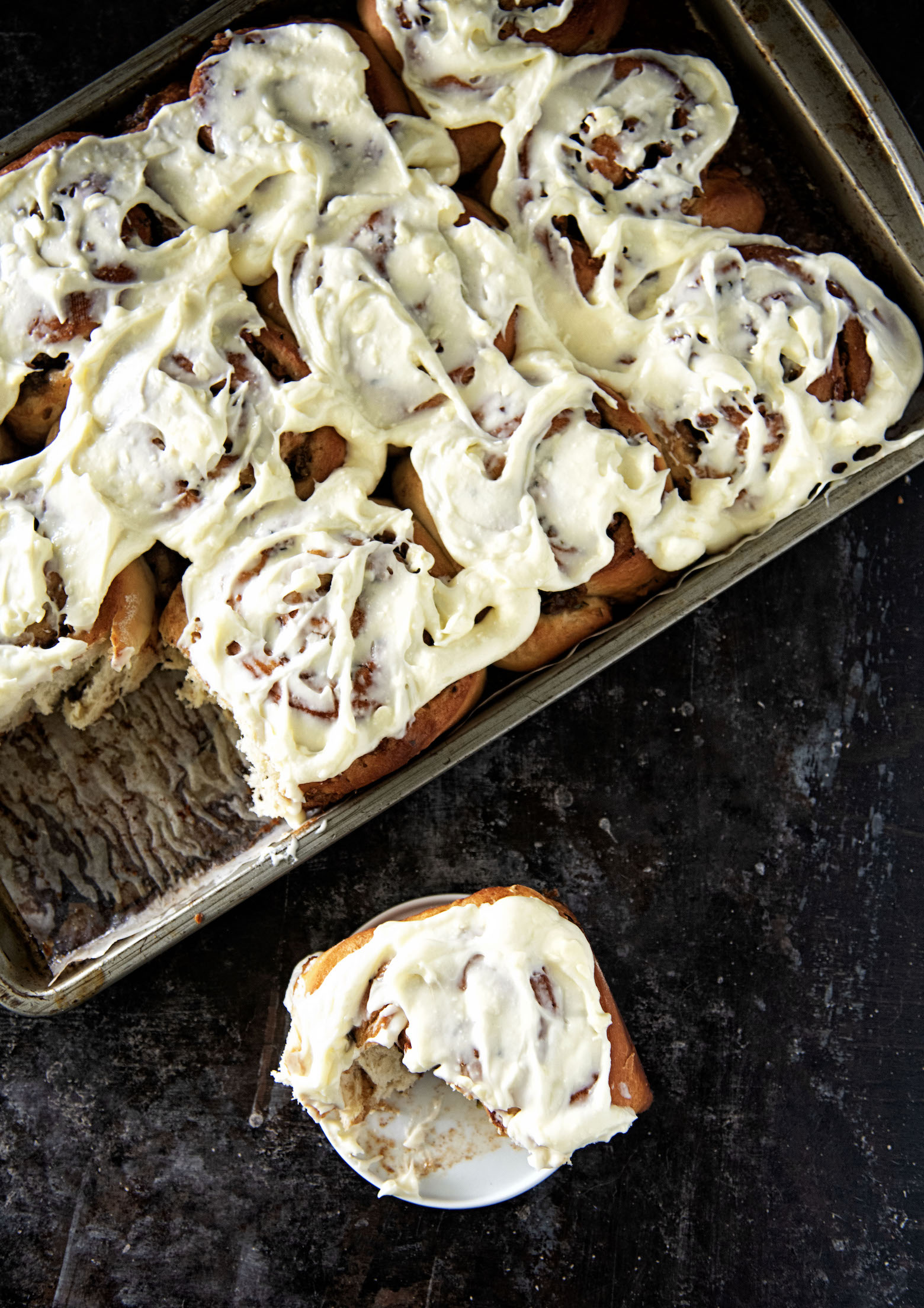 Want to use up your Zucchini?
Cheese Tortellini Zucchini Corn Soup
Zucchini Walnut Bread with Lemon Glaze
Vegetarian Zucchini Corn Feta Quiche
White Chocolate Walnut Zucchini Bread
Ingredients
For the rolls:
1/2 cup warm water, 110 – 115F
1 TBSP active dry yeast (I used Red Star Yeast Platinum)
1/2 cup whole fat buttermilk, at room temperature
2 large eggs
1/2 cup plus 1/2 tsp granulated sugar, divided
1 tsp. salt
1 tsp. vanilla extract
zest of one lemon
6 Tbsp unsalted butter, melted and slightly cooled
3 1/2 – 4 cups bread flour 
For the zucchini filling:
4 cups shredded zucchini
1 cup brown sugar
2 TBSP honey
For the Cinnamon Roll filling:
Strained zucchini from the zucchini filling
6 TBSP unsalted butter, super soft but not quite melted
1 cup packed brown sugar
2 TBSP cinnamon
1 cup pistachios, finely chopped
For the Lemon Cream Cheese Frosting:
8 oz cream cheese, at room temperature
8 oz unsalted butter, at room temperature
juice of one lemon
2 cups powdered sugar
Instructions
Using a stand mixer with the paddle attachment add the yeast, warm water, and 1/2 tsp. granulated sugar.
Let rest for 5-10 minutes to proof…the batter will puff up. If it does not then your yeast is bad and rolls won't rise so best to throw out and start again with different yeast.
Add in buttermilk, eggs, 1/2 cup granulated sugar, salt, lemon zest, vanilla, and melted butter and mix until fully combined.
Add in 2 1/2 cups of the flour and mix until fully combined.
Switch to a hook attachment then add another 1 cup flour. Knead mixture until combined.
 Continue to knead on low speed about 5 – 6 minutes while adding a little more flour as needed to reach a soft and moist dough (Dough shouldn't stick to the sides of the bowl but does stick to the bottom).
Transfer dough to an oiled bowl, cover with plastic wrap (I find press and seal works best) and let rise in a warm place until doubled in volume, about 1 1/2 hours.
While dough is rising make the zucchini filling:
In a medium sized saucepan add the zucchini, honey, and brown sugar.
Cook over medium heat and the water will start to come out of the zucchini.
Cook for 5 minutes.
Strain the zucchini from the pot and set aside.
You can discard the brown sugar honey and zucchini juice.
For my rolls I used a jelly roll pan. You can also divide the mixture up between two greased 9-x-13-inch pans.
Once the dough has doubled in size then punch dough down.
Dust a working surface lightly with flour and turn dough out onto surface.
Sprinkle top of dough with a little flour then roll dough out into an 20 by 18-inch rectangle.
 Spread the softened butter evenly over entire surface (hands work best).
In a small mixing bowl whisk together brown sugar and cinnamon. Sprinkle and spread brown sugar mixture evenly over butter layer (try to leave about 1/2-inch border uncovered along all edges).
Spread the strained zucchini on top of the cinnamon sugar mixture.
Then sprinkle on the pistachios. 
Beginning on an 18-inch side tightly roll dough into a cylinder. Pinch the seam to seal (brushing a little egg white underneath helps if needed or I just use a toothpick).
Cut into 12 equal portions using a large sharp knife (they should be 1 1/2-inch each).
Cover with plastic wrap loosely.
Let rise in a warm place until doubled in volume, about 1 1/2 hours.
Preheat oven to 350F near the last 20 minutes of rolls rising.
 Bake rolls in preheated oven until centers are no longer doughy, about 25-30 minutes.
For the Lemon Cream Cheese Frosting:
Using a stand mixer with the paddle attachment beat together the cream cheese and butter.
Add the powdered sugar and lemon juice and beat until frosting is smooth.
Spread on warm cinnamon rolls and serve.