These Zucchini Apple Crumb Muffins are great recipe to use up your zucchini with added apples to the mix as well as cinnamon chips.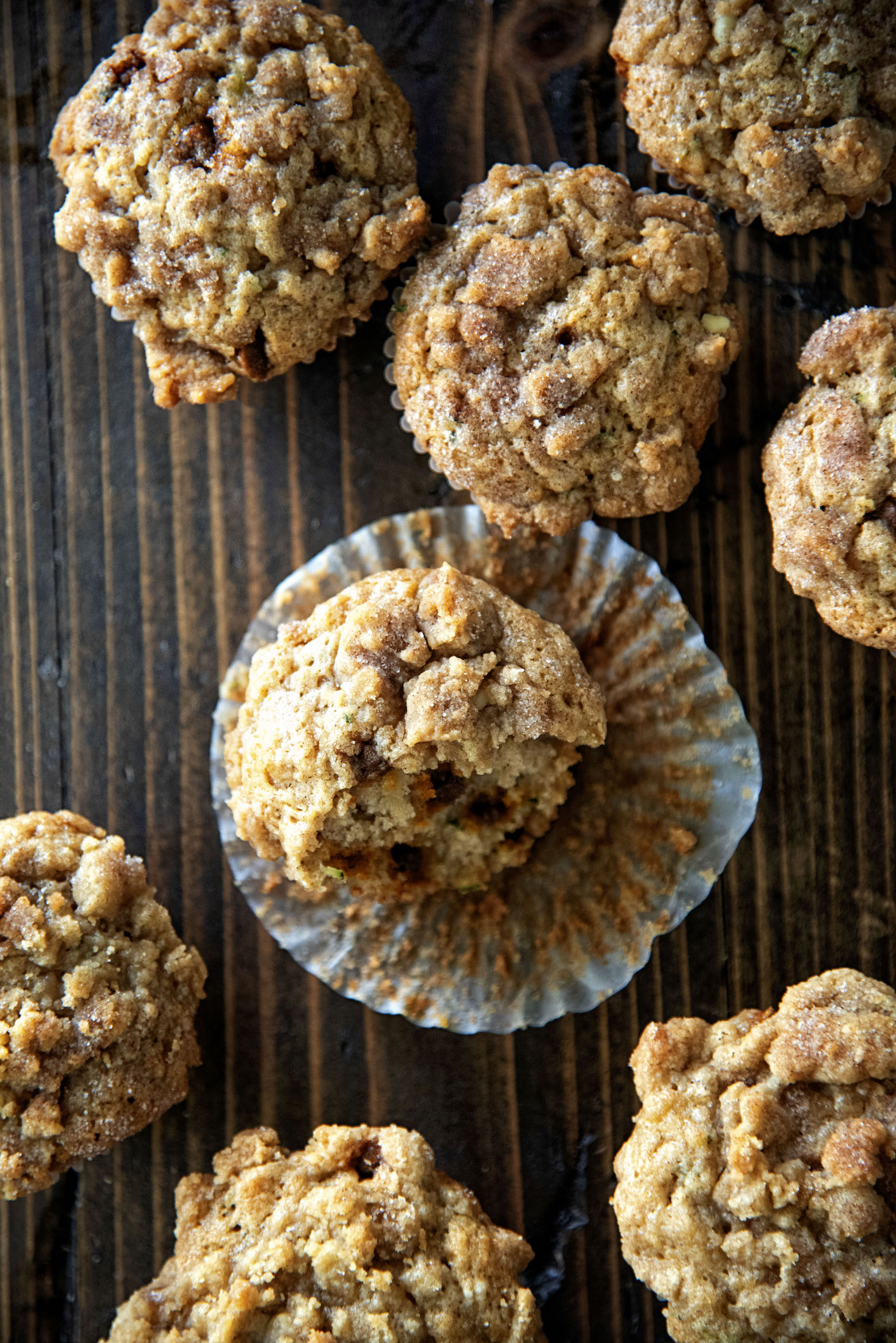 I had so much zucchini.
So much.
All thanks to the GIANT zucchini that never seemed to end.
Traditionally most people make zucchini bread and I do like that to give to others as gifts.
However, a good portion of the baked goods I make go to my husband's work or to our hockey team.
The more portable the baked good, the easier it is for us and them.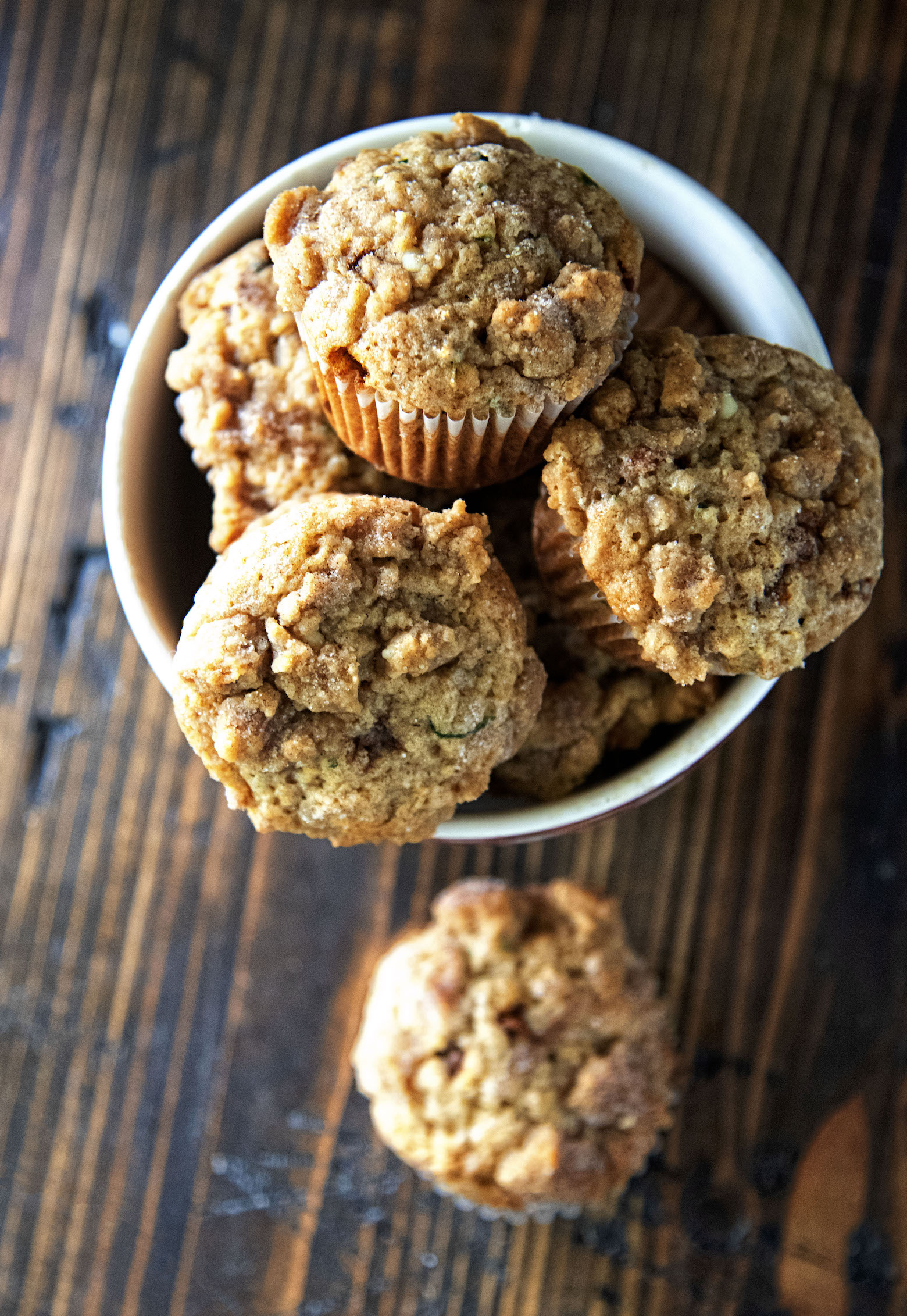 Zucchini is super plentiful.
It's why if you type in zucchini into Google you usually get the phrase: Ways to use up zucchini.
Because it's all fun and games until someone gives you a giant bag of zucchini from their garden.
It's usually a tie about which will need to be thrown out first.
The zucchini?
Or the Costco bananas that I thought I would for sure eat.
Bananas win out in longevity simply because the browner they get the sweeter.
Zucchini just gets rubbery and smells weird as it ages. 😛
As I'm typing this I just realized that I've never made a zucchini banana bread.
Why on Earth have I not done that?
It makes perfect sense and I'm sure the flavors go fine together.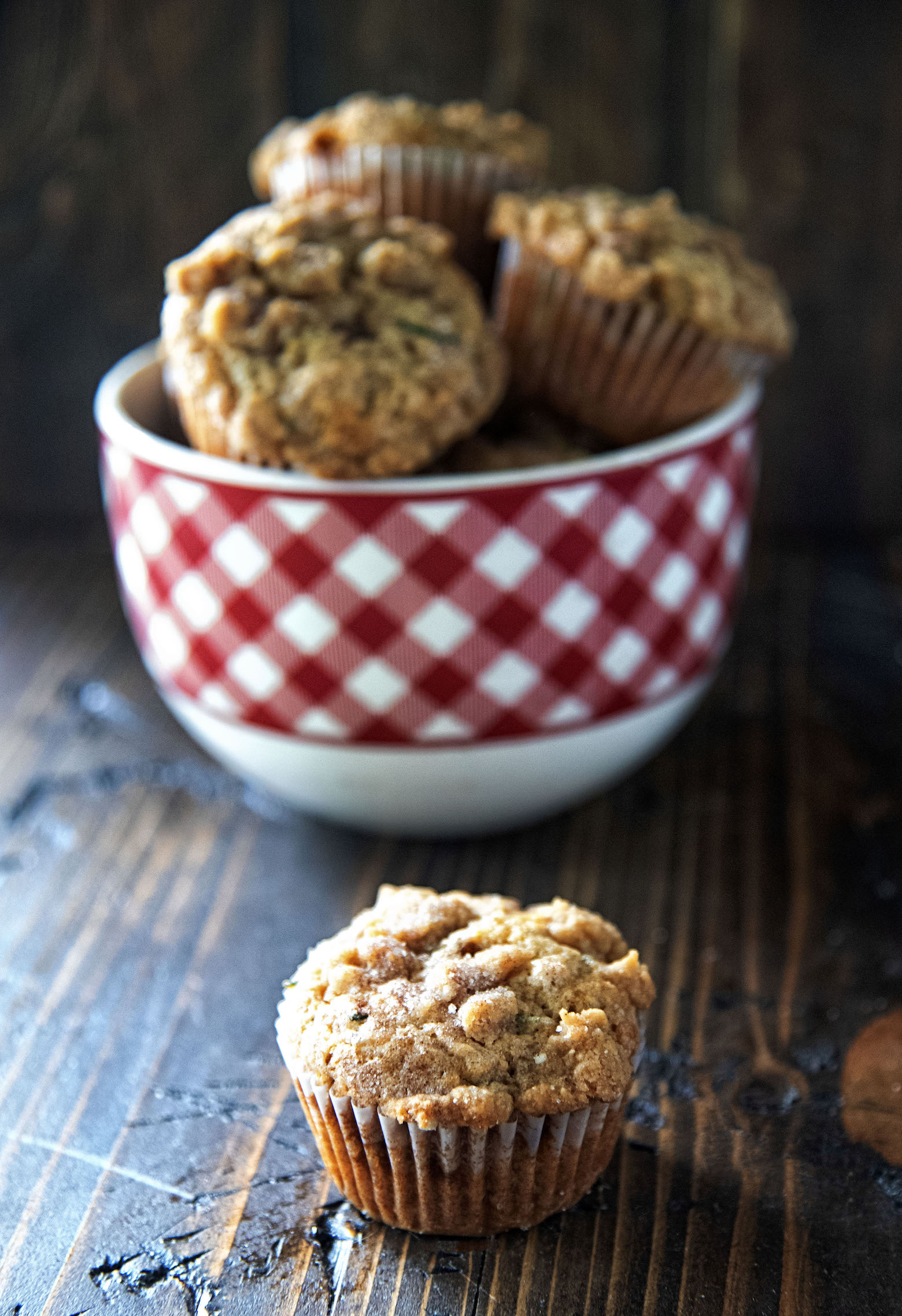 These Zucchini Apple Crumb Muffins use oil instead of butter.
Because oil makes them more moist than butter.
If you are a die hard butter fan and only want that feel free to sub out butter for oil, just make sure that it's melted butter.
These also have a crumb top.
Could you make these without the crumb top?
Yes, but why would you?
Putting crumb top on anything is always the way to go.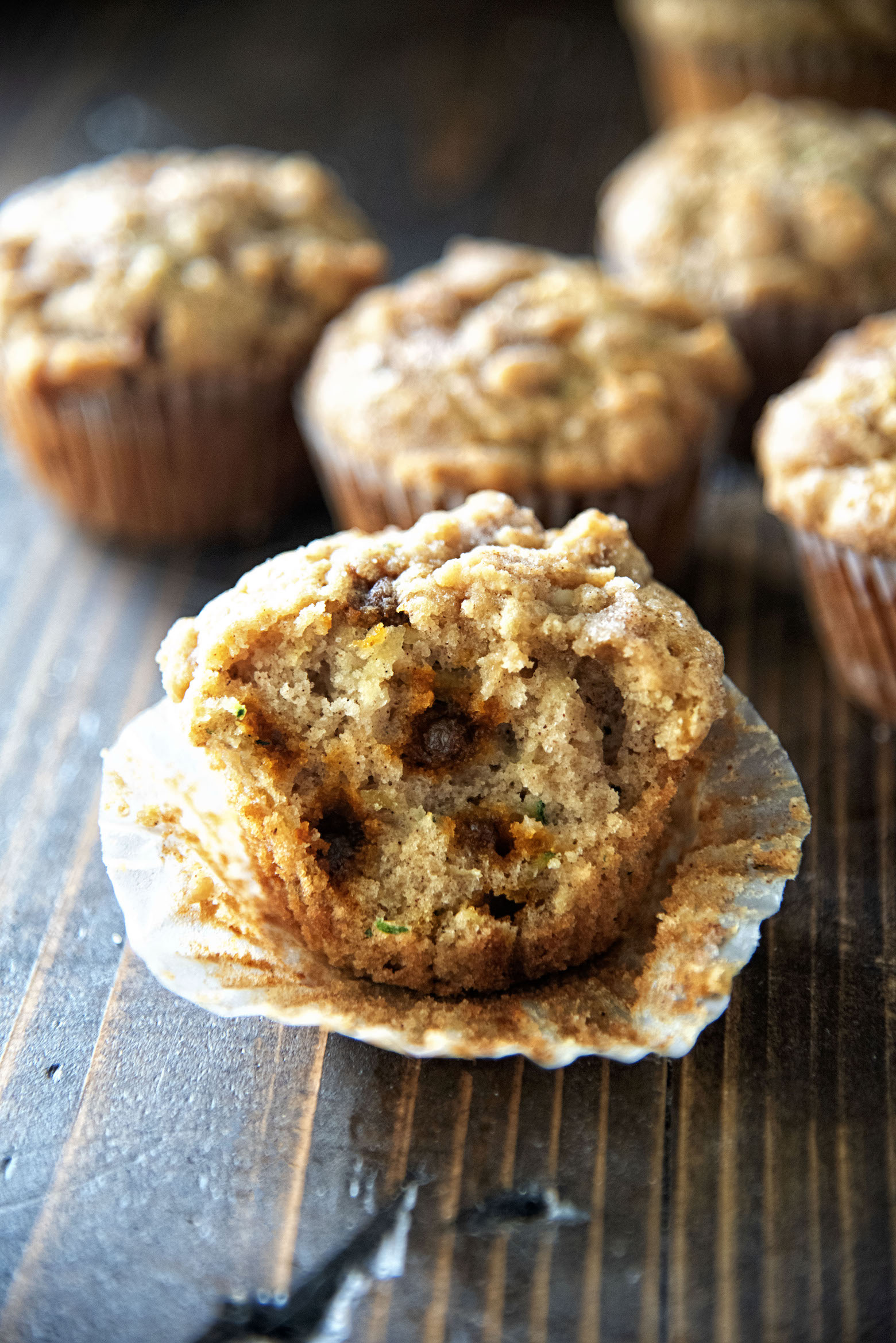 This recipe uses cinnamon chips which sometimes can be hard to find.
I find that places like Target and Walmart tend to carry them.
The kind I use are made by Hershey's.
If you can't find them and still want chips in there, white chocolate chips will work with this recipe as well.
Just know that it will be sweeter with the white chocolate chips instead of the cinnamon chips.
And last but not least it's a great day to buy my cookbook.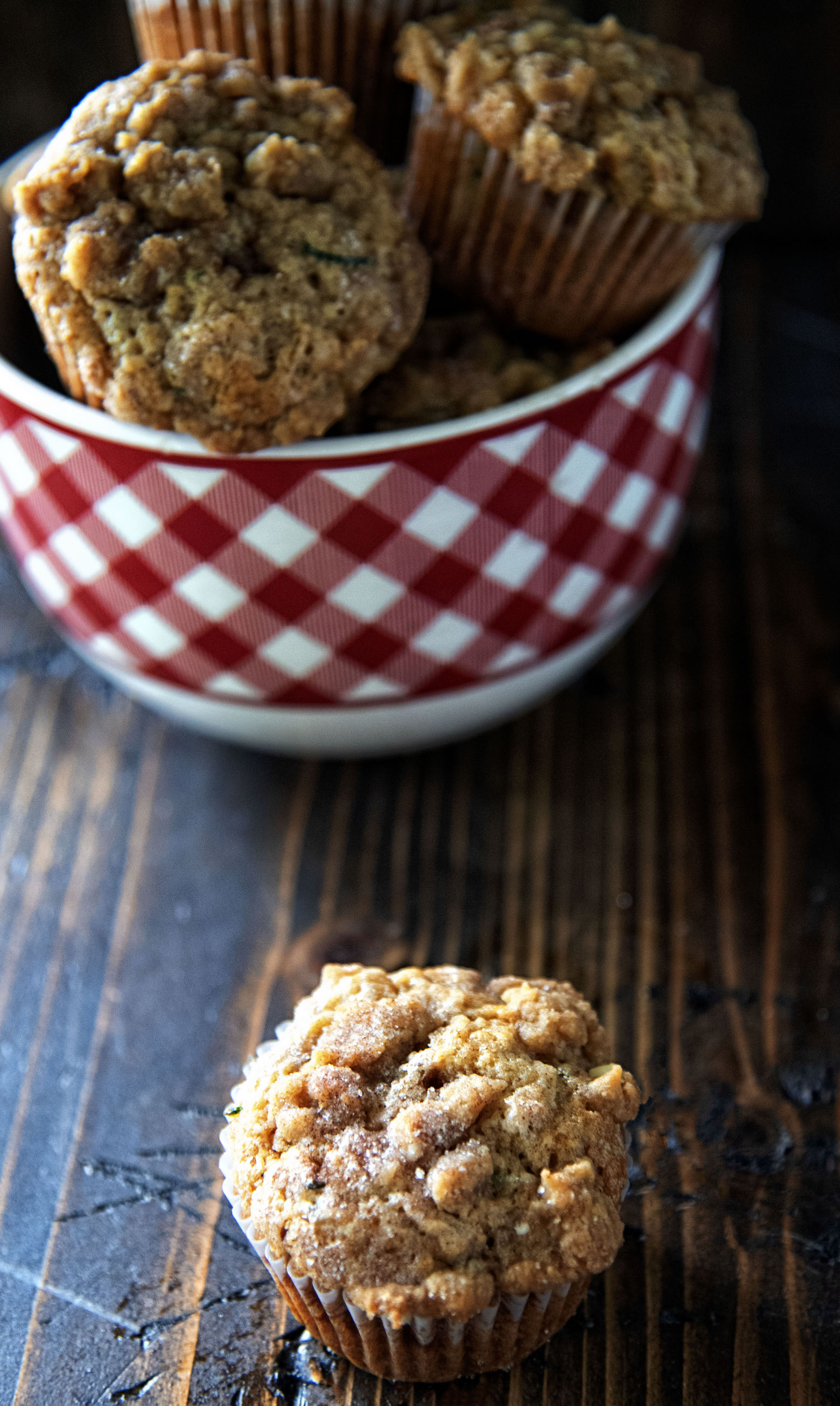 Want More Muffin Recipes?
Cider Glazed Apple Fritter Muffins
Cranberry White Chocolate Chip Crumb Topped Muffins
Chocolate Candied Orange Peel Sour Cream Muffins
Want More Zucchini Recipes?
Cheese Tortellini Zucchini Corn Soup
Vegetarian Zucchini Corn Feta Quiche
Zucchini Walnut Bread with Lemon Glaze
Ingredients
Cinnamon Sugar:
1/2 cup granulated sugar
2 TBSP ground cinnamon
For the Muffins:
3 cups all-purpose flour
1 1/2 tsp. baking powder
1 tsp. baking soda
2 tsp. apple pie spice
1/2 tsp. salt
4 large eggs, at room temperature
1 cup dark brown sugar lightly packed
1 cup granulated sugar
1 cup vegetable oil
1 TBSP vanilla extract
7 oz zucchini, shredded
7 oz honeycrisp apple, shredded (I kept skin on)
1 cup cinnamon chips (such as Hersey's)
Cinnamon Streusel:
1/3 cup all-purpose flour
1/2 cup brown sugar
1/2 tsp. ground cinnamon
Pinch of salt
1/4 cup unsalted butter, cold
Instructions
Preheat the oven to 350°F.
Line two muffin pans (12 cavities each) with paper liners.
For the Cinnamon Sugar:
Mix ingredients together in a bowl and set aside.
For the Muffins: 
In a large bowl, whisk together the flour, baking powder, baking soda, cinnamon, nutmeg and salt.
In the bowl of an electric mixer using a paddle attachment, combine the eggs, sugars, oil, and vanilla on low speed for about 1 minute, or until well incorporated.
Add the dry ingredients to the egg mixture and mix on low speed until just combined.
Fold in the grated zucchini, apples, and cinnamon chips.
Divide the batter between the muffin papers and set aside while you make the streusel.
Streusel: In a medium bowl, whisk together the flour, sugar, cinnamon, and salt.
Cut the cold butter into the mixture until crumbly using a pastry blender or a fork.
Sprinkle about 2 teaspoons of the mixture evenly over each muffin.
Avoid piling the streusel in the middles of the muffins or they will sink in the middle during baking.
Sprinkle cinnamon sugar mixture over each muffin.
Bake for 20-25 minutes, or until a toothpick tester comes out clean.
Transfer to a wire rack to cool slightly.