This Cheese Dog Pizza has a sauce of ketchup and mustard, layered with cheese and sliced cheese dogs, all topped off with relish. Your kids will love it.
So the intention was never to blog about this Cheese Dog Pizza.
But after posting it on Instagram and on Snapchat a few times people asked for the recipe.
It originated out of necessity and fridge cleaning out.
Necessity because we were on the broke side with two days to pay day…I'm sure you have all been there before.
So into the fridge I went.
My husband and I love cheeseburger pizza.
We especially love the sauce which is just ketchup and mustard.
I had no hamburger meat but I did have two cheese dogs left.
As well as ketchup, mustard, relish, and cheese.
And ingredients for dough.
My husband laughed at me and well I must admit I laughed a bit too.
Then we ate it.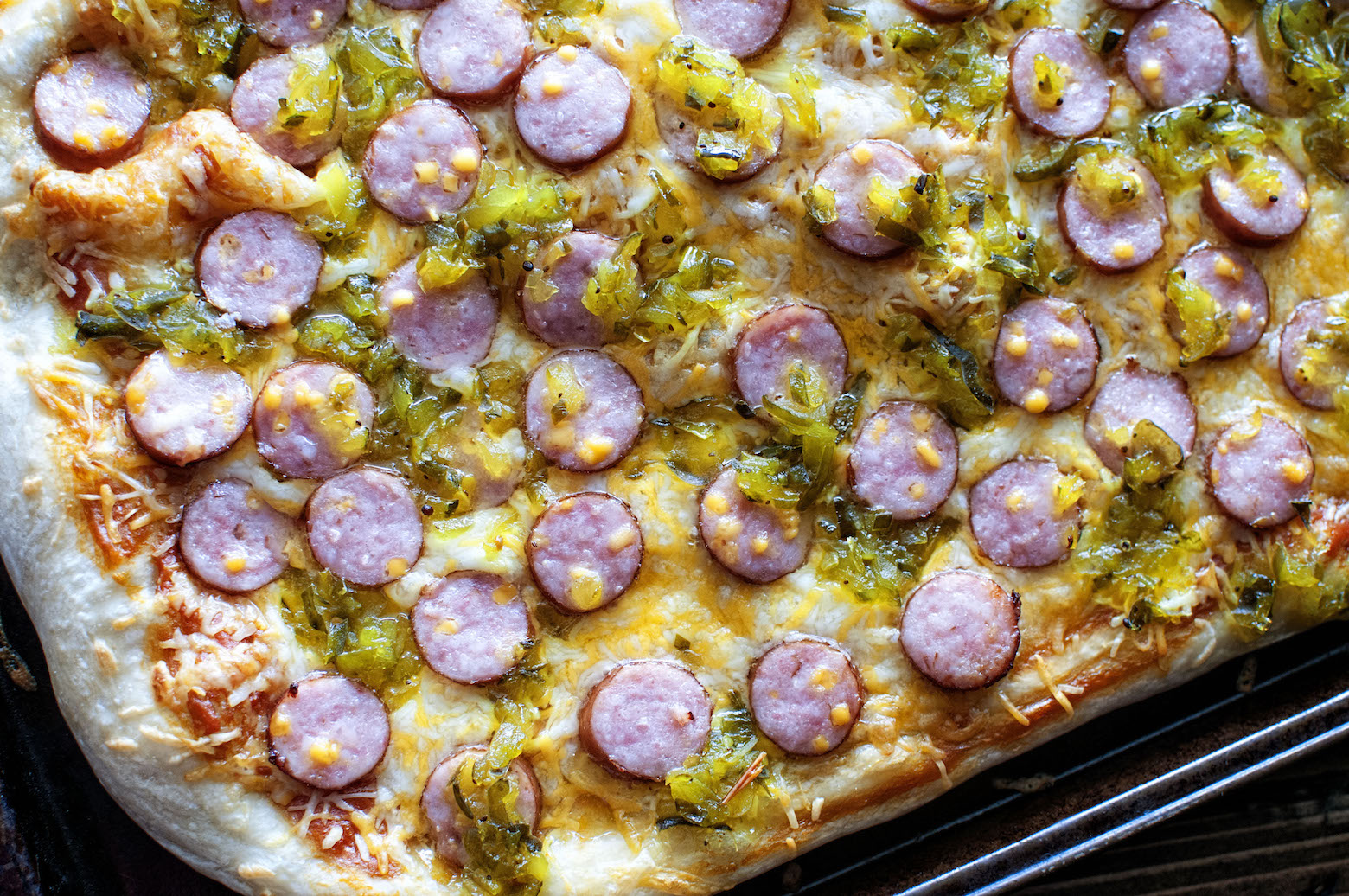 We ate the whole pizza in one sitting as it is rather addicting.
And now this pizza has gone from being a we have no money what's in the fridge meal to something we make on purpose quite often. 😀
You can make your own dough or you can buy it at the store. Most grocery stores have fresh dough nowadays for you to buy.
We have since learned that we like 3, not 2 cheese dogs on our pizza.
If you have kids who like hot dogs this is a meal you are going to want to make.
And if you like hot dogs, well you will be making this a few times a month as well.
To complete the shame cycle of making cheese dog pizza be sure and follow up with a dessert of a deep fried Twinkie Sundae.
And if you do make that sundae please give me your address so I can show up and eat it. 😛
Last but not least…it's a great time to order my cookbook. 😀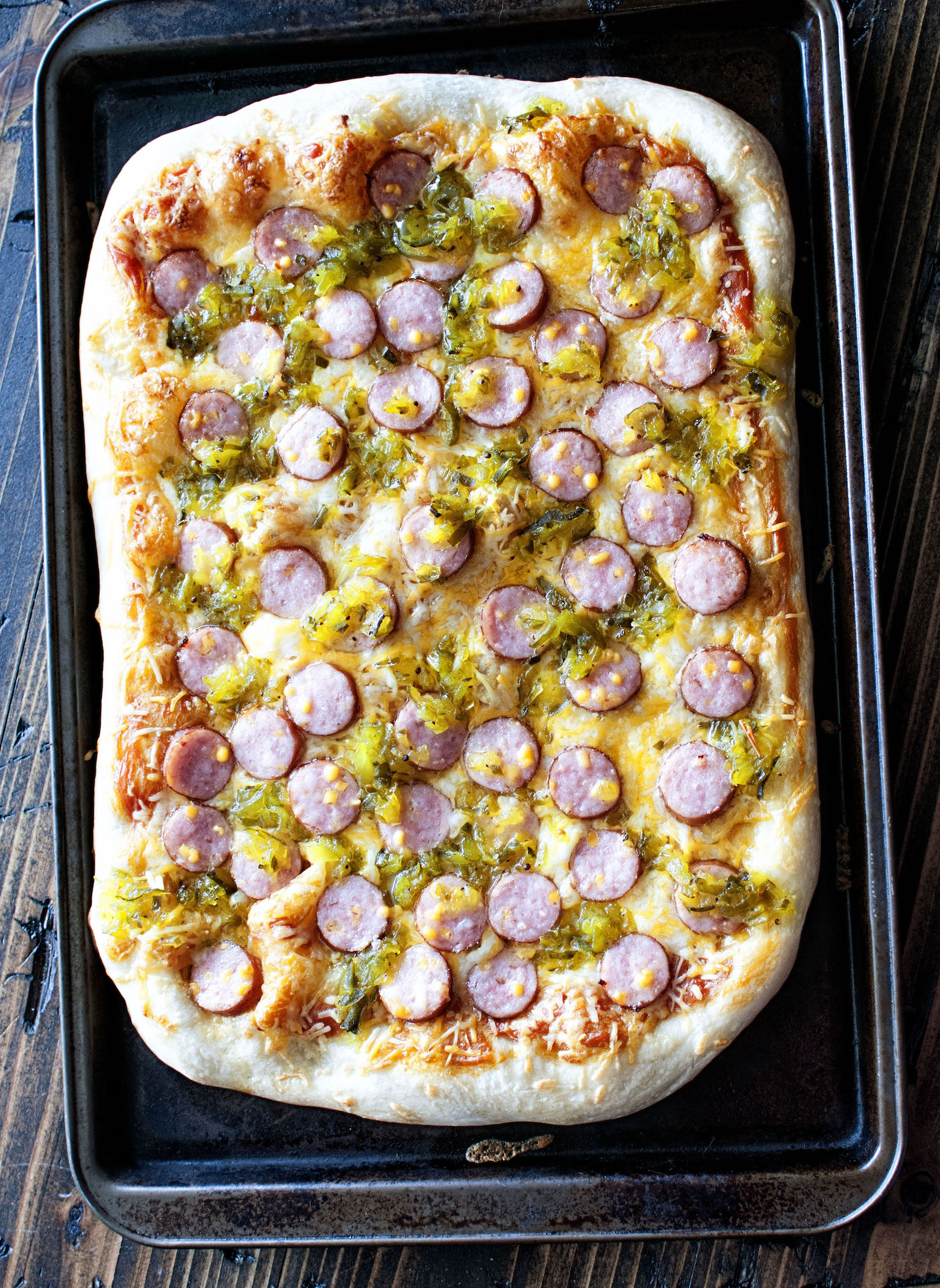 Want More Kid Friendly Meal Ideas?
Spaghetti Stuffed Garlic Bread
Grilled Cheese Tomato Soup Burger
Dill Pickle Cheddar Macaroni and Cheese
Easy Baked Spaghetti Casserole
Grilled Cheese Tomato Soup Casserole
Ingredients
1 batch pizza dough
3 cheese hot dogs, sliced
4 TBSP Ketchup
2 TBSP mustard
1 cup Mozzarella cheese
1 cup cheddar cheese
4 TBSP pickle relish (sweet or dill depending on your taste)
For the Pizza Dough
¾ cup warm water (105°F to 115°F)
1 envelope active dry yeast (I used Red Star Yeast)
2 cups (or more) all-purpose flour
1 tsp. granulated sugar
¾ tsp. salt
3 TBSP olive oil
Instructions
To make the dough:
Pour ¾ cup warm water into small bowl; stir in yeast.
Let stand until yeast dissolves, about 5 minutes.
Brush large bowl lightly with olive oil.
Mix 2 cups flour, sugar, and salt in processor.
Add yeast mixture and 3 tablespoons oil; process until dough forms a sticky ball.
Transfer to lightly floured surface.
Knead dough until smooth, adding more flour by tablespoonful's if dough is very sticky, about 1 minute.
Transfer to prepared bowl; turn dough in bowl to coat with oil.
Cover bowl with plastic wrap and let dough rise in warm draft-free area until doubled in volume, about 1 hour.
Punch down dough.
To make the pizza:
Preheat oven to 425F.
Grease a baking sheet with baking spray.
Shape dough with your hands into a rectangle onto the baking sheet. Try to go as thin as you can without creating holes.
In a small bowl, mix together the ketchup and mustard.
Spread ketchup/mustard mix on to the dough just as you would for pizza sauce.
Sprinkle cheese evenly on to pizza dough.
Add the sliced cheese dogs, trying to distribute evenly.
Add the relish, trying to distribute evenly.
Put in oven and bake for 10-14 minutes. My oven tends to side on the 14 minute mark.