White Chocolate Dried Pineapple Salted Macadamia Nut Cookie: A salty sweet tropical twist on the white chocolate macadamia nut cookie by adding dried pineapple and using salted macadamia nuts.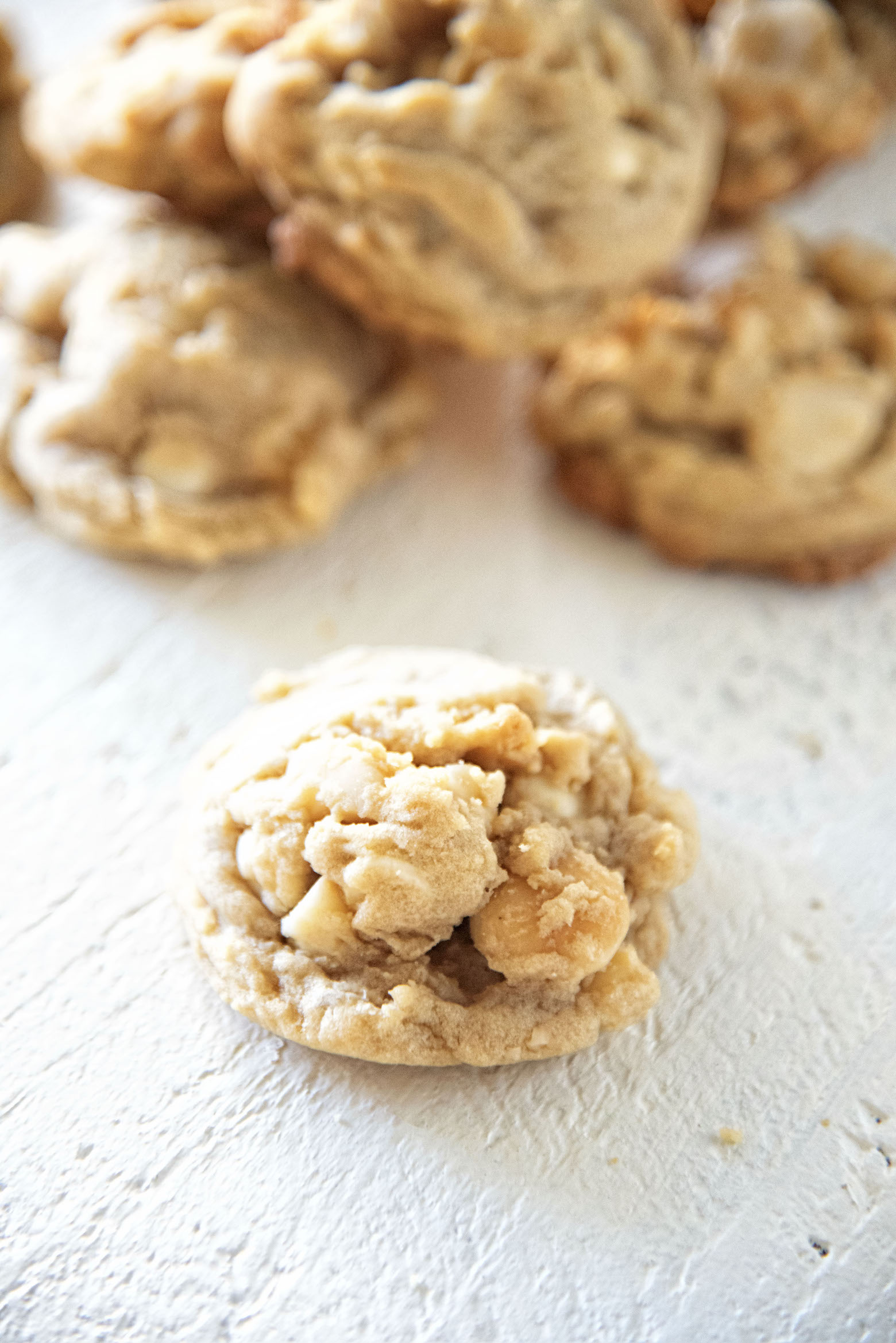 I remember in high school (I went in the late 80's) that everyone who was anyone went to the mall for lunch.
It was proof you had a car or knew someone who had a car.
Since you had to drive there and all.
When you were at that mall you went to Mrs. Field's and you bought yourself a White Chocolate Macadamia Nut Cookie.
I'm not so sure why, but if I had to guess, it was because whoever was the most popular kid in high school always got one.
And in high school, all you want to do is fit in.
After high school, I stopped eating them, and went back to chocolate chip.
Partially because macadamia nuts were expensive.
They still are…though thanks to places like Costco and Trader Joe's they aren't too bad in price.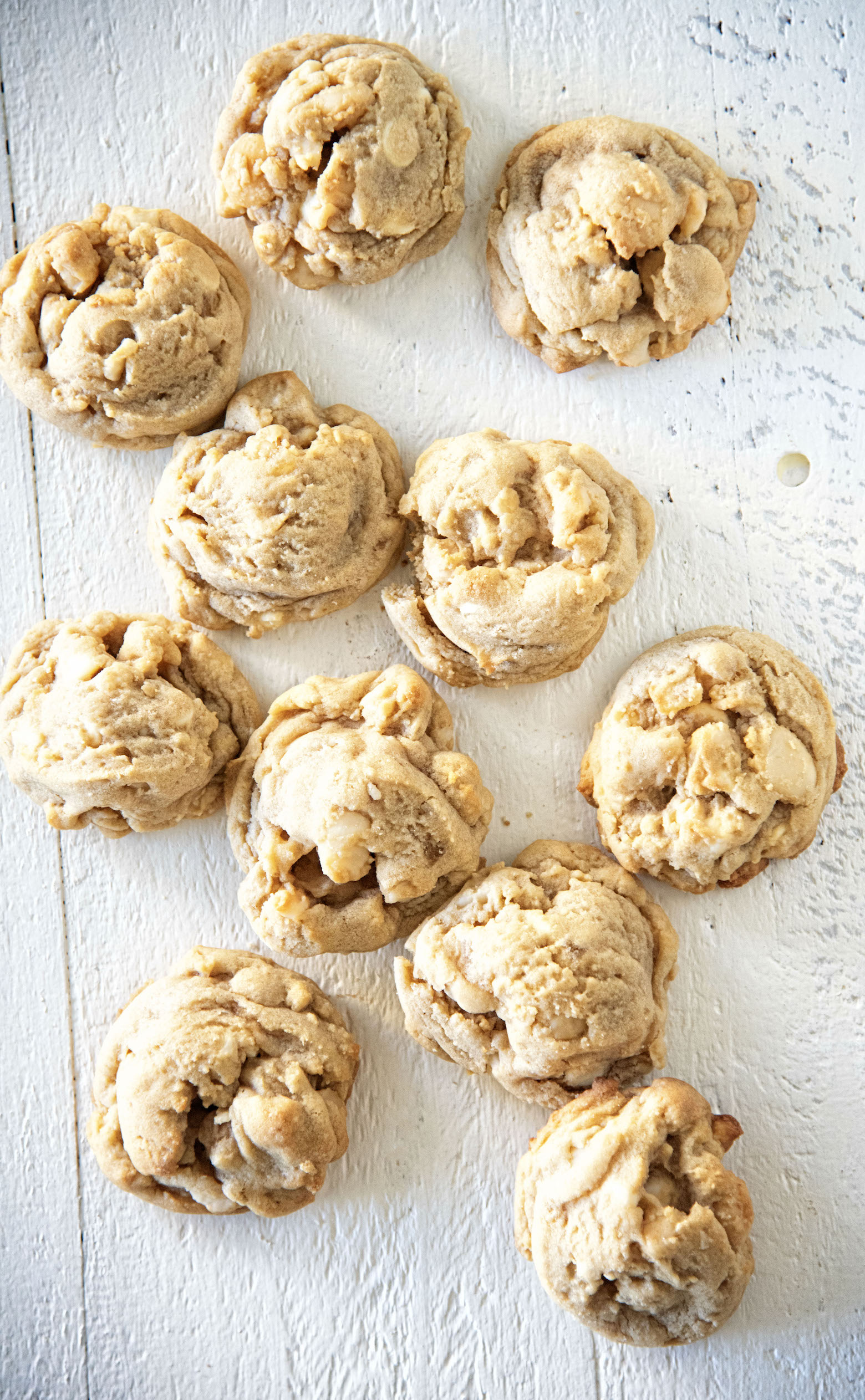 And partially I stopped eating them because I always thought they were a little bland.
Which is why when I started making them later on in life I started using salted macadamia nuts.
The salty sweet combo is the way to go for me.
I had a ton of dried fruit leftover from Christmas and fruitcake making so I added the dried pineapple to the cookie.
I liked the little bit of depth they added and will probably add more dried pineapple the next time I make these.
What about you?
Did you go crazy for White Chocolate Macadamia Nut Cookies in the 80's?
You know, if you are as old as me. 🙂
It's a great day to order my cookbook.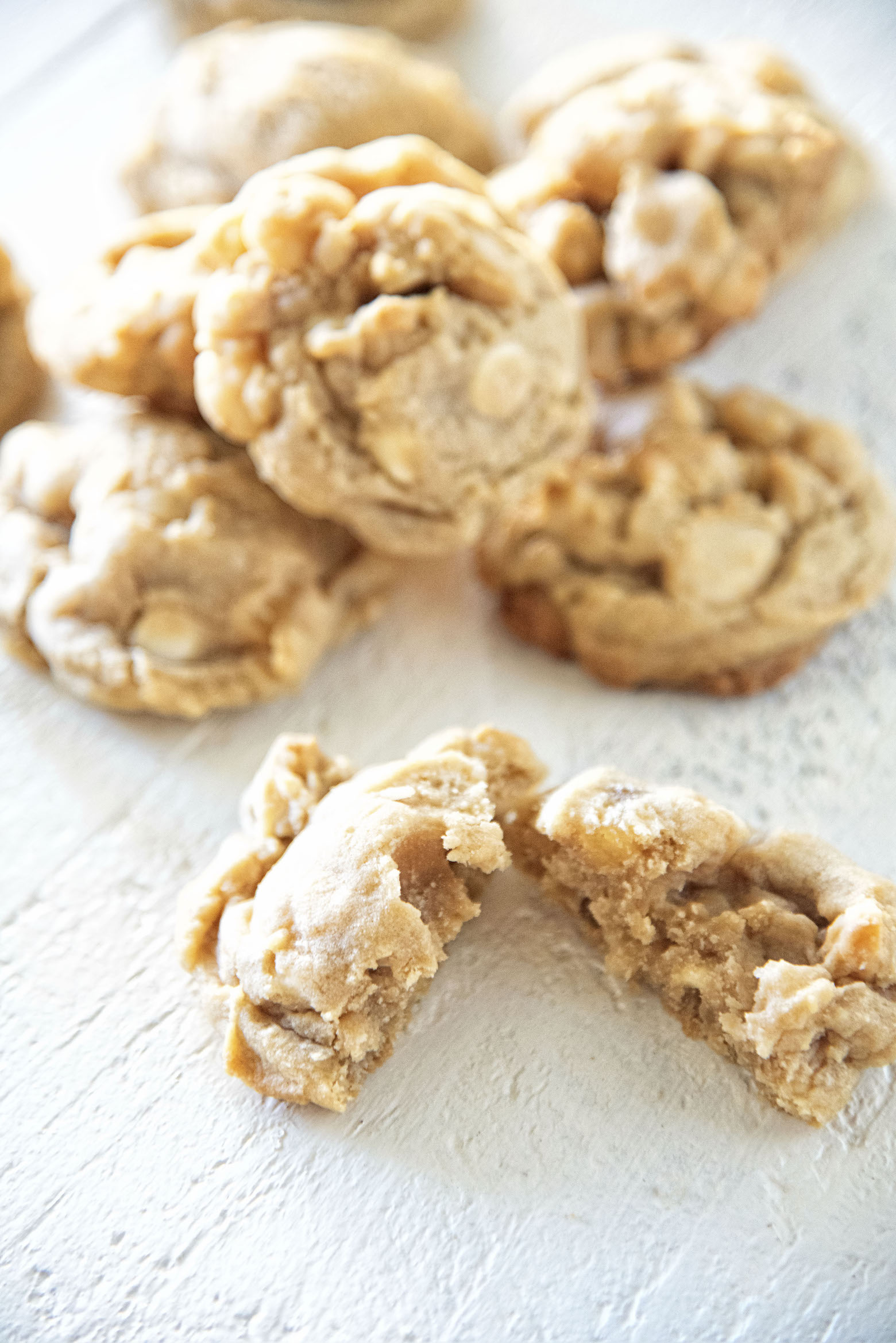 Want More Cookie Recipes?
Dirt Chocolate Pudding Cookies
Vanilla Bean Caramel Thumbprint Cookies
Caramel Cream Filled Snickerdoodles
Double Chocolate Rainbow Chip Cookies
Strawberry Cheesecake Chocolate Chip Cookies
Ingredients
8 oz. unsalted butter, at room temperature
1/4 cup granulated sugar
2 cups light brown sugar, packed
2 eggs
1 tsp. vanilla extract
3 1/2 cup All-Purpose flour
1 1/2 tsp. Baking soda
3/4 tsp. salt
1 1/4 cup white chocolate chips
3/4 cup dried pineapple, finely chopped
1 1/4 cups salted macadamia nuts, chopped
Instructions
Using a stand mixer with the paddle attachment cream together the butter and the sugars until very light and fluffy, about 3 minutes on medium high.
Scrape down the side of the bowl.
Continue mixing while adding the eggs one at time.
Make sure each egg is incorporated before adding the next.
Add the vanilla extract and scrape down the bowl with a spatula.
In a small bowl combine the flour, soda and salt and mix to combine.
With the machine on low, slowly add the flour.
Mix until just combined, taking care not to over mix.
With the mixer on low add in the white chocolate chips, dried pineapple, and macadamia nuts.
Mix until the ingredients are distributed somewhat evenly.
Roll cookie dough in to 1 inch balls.
Bake at 360* for 12 minutes. They should be lightly golden on the outside but still look gooey on the inside.
*Please note that yes that reads 360 and not 350. If you oven does not go to that I would stay with 350 and bake an extra minute.