These White Chocolate Dipped Orange Cranberry Cupcakes have cranberries and candied orange peel topped with buttercream and dipped in white chocolate.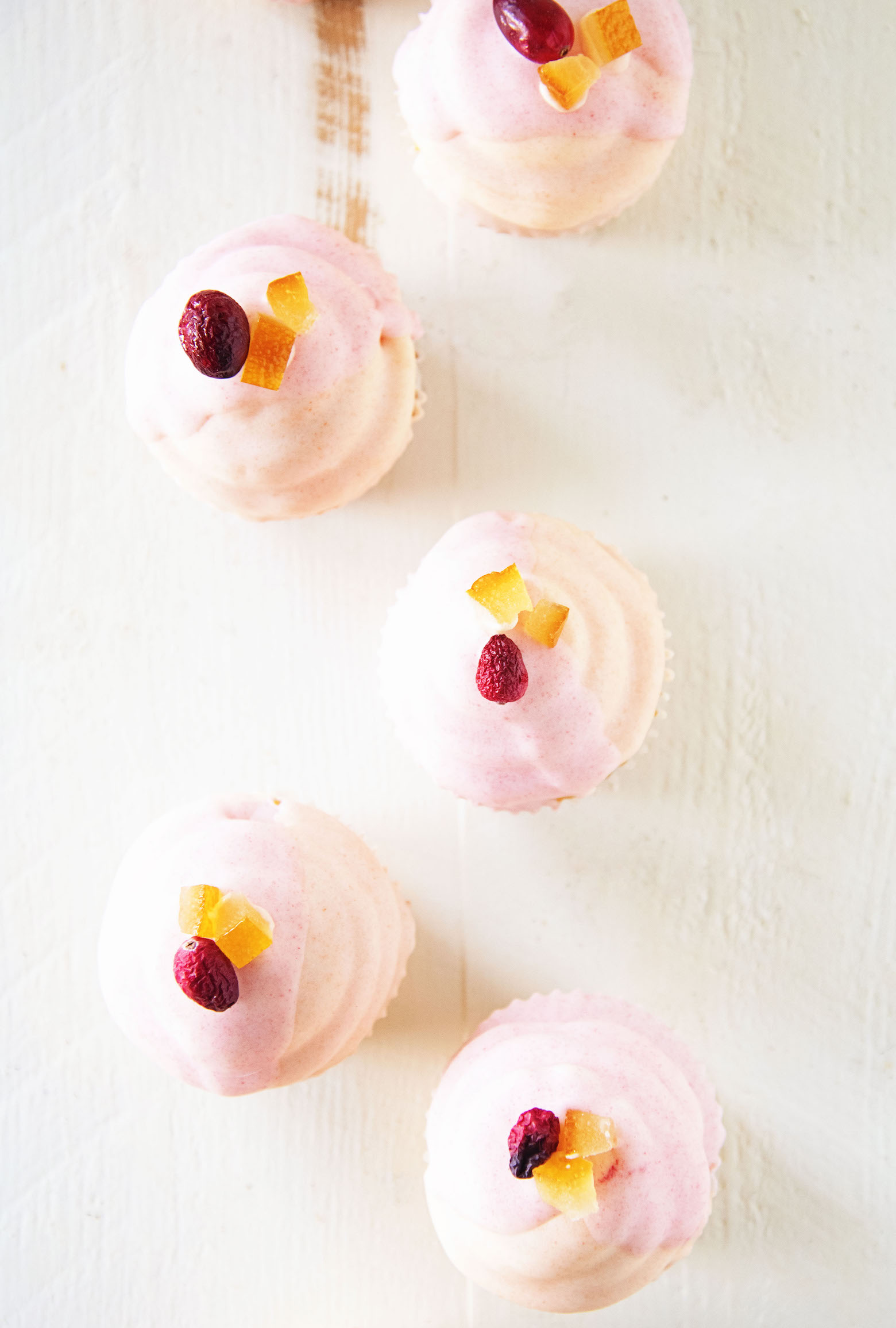 It's almost here.
Thanksgiving that is.
And it's so late this year that we will be going straight from Thanksgiving into holiday mode.
The hubby and I are going super low key this Thanksgiving.
Just us and the dogs and that is how we want it.
I feel like I say this every year but it's been a crazy and hectic one and so just spending the holiday with each other is what we want.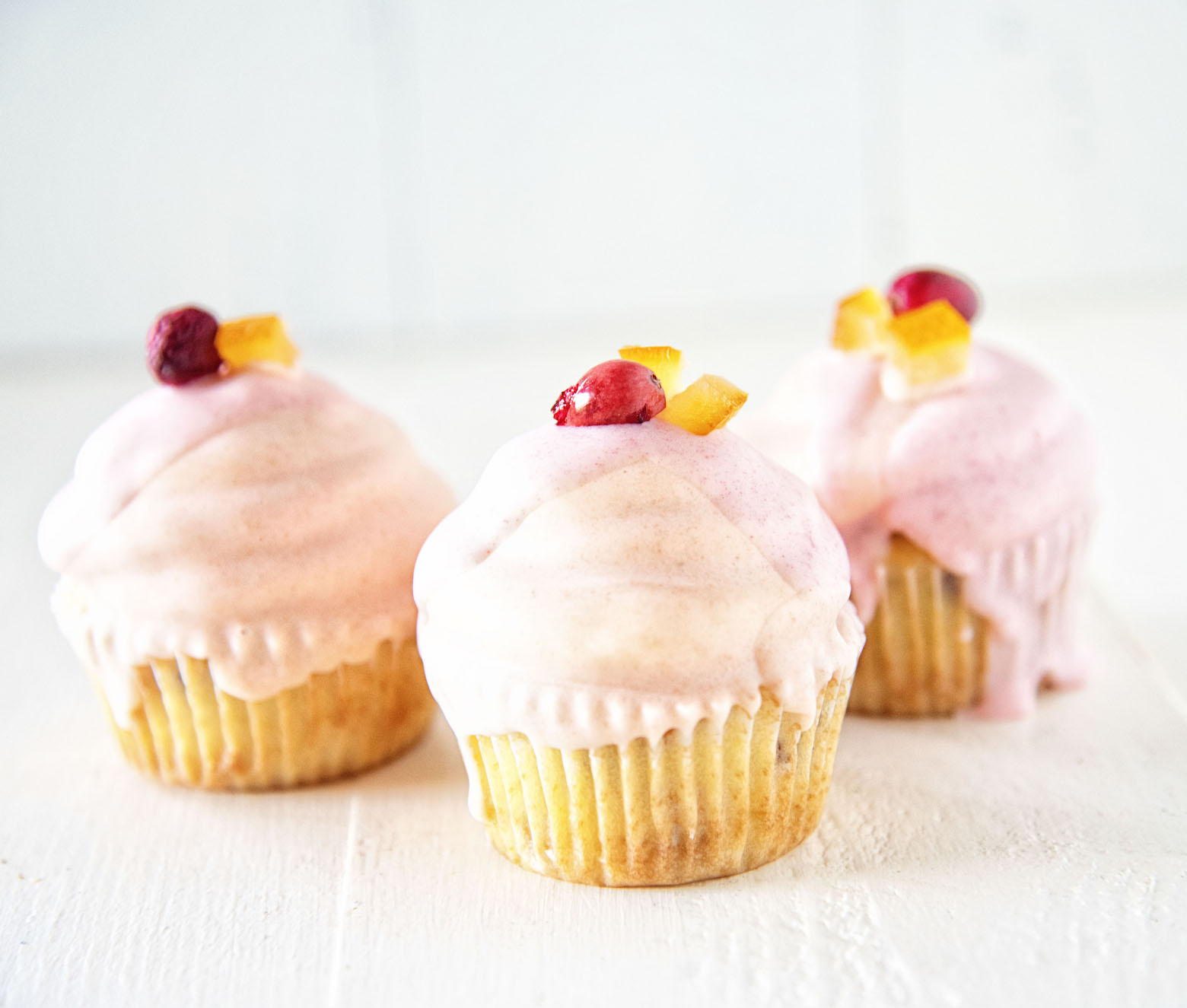 Both my husband and I don't eat meat so there won't be a turkey on the table…much to the dismay of the pups.
Neither my husband or I are big on fake turkey so we are just going to do a couple side dishes that we like and some desserts and call it a day.
The rest of that day will be relaxing with the pups and snuggling on the couch.
The day after Thanksgiving growing up used to be the day we put up the tree.
I would come down to my mom playing Christmas music and usually making pancakes.
But our tree is already up as we do it early now for a good reason.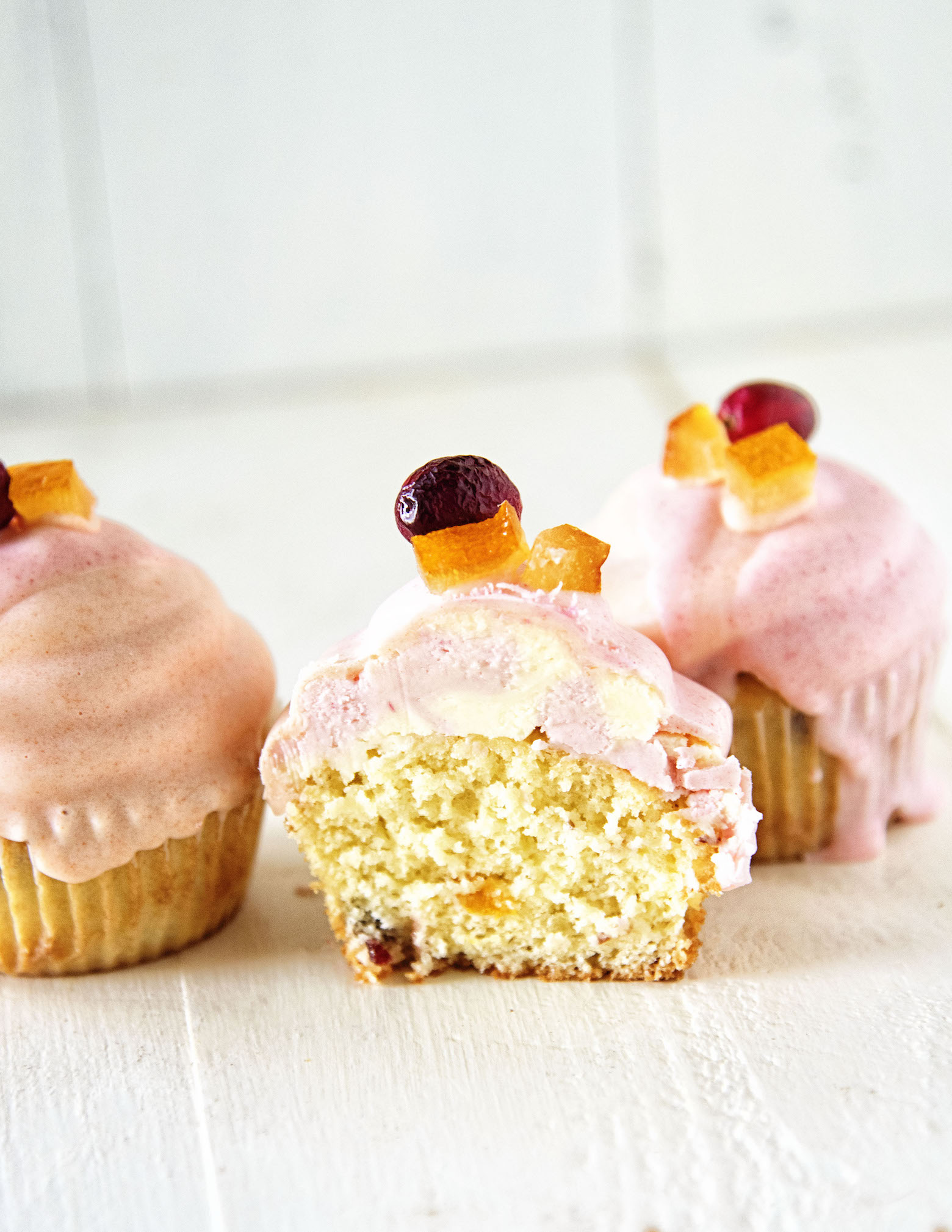 I don't know what it is about the holidays that makes me want to make cupcakes and dip them in chocolate.
But it really seems to be the only time of year I do it. 🙂
My husband's work pretty much expects dipped cupcakes and fudge for the whole month of December.
These cupcakes are dipped slightly different than ones I've done in the past. As they are double dipped.
You certainly do not have to double dip them if you don't want to go to the trouble.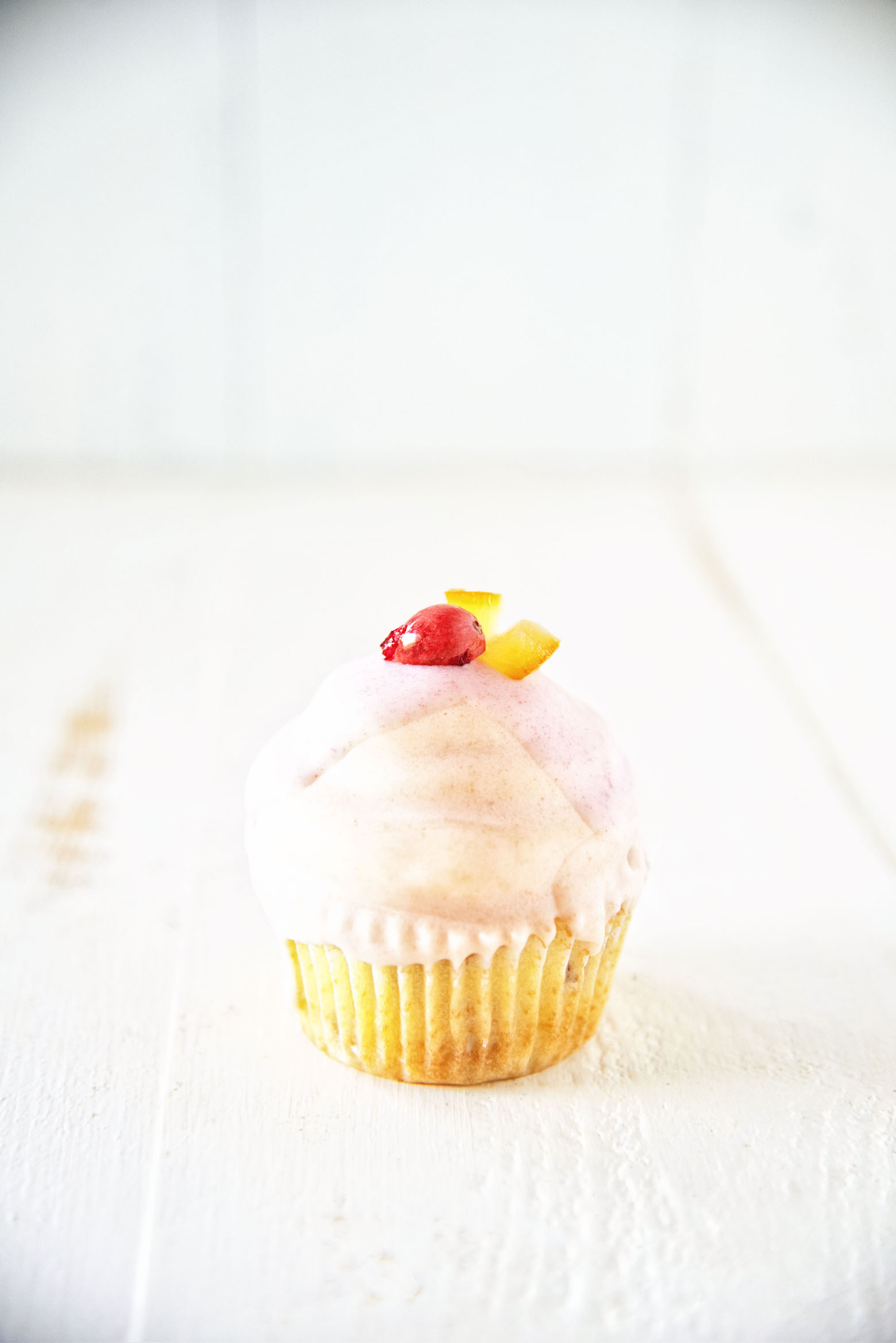 If you do double dip them note that to be successful you are going to want to have your cupcakes in the fridge right up until it's time to dip them.
Keeping the cupcakes cool allows for the coating to set up quickly.
Which allows for the other side to be dipped in the different color.
If you are adding the garnish of the freeze dried cranberry and candied orange peel be sure to add it right away after the second dip because these do harden up quickly.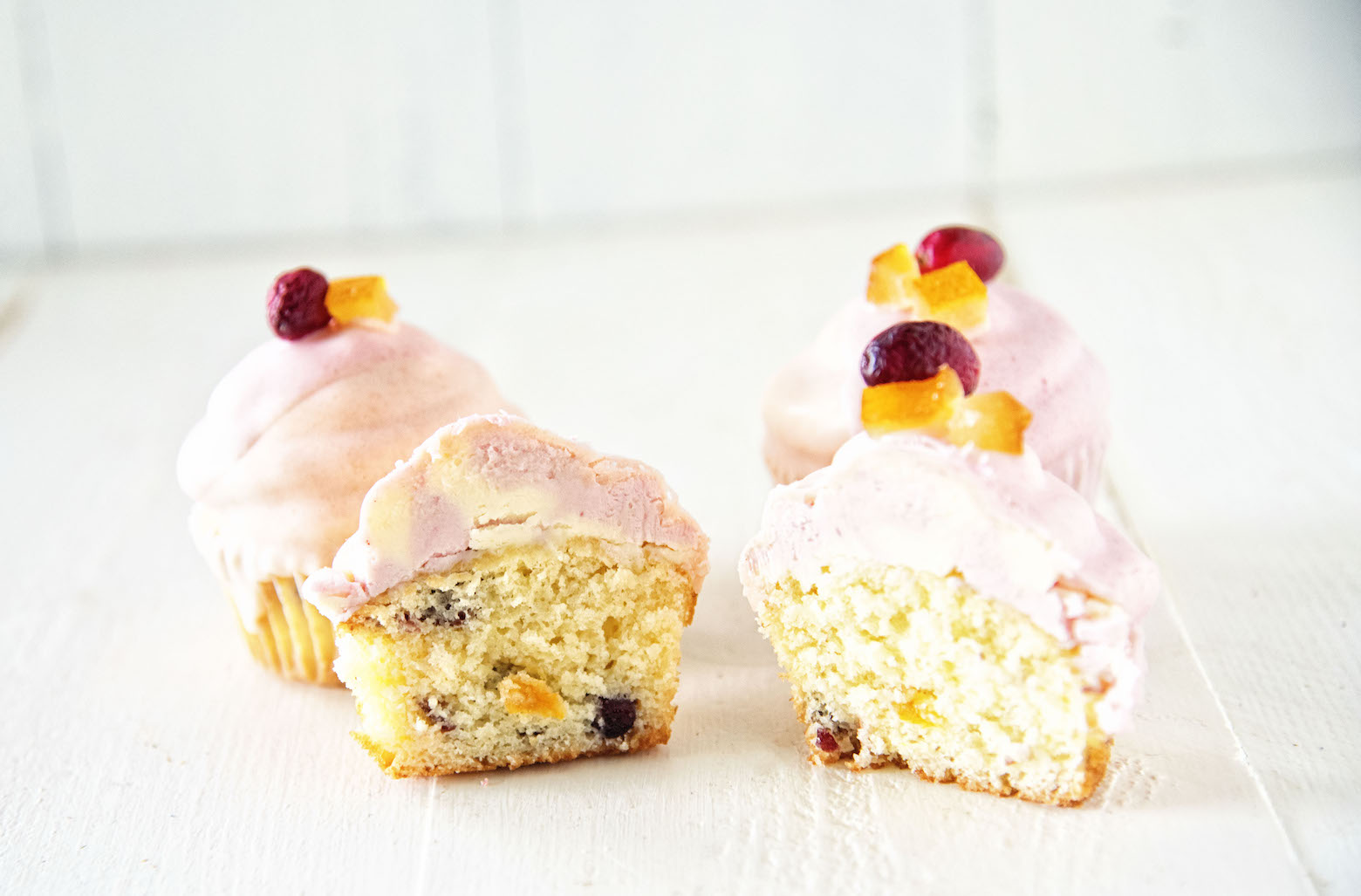 This cupcake also has two frostings in one.
Both are Swiss meringue buttercream but one is flavored with orange peel powder and the other with cranberry juice powder.
Which yes, are kind of obscure ingredients but they powders last a long time.
They are great in smoothies, and give great flavor to the frosting without adding moisture to the mix.
You can see how to add multiple frosting to one piping bag here.
Good luck planning your Thanksgiving meal.
If you are making something by me please know that I will be around this week to help you troubleshoot if need be.
P.S. It's a great day to buy my cookbook Holy Sweet!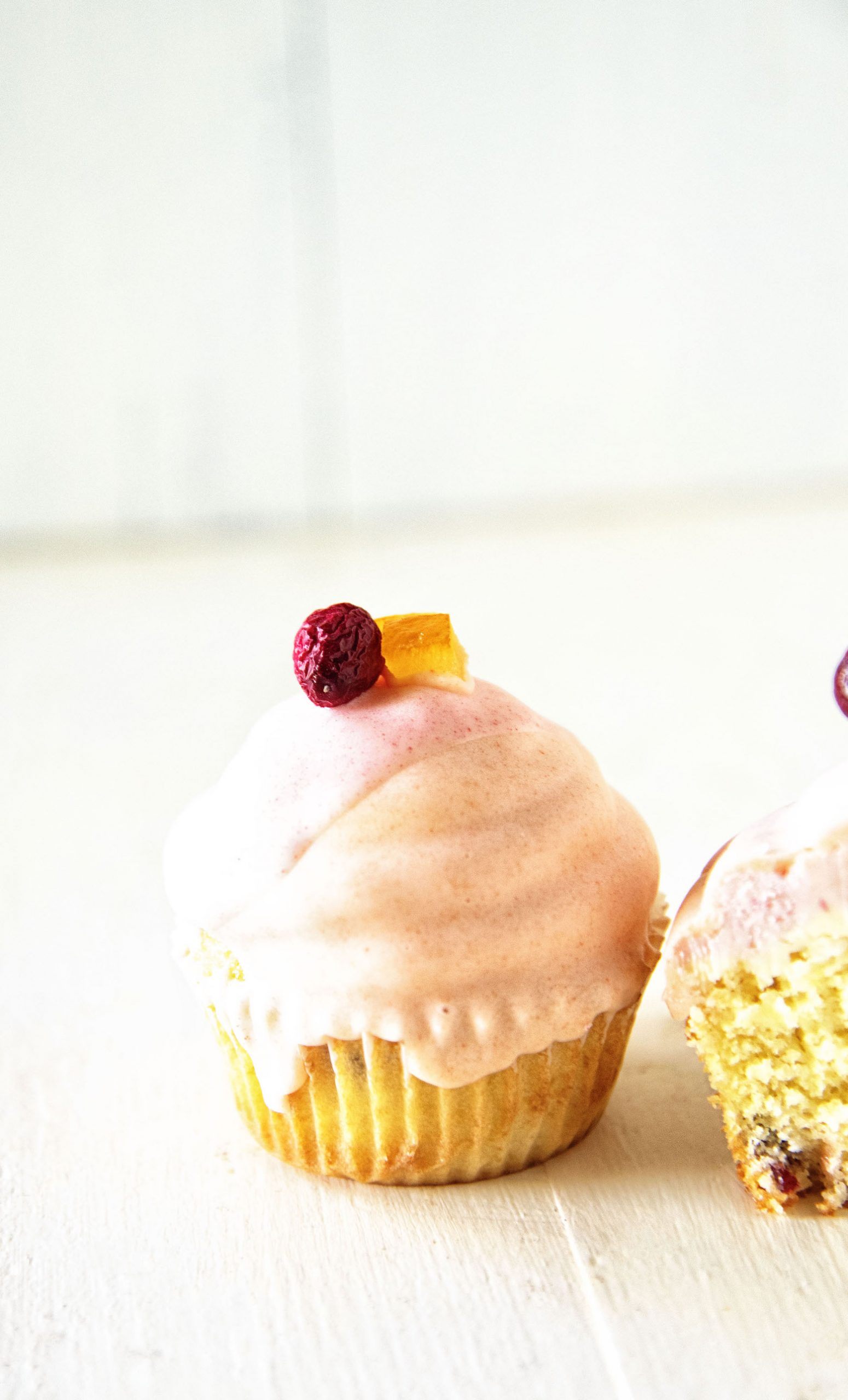 Want More Holiday Cupcakes?
Chocolate Dipped Chocolate Peppermint Cupcakes
Eggnog Cupcake with Spiced Rum Caramel Buttercream
Peppermint Bark Red Velvet Cupcakes
Chocolate Bourbon Eggnog Cupcakes
Chocolate Dipped Gingerbread Cupcakes with Orange Swiss Meringue Buttercream
Ingredients
For the Cupcakes:
12 TBSP unsalted butter
4 large eggs
1 cup whole milk
1 tsp. vanilla extract
1 tsp. Salt
2 cups all-purpose flour
1 1/2 cups sugar
2 tsp. Baking powder
3/4 cup candied orange peel, diced
3/4 cup dried cranberries
For the frosting:
1 cup (about 9) egg whites
2 cups granulated sugar
3 cups unsalted butter, cubed and at room temperature
1/4 tsp. salt
2 TBSP cranberry powder
2 TBSP orange peel powder
For the white chocolate coating:
24 oz white chocolate, finely chopped
6TBSP vegetable oil
Instructions
For the Cupcakes:
Preheat the oven to 350°F.
Line cupcake pans with 24 baking cups.
Melt the butter in a microwave at 60% power for 1 1/2 to two minutes.
Keep the butter warm do not allow it to sit and cool off.
In a stand mixer with a paddle attachment, beat the eggs on medium low speed for two minutes until light And fluffy and lightly foamy.
Increase the mixer speed to medium high.
Pour the warm butter into the egg slowly so that the mixture tempers the eggs, do not scramble.
Once the butter is added, reduced the speed back to medium-low.
With the mixer running, add the milk, vanilla extract, and salt.
Mix for one minute until well combined.
Sift together the flour, sugar, and baking powder and add to the batter.
Mix on medium until just combined, 10 to 20 seconds.
Remove the bowl and paddle from the mixer and use the paddle to scrape the bottom and sides of the ball ensuring that everything is well mixed.
Fold the cranberries and candied orange peel into the batter and do your best to evenly distribute the fruit. 
Scooped the batter into the prepared baking cups, filling them two thirds of the way.
Bake in the middle of the oven for 20 to 25 minutes, rotating the pan halfway through.
The cupcakes are done with the center spring back when you touch them.
Remove the cupcakes from the oven. Let cool for five minutes, then remove from the pan and place on a baking sheet.
For the Frosting:
Place the egg whites and sugar in the metal bowl of a stand mixer and set over a small pot of simmering water (the bowl should not touch the water).
Heat, stirring occasionally, until mixture is 160F or hot to the touch.
Transfer bowl to stand mixer and beat on high speed with a whisk attachment to medium stiff peaks, about 8 minutes.
Reduce mixer speed to medium low and add butter a tablespoon at a time, letting it incorporate into the meringue for few moments before adding more. It will looks curdled and you will freak out. Don't worry it comes together when you continue to beat it.
Add vanilla extract and salt and beat on high for 1-2 minutes until smooth and creamy.
Divide the frosting equally among two bowls.
Add 2 TBSP orange peel powder to one bowl and mix until fully combined.
Add 2 TBSP cranberry powder to the other bowl and mix until fully combined.
Put frosting into two separate piping bagshttps://www.youtube.com/watch?v=JuzXzcTlpv0. Then place both piping bags into a third piping bag that has no frosting in it. You will get a swirl of orange and cranberry frosting if you do it this way.
Frost the cupcakes.
Prepare the chocolate coating:
Combine white chocolate and oil in a medium heat-proof bowl set over a medium saucepan of barely simmering water; stir until melted and smooth.
Transfer to a small bowl, and let cool about 15 minutes.
Divide white chocolate coating among two bowls. Place orange food coloring in one and red in the other. Mix until the color is distributed throughout the cupcake.
Holding each cupcake by its bottom, dip half cupcake in the orange colored white chocolate chocolate to coat frosting, allowing excess to drip off. Transfer to a baking sheet fitted with a wire rack.
Once all the cupcake have been dipped half orange start with the first cupcake you did (which should have set up by now) and dip the other side of the cupcake into the red/pink white chocolate coating.
Spoon more coating around edge of cupcake and any exposed frosting.
Sprinkle with candied orange peel and freeze dried cranberry or fresh cranberry for garnish.
Let cupcakes stand at room temperature 15 minutes.
Cover, and refrigerate for 2 hours more.
Cupcakes can be refrigerated for up to 3 days.