Whiskey Pecan Upside Down Cake: Move over pineapple this whiskey pecan upside down cake is your new go to this fall. If you love pecans, brown sugar, and whiskey then this is your cake.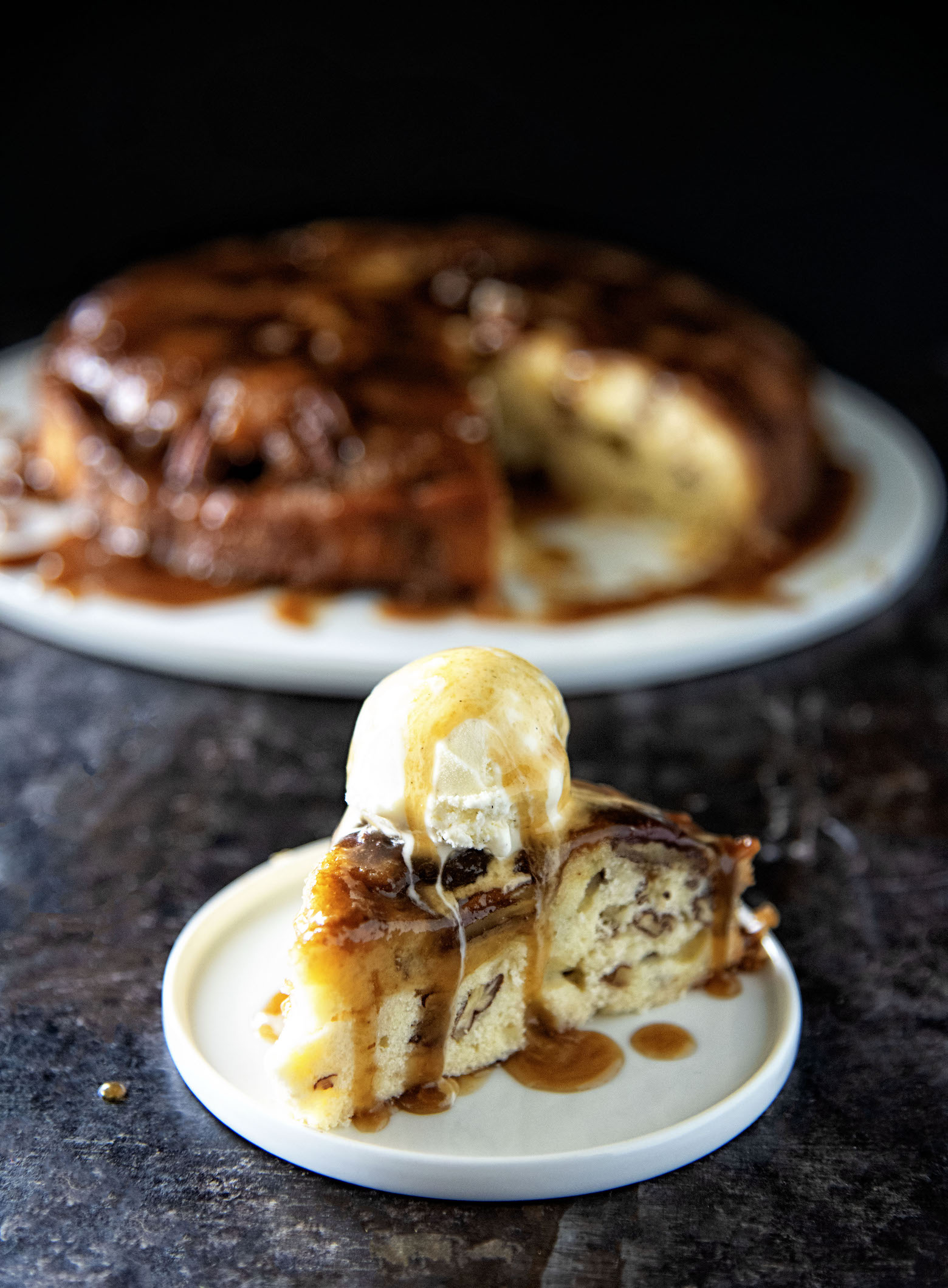 So I like the F-word.
And since this is a food blog you may think I mean the word fat.
Boy do I love me some fat.
Full fat.
But no, not that F-word.
THE F-word.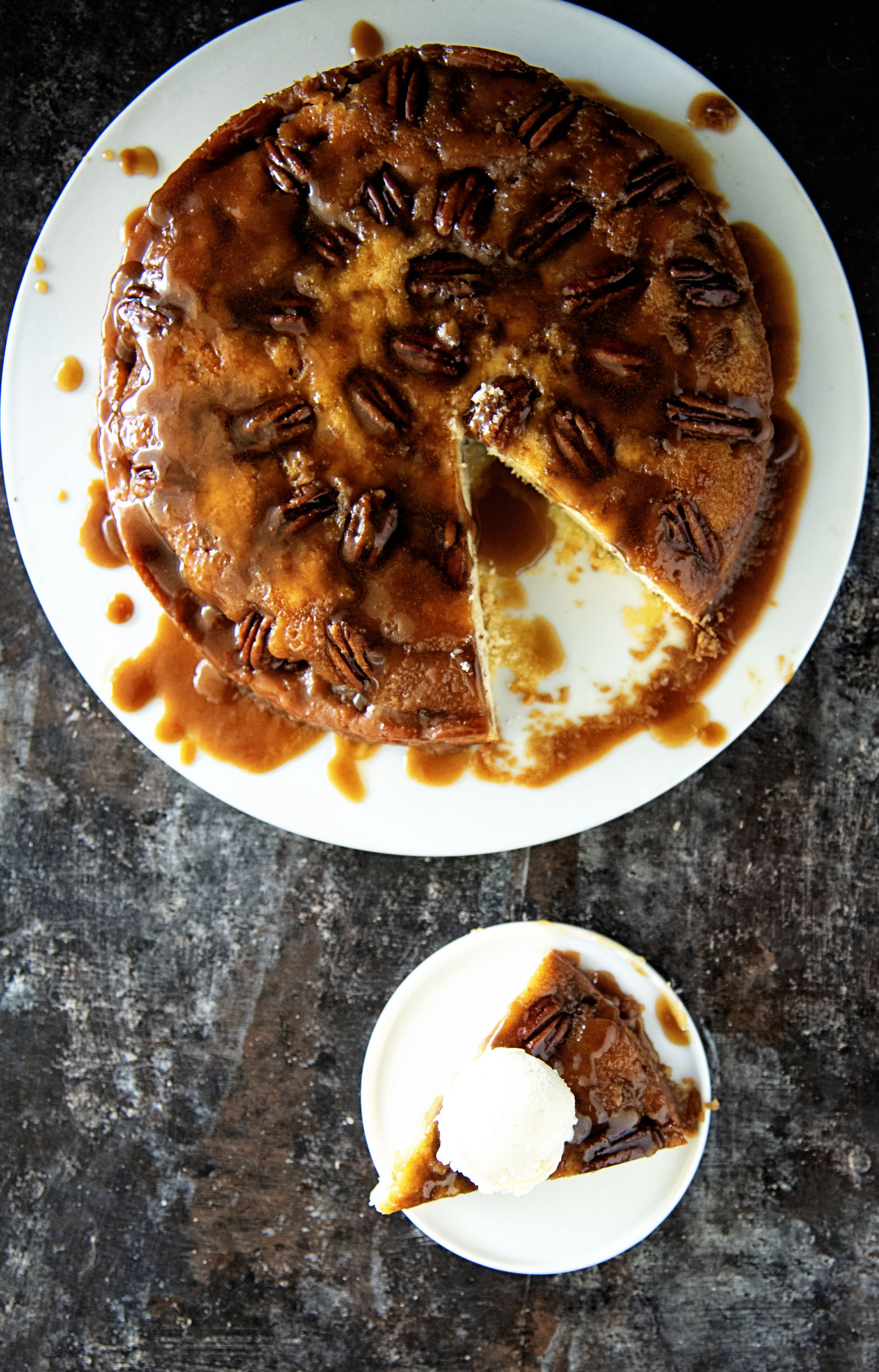 It's not like I go out of my way to use it.
I don't think to myself how can I add the F-word to more daily speech.
It just comes out.
I wasn't raised around hearing it.
My mom never swears and my dad had an occasional swear word come out of his mouth usually when trying to repair something. 🙂
So how did I become an F-word user?
Hockey.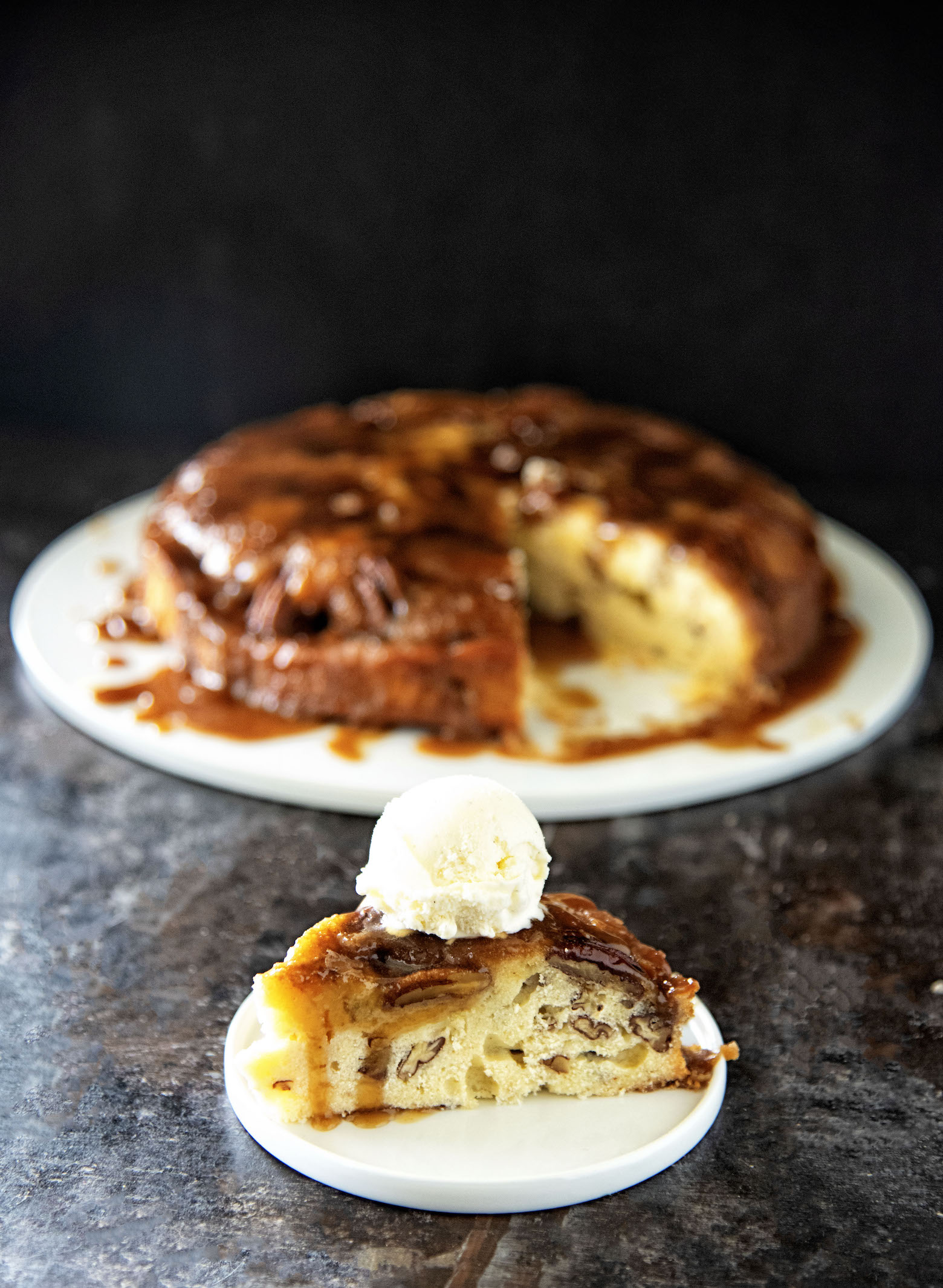 The F-word is used a lot in hockey.
I don't even really know how much anymore because I don't really recognize the word as a bad word.
And it's really bad after I've played or hung out with my hockey team.
The other day on Instagram I posted a meme.
It had the word shit and the F-word.
The F-word was not fully written out but someone commented that they liked the sentiment but could do without the swear words.
And I had to go back and read it because I didn't even remember there being a swear word in it. 😛
Because I just didn't notice.
So when you see an occasional swear word on here from time to time please know that I'm not trying to be controversial or upset people.
It just means I probably wrote the post after playing hockey. 😀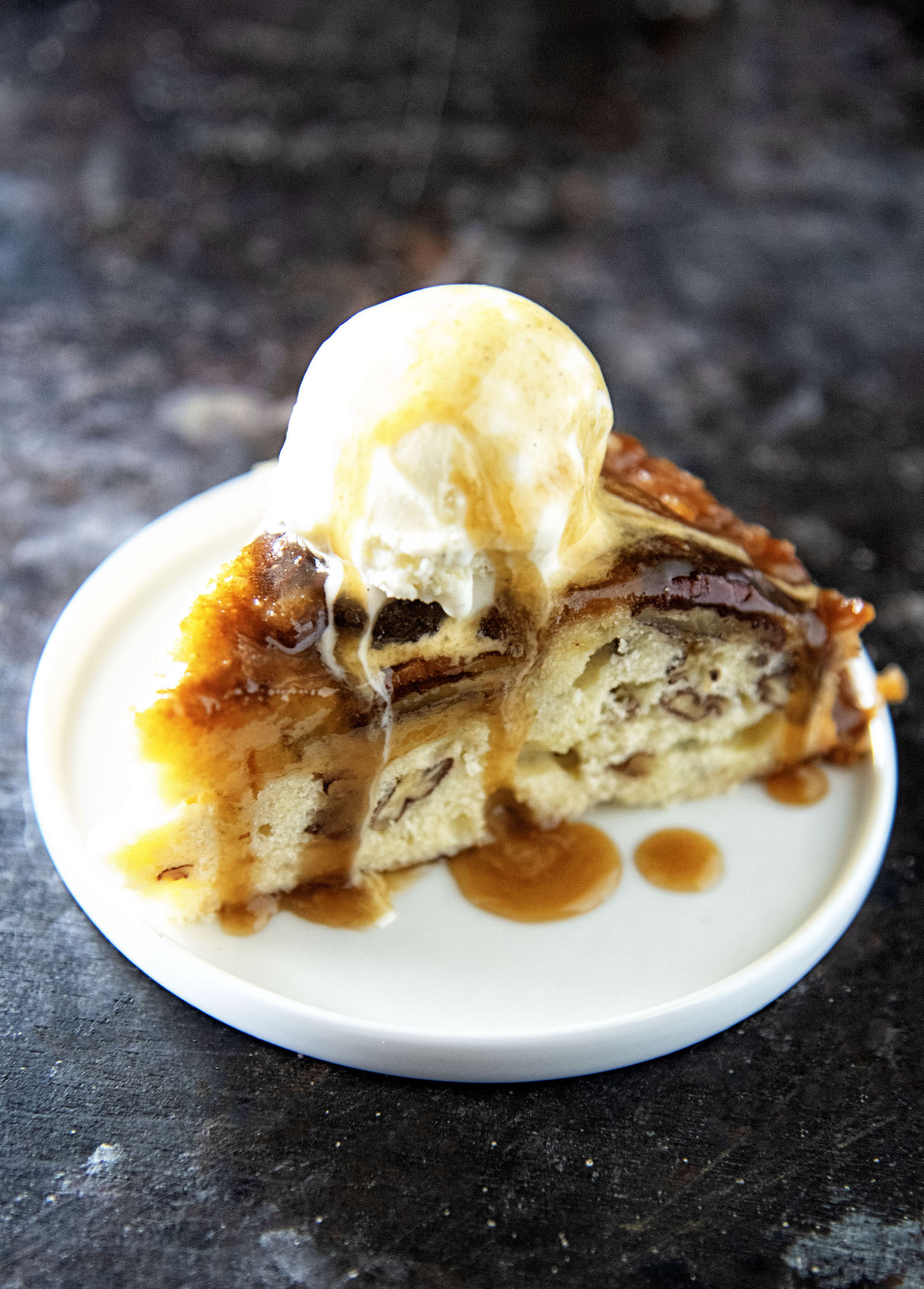 I saw this cake and immediately bought the magazine because of it.
Pecans are just so wonderful and I loved the idea of an upside down cake using nuts instead of fruit.
The cake is amazing in that it is dense but has a shortbread cookie taste.
Which I love shortbread cookies so I was in love at first bite with this.
It does have pecans in the cake as well as you can see from the photos just not on top too.
You don't have to use the whiskey if you don't want to…I am just a fan of whiskey and pecans together.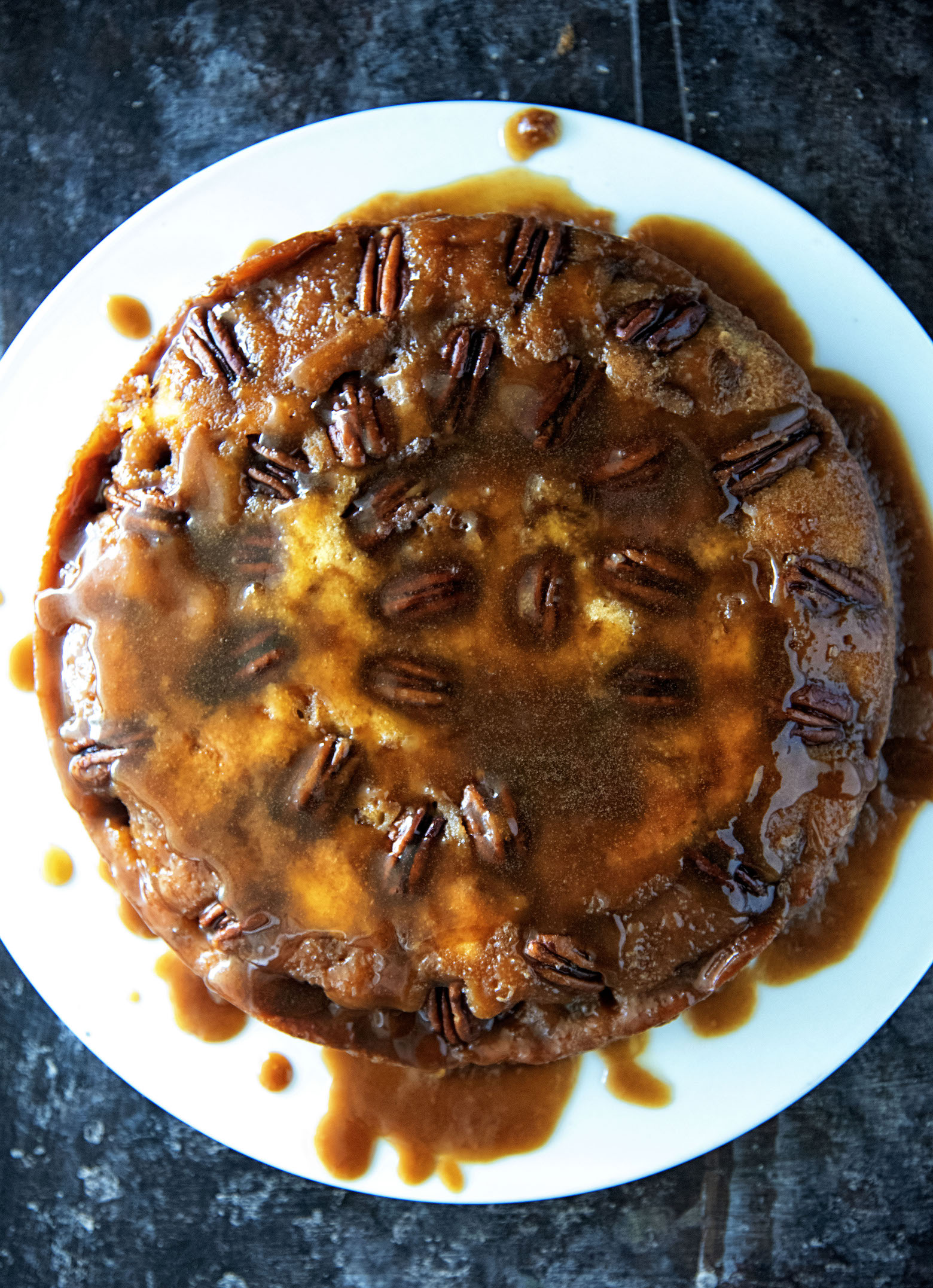 Tips to Inverting a Cake:
People will skip recipes that involve inverting a pan I have noticed.
And I get it.
Because a lot of times the cake likes to hang onto the pan.
So here are some tips to help your invert go smoother.
First, loosen the cake from the sides of the pan by running a sharp paring knife around the edges.
Choose a platter that's considerable larger than your pan.
Excess sauce might run off the edges of a too-small platter/plate.
Notice mine almost made it to the edge but not quite.
Place the platter/plate on top of the cake, grasp the pan bottom and platter/plate bottom with both hands (use a kitchen towel or oven mitts if the pan is still hot) and quickly flip the pan and platter/plate so the pan is now on the top and the platter on the bottom.
Gently put the two down on a wire rack rest for five minutes.
Gravity will help release the cake from the pan.
Then lift and hope for the best. 😛
P.S. It's a great day to buy my cookbook Holy Sweet!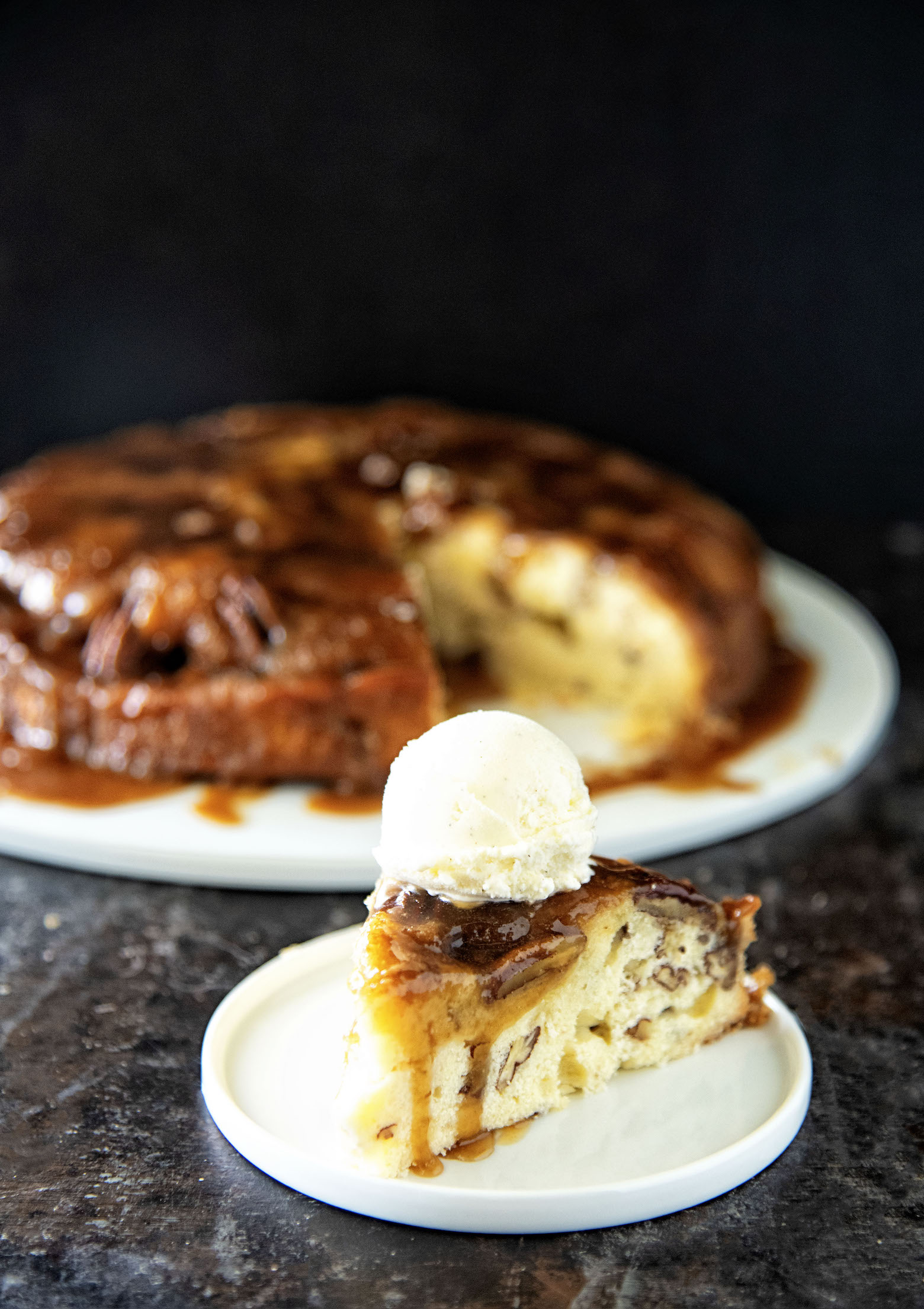 Want More Pecan Recipes?
Maple Whiskey Pecan Pound Cake
Whiskey Butterscotch Pecan Sticky Buns
Fireball Caramel Pecan Topped Chocolate Cinnamon Flourless Cake
Pumpkin Pie Whiskey Sticky Buns
Ingredients
For the Cake:
1/2 cup unsalted butter, at room temperature
1 cup granulated sugar
3 large eggs
1/2 tsp. vanilla extract
1 & 1/2 cups cake flour
1 tsp.baking powder
1/4 tsp. salt
1/2 cup + 2 TBSP buttermilk
1 cup chopped pecans, toasted
For the Upside Down Sauce:
1/4 cup unsalted butter, melted
1 cup firmly packed light brown sugar
1/4 cup heavy whipping cream
2 TBSP whiskey (optional)
1 cup pecan halves
For the Whiskey Brown Sugar Sauce:
3 TBSP unsalted butter
2 cups firmly packed light brown sugar
1/4 cup whiskey
1/4 cup heavy whipping cream
Instructions
For the cake:
Preheat oven to 350°.
Beat softened butter at medium speed with an electric mixer until creamy.
Gradually add sugar and beat until fluffy.
Add eggs, one at a time, and beat well after each.
Mix in vanilla.
In a separate bowl, combine flour, baking powder, and salt. Sift mixture twice.
Add flour mixture to butter mixture, alternating with buttermilk.
Begin and end with flour mixture.
Fold in chopped pecans.
For the Upside Down Sauce:
Combine melted butter and brown sugar.
Add cream and whiskey and stir until smooth.
Pour butter/brown sugar mixture into bottom of 9-inch round cake pan.
Arrange pecan halves in butter/brown sugar mixture.
Spoon cake batter over pecan halves.
Bake 40-45 minutes, or until a wooden pick inserted in the center comes out clean.
Run a knife around the edges of the pan to loosed cake.
Turn cake onto serving dish immediately.
For the Whiskey Brown Sugar Sauce:
Melt butter over medium heat in a saucepan.
Add brown sugar and whisk to combine.
Add whiskey and whisk to combine.
Add cream and whisk until smooth.
Cook, whisking frequently, 2-3 minutes or until sauce is heated through.
Sauce can be made ahead and refrigerated.
Reheat in the microwave for serving.
Serve cake with a drizzle of sauce and a scoop of ice cream…either vanilla or butter pecan.
Notes
Adapted from Taste of Home Fall Baking