These Butterscotch Salted Peanut Bars have a shortbread crust layered with a butterscotch chip caramel, salted peanuts, and chocolate.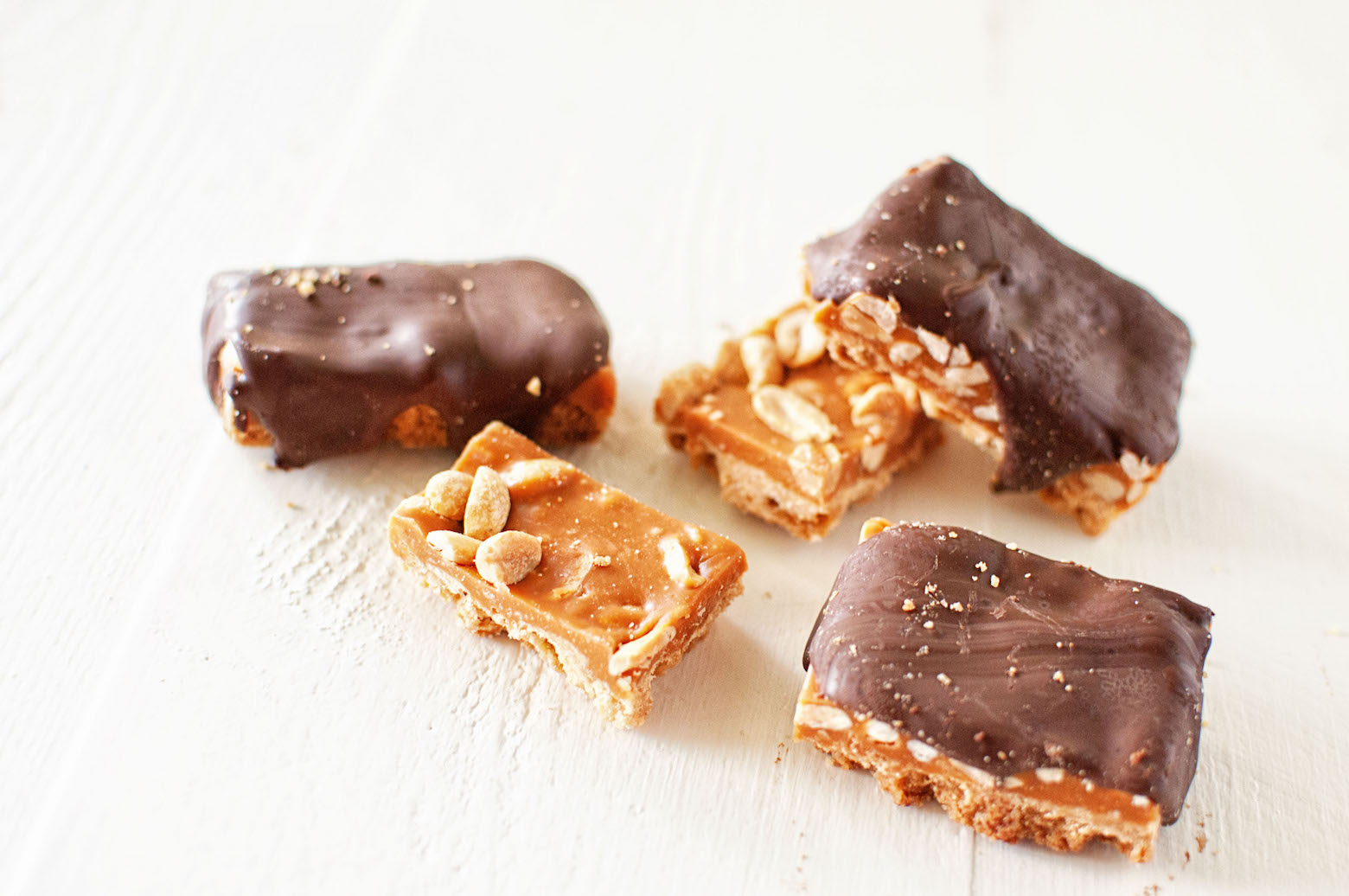 My mind likes to think of stupid things around 3 in the morning when I should be sleeping.
One of those things lately is where are they now?
Not like old boyfriends kind of thing…but where are the characters from beloved Christmas specials kind of thing?
I mean did Herbie go on to be a dentist?
But then commit suicide because dentist have a high suicide rate?
Even though the North Pole had a lot of business based on what the elves eat, was he really happy?
He never got a license that I know of to even practice being a dentist so he could have got busted for that.
Or is there an emergency waiver due to lack of dentist at the North Pole?
Since the president is claiming climate change is a hoax how does that affect the Heat Miser and Snow Miser?
Does Sam the Snowman from Rudolph ever have sex?
I don't mean with the reindeer or anything weird like that.
But you know…he doesn't even have a carrot that he can move around to a different place.
And is he on Tinder?
I feel like he's on Tinder.
Did the Grinch move into a condo in Whoville?
Or did he stay up in his cave on the mountain?
Did the Bumble end up with Cornelius?
If so, was this the first special to bring up this forbidden love?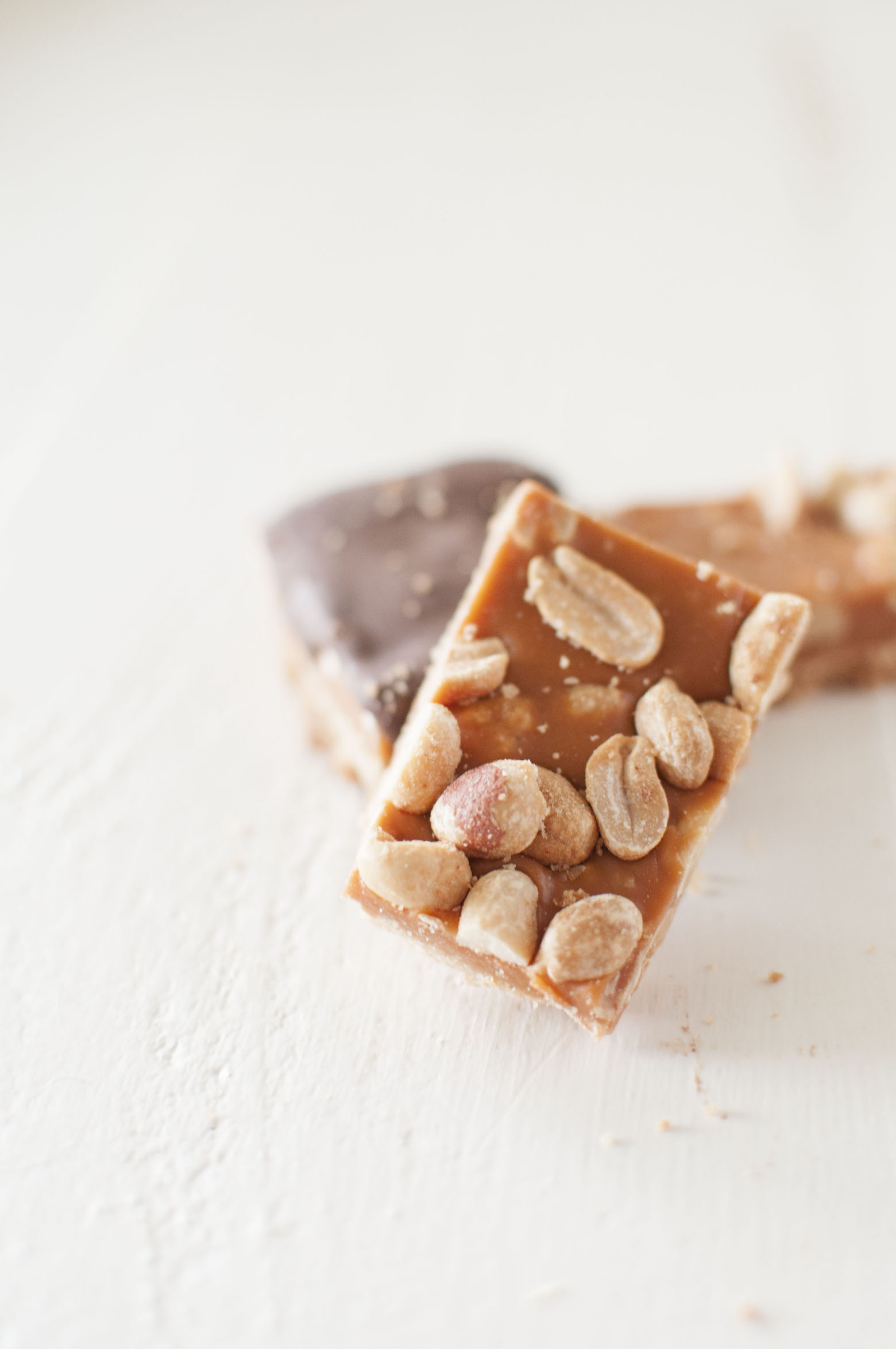 When Charlie Brown and the gang go get a sad Christmas tree these days…do they bother decorating it?
Or do the just use an Instagram filter to make it look good?
Did the Little Drummer Boy go on to be in a band?
Or did his parents force him to go to college and become and accountant?
Is Cindy Lou Who still clueless?
And if so, why hasn't she been appointed to be in charge of something in the current administration?
What happens when Frosty comes to town and the sun is not out?
Does he just couch surf then?
I mean these are all important questions. 🙂
Now onto food.
These Butterscotch Salted Peanut Bars are kind of like a PayDay bar…kind of.
You can make them with or without the chocolate coating if you would like.
They are tasty both ways.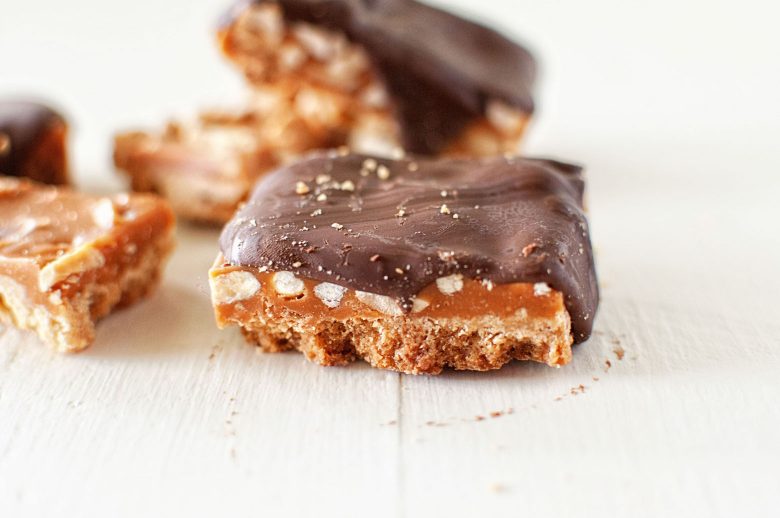 Want more Bar recipes?
Strawberry Lemonade Lemon Bars
Chocolate Chunk Churro Cookie Bars
Butterscotch Walnut Meringue Bars
Ingredients
1 cup unsalted butter, at room temperature
1 cup light brown sugar, firmly packed
1 ¼ tsp salt
2 ½ cups all-purpose flour
11 ounces butterscotch chips
¾ cup light corn syrup
1 TBSP plus 1 tsp water
2 cups dry roasted salted peanuts
12 oz semisweet chocolate
3 TBSP vegetable oil
Instructions
Preheat oven to 350°. Spray a 9″x 13″ pan with cooking spray.
Using two sheets of parchment paper, line the pan's width and length, creating a parchment overhang.
Spray parchment paper with baking spray.
Using an electric mixer on medium speed, beat butter, brown sugar, and salt for 1 to 1 & 1/2 minutes.
Decrease mixer speed to low and add the flour.
Mix just until combined.
Lightly press dough evenly into the prepared pan.
Poke holes in the dough with a fork.
Bake for 30-35 minutes, until the crust is a golden color.
Remove to wire rack to cool.
In a heavy saucepan over low heat, stir together butterscotch chips, corn syrup, and water.
Stir until mixture comes to a simmer and butterscotch chips are melted.
Fold in 1 cup of the peanuts.
Pour over crust.
Spread to the corners….this is a little hard because of the peanuts but make it work. 🙂
Sprinkle peanuts over the butterscotch layer.
Bake for 5 minutes.
Cool completely on a wire rack.
After cooling, remove from pan and use a very sharp knife to cut into bars.
In a microwave safe bowl add the chocolate and oil.
Heat on high for 1 1/2 minutes.
Whisk together until smooth. You may have to put in microwave for another 30 seconds.
Chocolate can also be melted using a double boiler.Let chocolate sit for 5 minutes to cool slightly.
Place the cut bars on a wire rack with a baking sheet underneath.
Spoon and spread the chocolate coating on top of each bar.
Chocolate will drip down the sides, that is fine.
Let chocolate coating firm up. You can put them in fridge to speed up the process.
Serve at room temperature.