This Watermelon Jam Feta Flatbread has a watermelon jam base and is topped with fresh watermelon, feta, arugula, and balsamic glaze.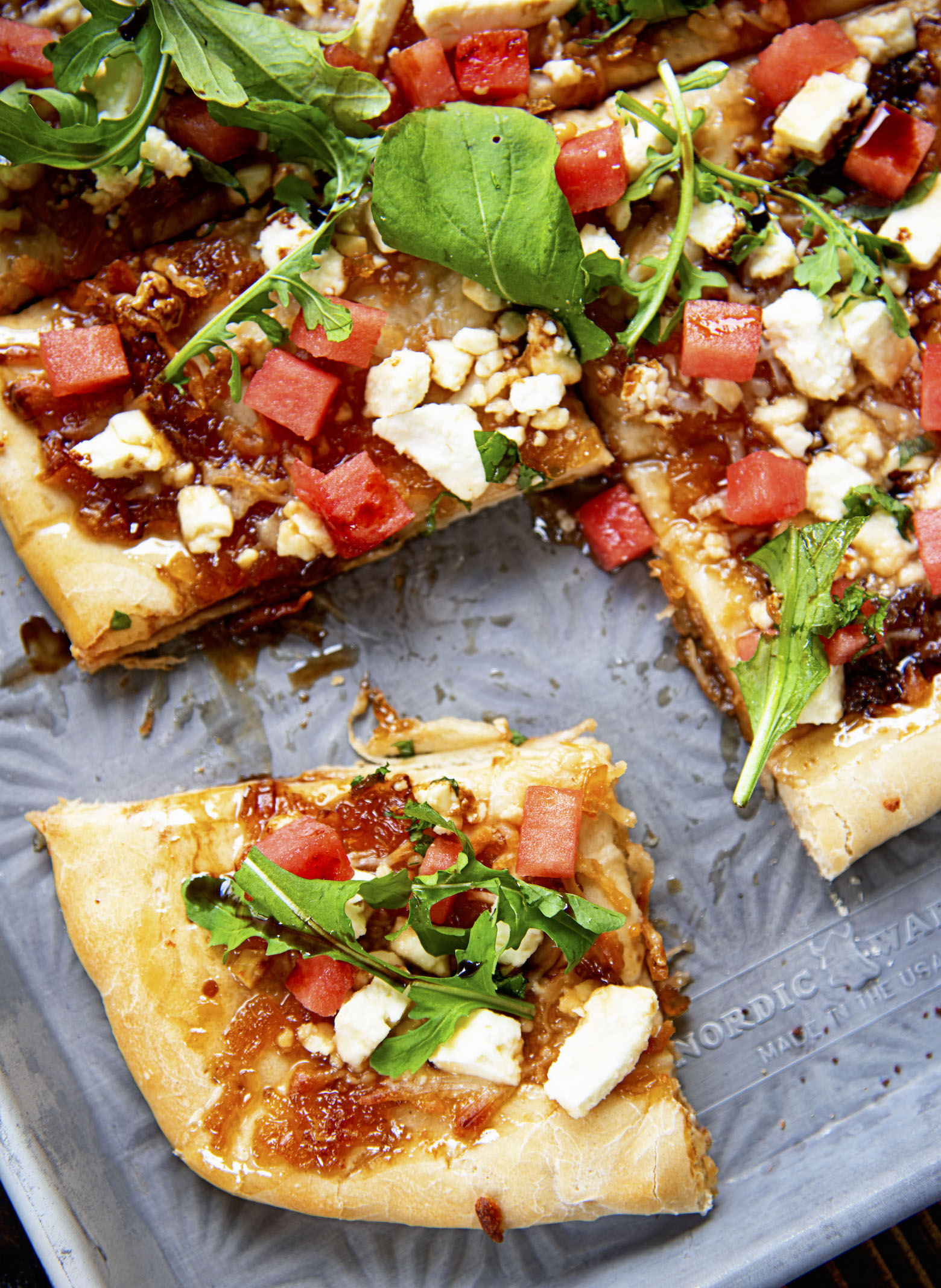 So when I got my first CSA box it had arugula in it.
I'm not the biggest fan of arugula but if I'm not allergic to it and it's in the box, I'm determined to use it.
I do like arugula on top of flatbread though.
So I figured lets give that a go.
I had bought I giant watermelon and needed to use that up.
I love making savory sweet jams and wondered if a watermelon one would work?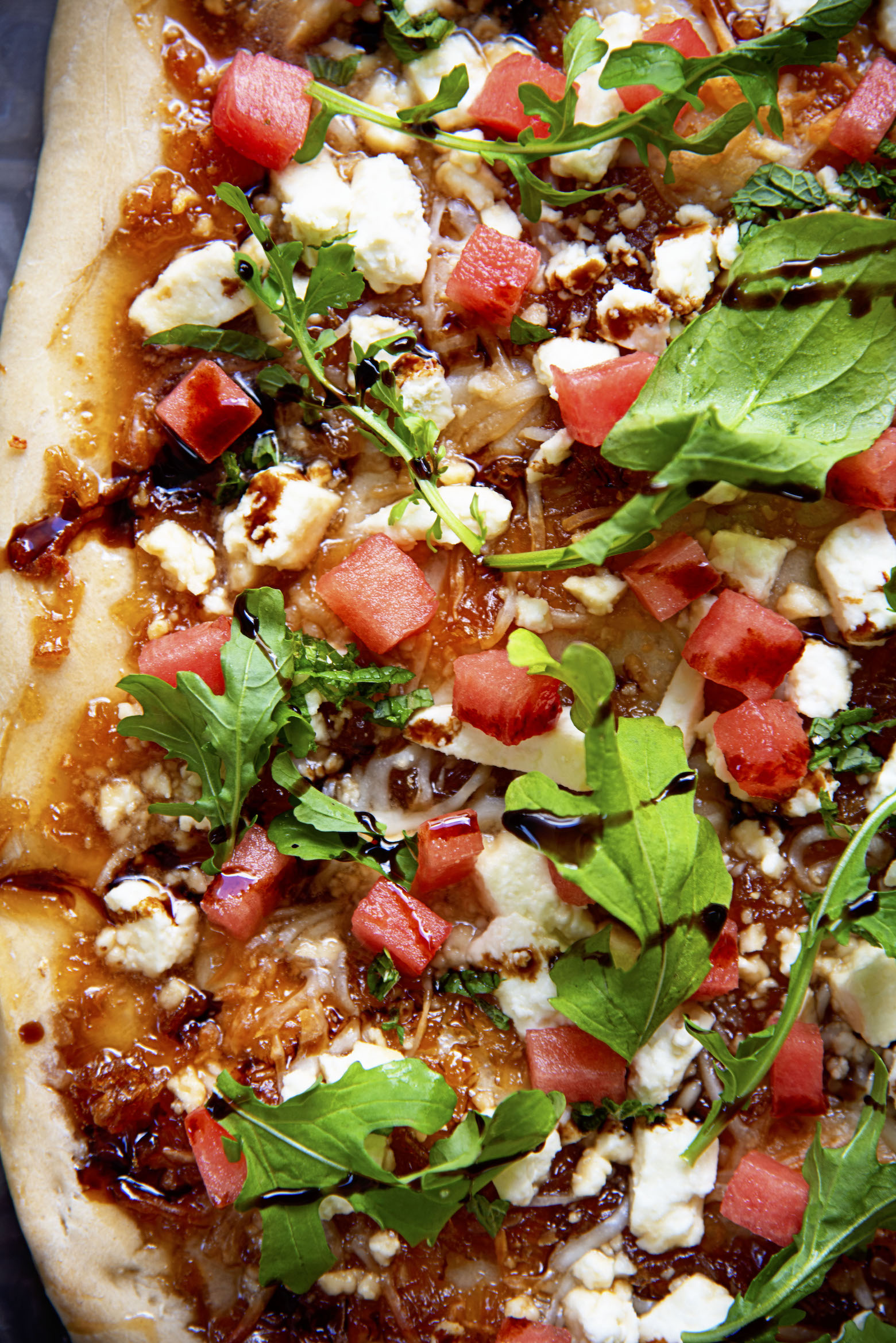 Honestly, I kind of figured on it not working.
I just wasn't sure what it would do texture wise.
The melon does break down and you do get a very jam like texture.
And it goes soooo good with feta and the fresh watermelon.
This Watermelon Jam Feta Flatbread is our new summer appetizer.
I've made it several times since first trying it.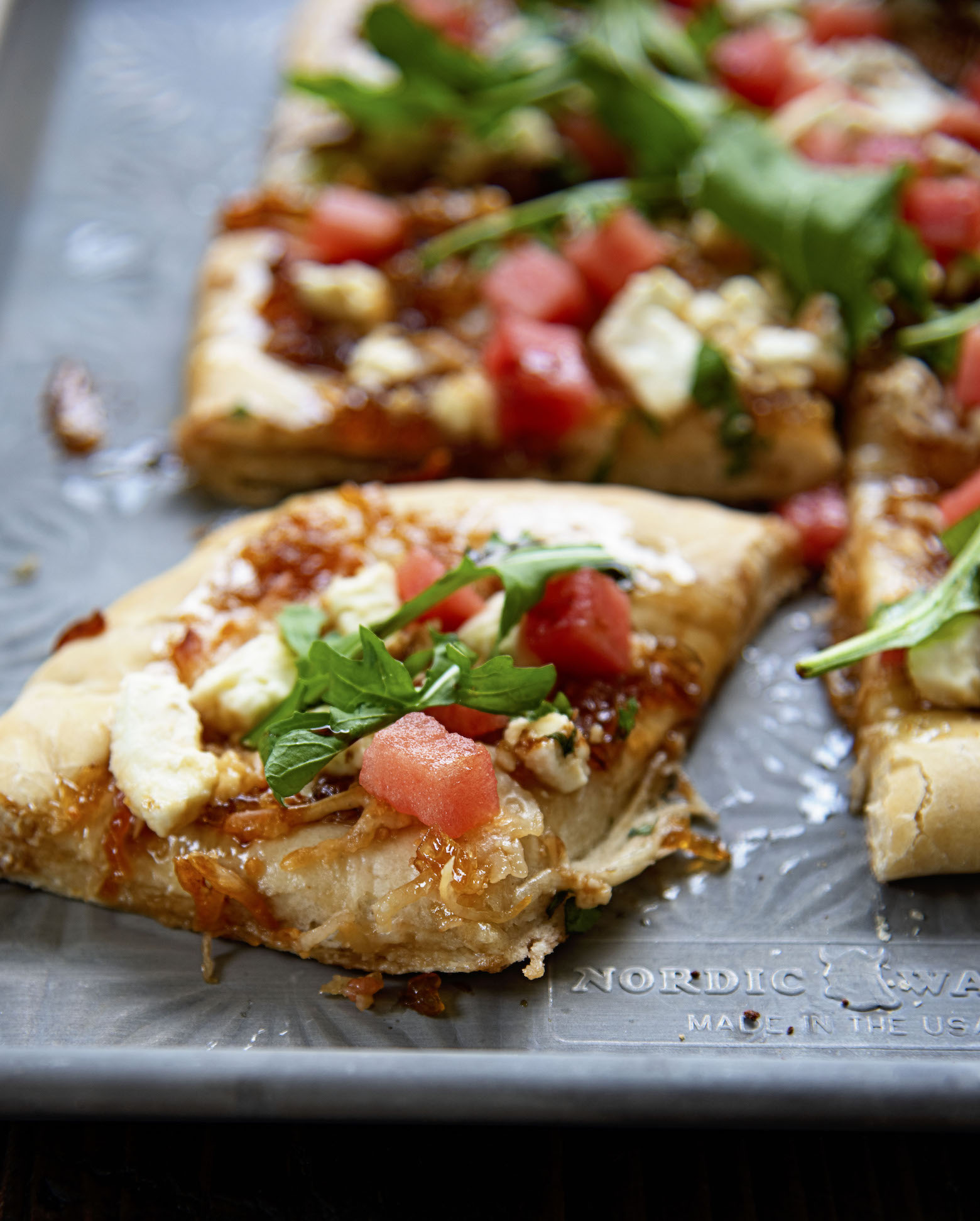 The flatbread base is just a basic pizza dough.
You are doing to want to prebake it a little without any of the toppings on first.
Or else you just will never get it crisp enough.
Since you only bake it with the jam and cheeses it actually crisps up nicely as it is not weighed down with a ton of toppings.
You do need to watch it closely though.
The jam does have sugar in it and so it can burn if you over bake it and you don't want that.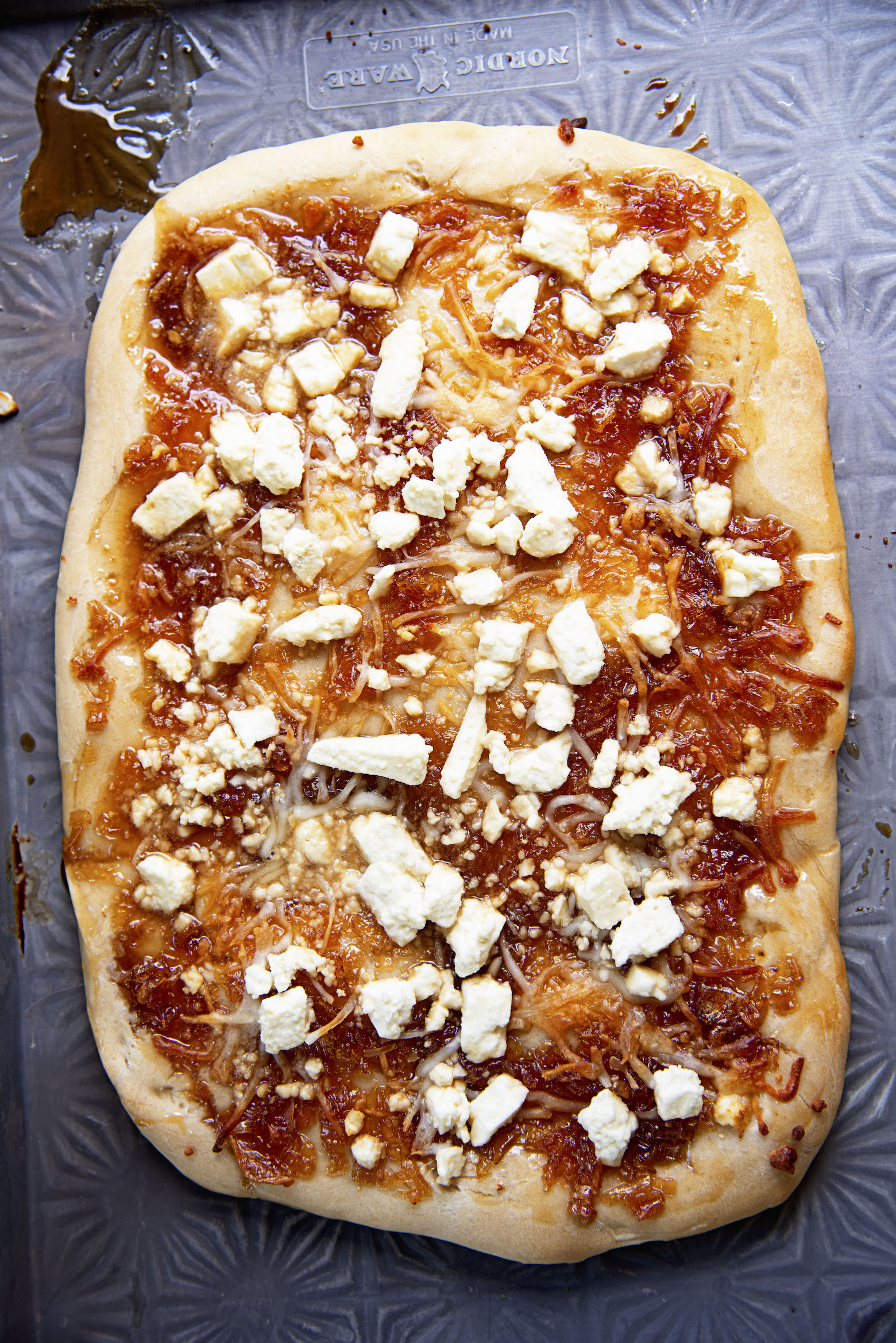 So if you are looking for a new way to have watermelon, I found it for you.
It also goes nicely just on top of some baked feta that you eat with crackers.
I'm working on more savory fruit jams so get ready for more flatbread recipes. 🙂
It's a great day to order my cookbook.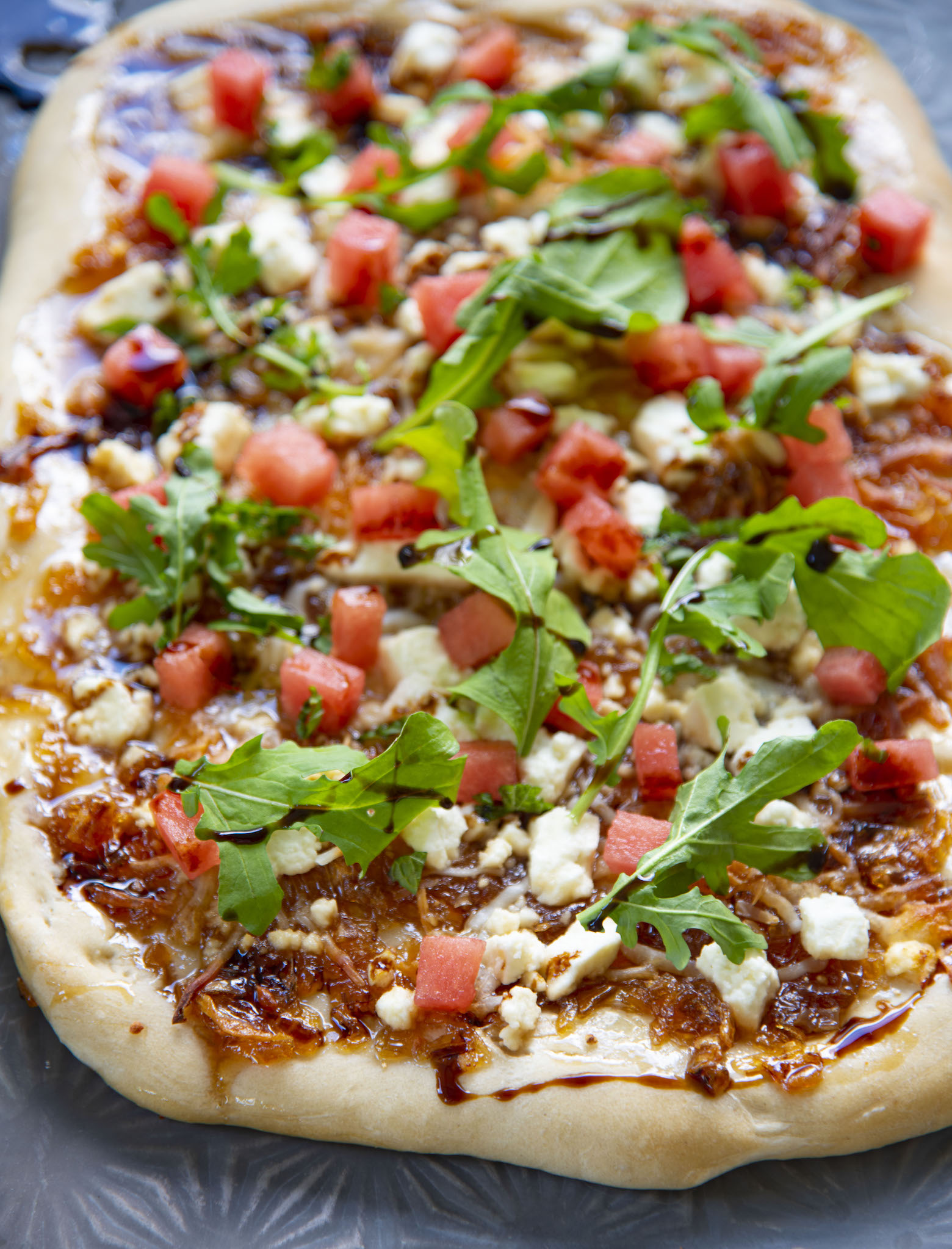 Want more appetizer ideas?
Cheddar Cheese Green Olive Nuggets
Gorgonzola, Walnut, and Pear Jam Flatbread
Baked Brie with Caramelized Onions and Candied Walnuts
Mini Manchego Cheesecakes with Apple Onion Jam
Ingredients
1 batch pizza dough (recipe follows)
1 cup feta cheese
1/2 cup mozzarella cheese
1 batch Watermelon Jam (recipe follows)
1 cup diced watermelon
3 TBSP balsamic glaze
handful of arugula
For the Pizza Dough:
3/4 cup warm water (105°F to 115°F)
1 envelope active dry yeast (I used Red Star Yeast)
2 cups (or more) all-purpose flour
1 tsp. granulated sugar
3/4 tsp. salt
3 TBSP olive oil
For the Watermelon Jam:
2 cups Walla Walla Onions, diced
1 tsp Olive Oil
1 ½ cups watermelon, seeded and diced
2 TBSP Apple Cider Vinegar
¾ cup Brown Sugar
¼ tsp salt
Pinch of cayenne
Instructions
To make the dough:
Pour 3/4 cup warm water into small bowl; stir in yeast.
Let stand until yeast dissolves, about 5 minutes.
Brush large bowl lightly with olive oil.
Mix 2 cups flour, sugar, and salt in processor.
Add yeast mixture and 3 tablespoons oil; process until dough forms a sticky ball. Transfer to lightly floured surface. KNEAD dough until smooth, adding more flour by tablespoonfuls if dough is very sticky, about 1 minute.
Transfer to prepared bowl; turn dough in bowl to coat with oil.
Cover bowl with plastic wrap and let dough rise in warm draft-free area until doubled in volume, about 1 hour.
Punch down dough.
Roll out dough…I just hand shaped because I'm lazy.
To make the jam:
Saute onions in oil until brown.
Reduce heat and cook until glazed.
Add watermelon, vinegar, sugar, cayenne and salt.
Cook till watermelon breaks down and is no longer holding shape.
Remove mixture and simmer until a thick glaze is formed.
Remember that it will get thicker when cooled.
To make the flatbread:
On a lightly floured surface pat out dough evenly with your fingers, keeping hands flat and lifting and turning dough over several times, into a 9-inch round. (Do not handle dough more than necessary. If dough is sticky, dust it lightly with flour.)
Dust a baker's peel or rimless baking sheet with flour and carefully transfer dough to it.
Jerk peel or baking sheet once or twice and, if dough is sticking, lift dough and sprinkle flour underneath it, reshaping dough if necessary.
If you do not have a peel…the back of a cookie sheet works in a pinch.
Bake without topping for 5 minutes.
Remove from oven and spread on jam.
Sprinkle with mozzarella cheese and feta cheese and place back into oven for another 10 minutes until things get bubbly.
You are going to want to watch this since the sauce has a higher sugar content and can burn.
Remove from oven and top with fresh watermelon and arugula.
Drizzle with balsamic glaze.