These Watermelon Cheesecake Bites not only look like little watermelons but they have powdered watermelon in them to give them the flavor.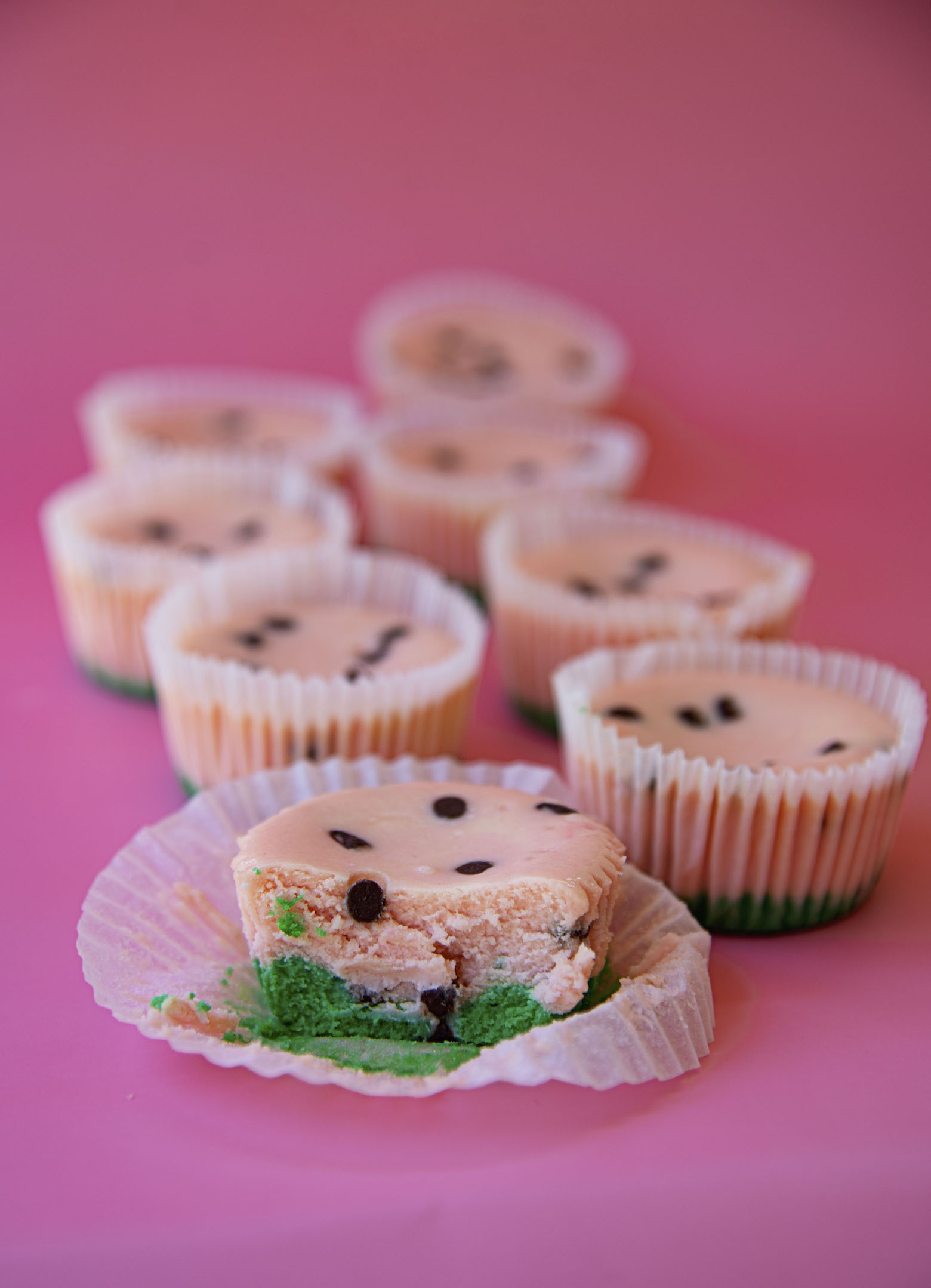 This past week my parents were here. For Canada Day, my birthday, and the 4th of July.
They just left yesterday.
It's the first time I've seen them since May of 2019.
They were supposed to come out Christmas of 2019 but my dad threw his back out and could hardly move let alone drive.
So they didn't come out.
We all know how 2020 went.
And of course we waited until we were all vaccinated to get together.
It was really great to hug them again.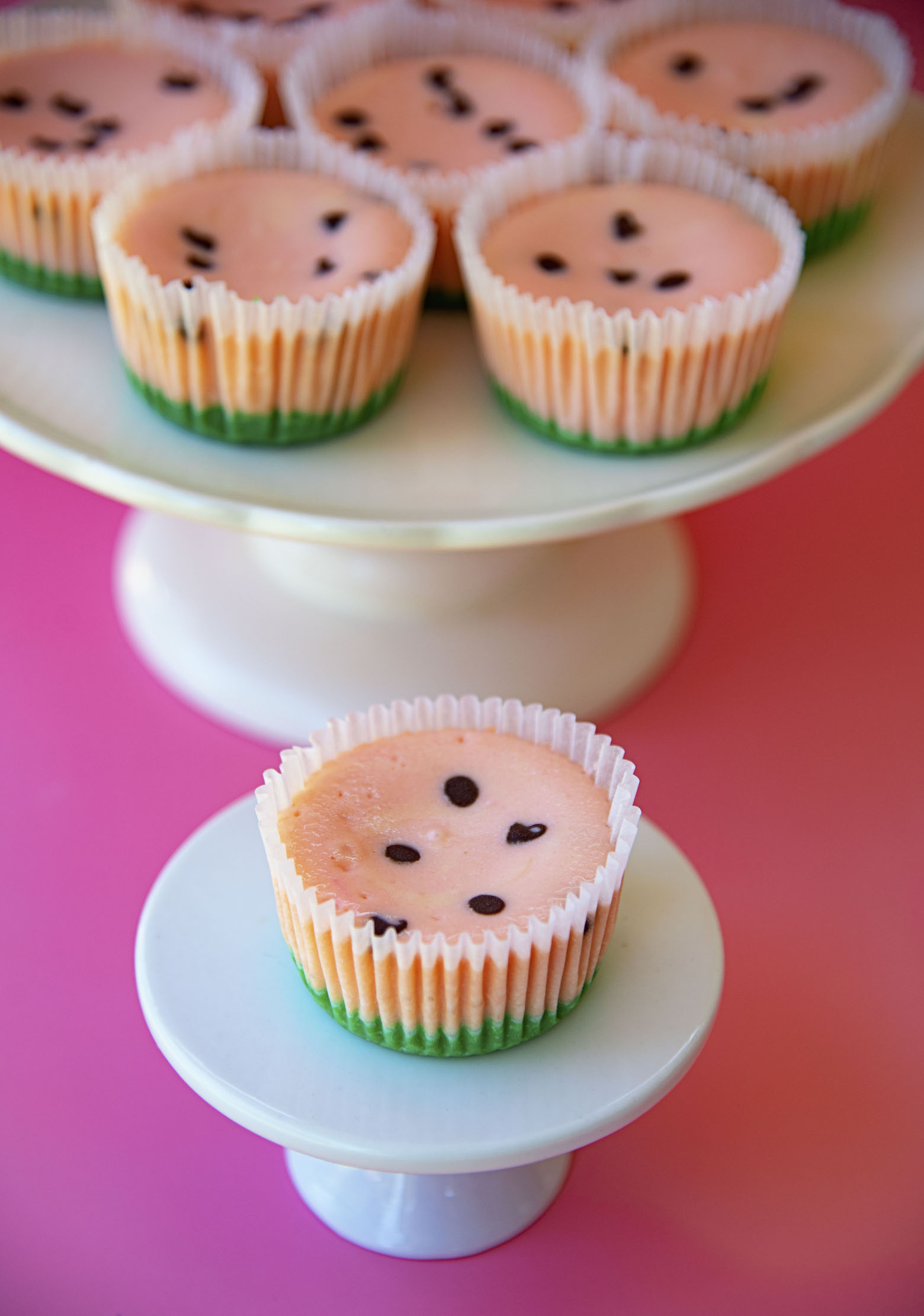 We really didn't do that much.
Mostly hung out eating and watching movies mostly from my youthful days. 🙂
Hence the neon pink background for the cheesecakes. 🙂
I had a bit of an 80's week. We watched Fletch and Fletch Lives.
Which are two of my favorite movies.
If are familiar with the movies, we like them so much we named our home Belle Isle.
Well, Holly Belle Isle.
After our dog who passed and Fletch's home in the south that was a bit of a fixer upper…like ours.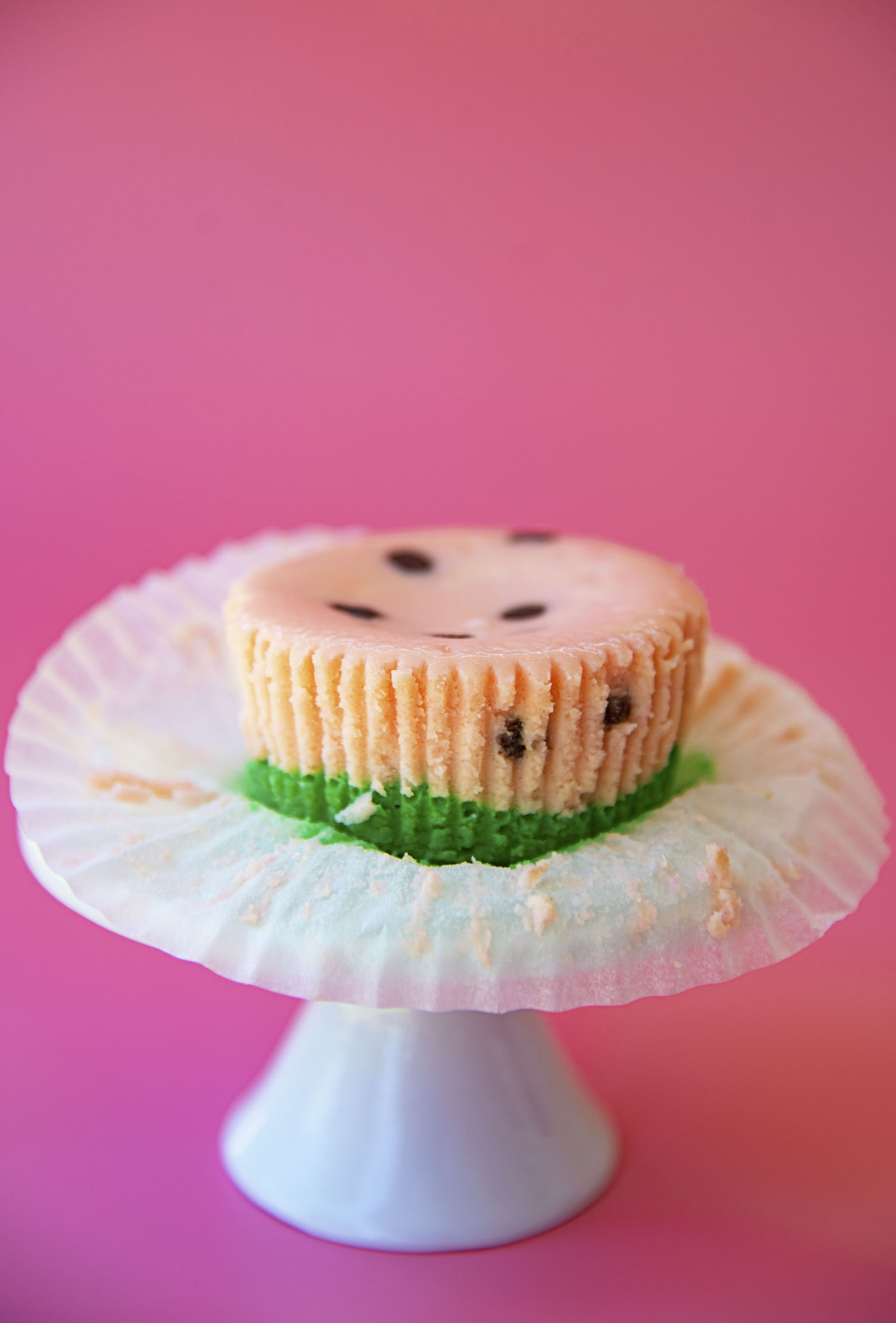 While it's no longer in the 100's it was still rather warm…and still is.
We are back up in the 80's.
I only love the 80's the decade…not the temperature. 😀
I really did want to bake and cook for my parents so I had to pick things that don't require high temps or long times in the oven.
These Watermelon Cheesecake Bites only take 22 minutes and the oven temp is 275F.
Perfect.
Unlike a lot of watermelon decorated foods this recipe actually uses both watermelon candy and watermelon powdered juice (it's a thing….link in the recipe).
It's not super over powering but you definitely taste it.
I used chocolate chips in this recipe but you can also use black sesame seeds if you are not a fan of chocolate and watermelon together.
Be sure to order my cookbook.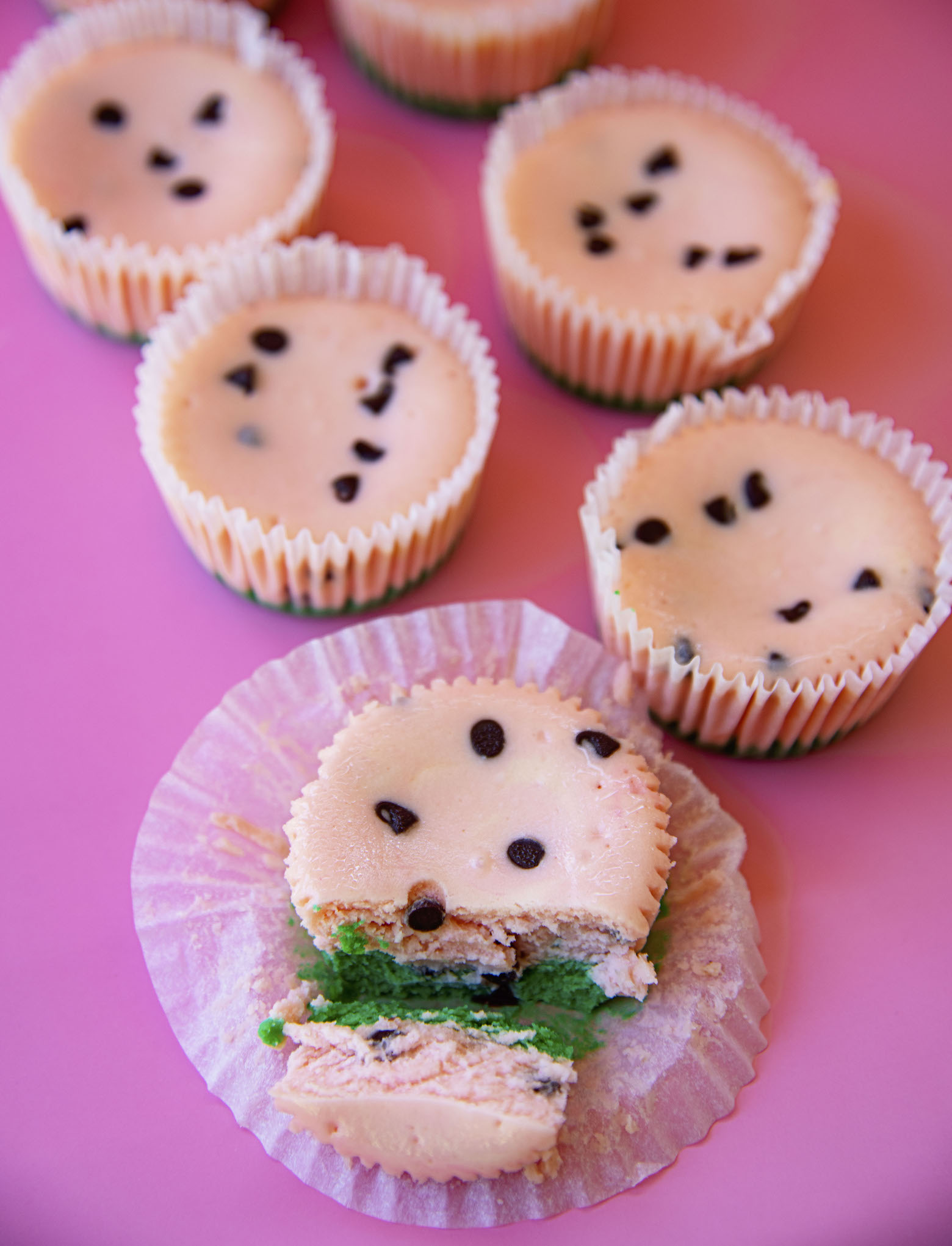 Want More Cheesecake Cups?
Sugar Cookie Dough Cheesecake Cups
Oreo Shamrock McFlurry Cheesecake Bites
Ingredients
½ cup heavy cream
3 Watermelon Jolly Ranchers Candy
8 ounces cream cheese, at room temperature
8 ounces, Mascarpone cheese, at room temperature
½ cup granulated sugar
2 eggs
2 TBSP flour
1 drop green food gel
1 drop pink food gel
1 cup mini chocolate chips or black sesame seeds
Instructions
The night before or at least 4 hours before you make these place the heavy cream and 3 Watermelon Jolly Ranchers Candy in a small airtight container together.
Every hour give it a shake to get the candy infused into the cream.
When the candy has dissolved completely, it is ready.
Preheat oven to 275F.
Line muffin a muffin tin with cupcake liners (preferably white).
Using a stand mixer, beat cream cheese, Mascarpone cheese, and sugar on medium-high speed for about 5 minutes.
Add eggs, one at a time, beating for about 1 minutes. Scrape down the bowl after each addition.
Add watermelon candy flavored heavy cream, beat until incorporated.
Mix in the flour and powdered watermelon juice and mix until fully combined.
Take out one third of the batter and place it into a seperate bowl.
Add the green food gel to the bowl and mix until the color is evenly distributed throughout the cheesecake batter.
Next add the pink food coloring gel to the remaining batter and mix until even color distribution throughout the batter.
Add the mini chocolate chips to the pink colored batter and mix to distribute them.
Divide the green cheesecake batter evenly among the 12 paper liners. It will be about a TBSP each. With the back of a spoon even out the top so that that it covers the whole bottom of the cupcake liner.
Divide the remaining pink batter over the green batter.
Top with a couple extra mini chocolate chips if desired.
Bake for 22 minutes, rotating half way through.
Remove from oven and let cool to room temperature.
Chill in fridge in muffin tins for at least 4 hours or overnight.