This Vegetarian Triple Cheddar Quiche is made with a yummy rough puff pastry and filled with three types of cheddar cheese.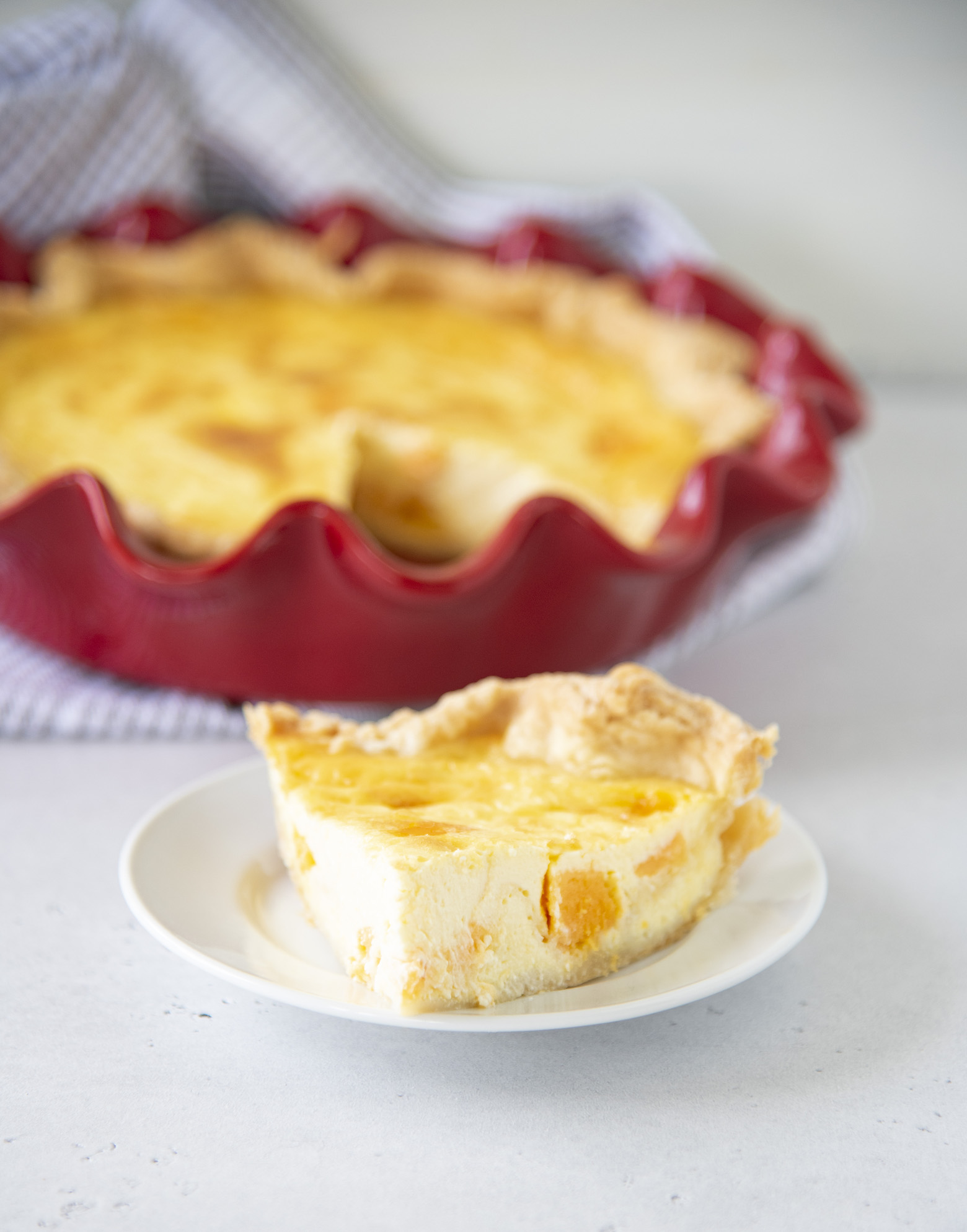 This post is in partnership with Emile Henry. I was sent three pie dishes by them but no monetary compensation was exchanged. They are a brand I use often and I'm happy to work with them and share their products.
So yes, let's just say it…that is one adorable pie pan.
And you are going to get your chance to win one.
Well, two actually.
I bought my first Emile Henry pie pan 15 years ago when I moved to Washington state and it was at a local high end grocery store.
I loved the ruffles and knew nothing about the brand, I bought it because it was pretty.
Over the years I was amazed because that pan looks as good as it did the day I bought it…and it's not because I didn't use it.
Because of that I have over the years slowly transitioned as much of my bakeware over to Emile Henry pieces as I could.
Not only because of how pretty they are but they perform well and hold up.
In honor of Pi day I have teamed up with Emile Henry to giveaway two pie dishes.
They have several options to choose from and colors.
Which you get to pick your pie dish and color from their site.
You can see the pie pans here.
In order to enter all you have to do is follow me on Instagram if you don't already. Follow Emile Henry on Instagram and on on Facebook.
Come back here and leave a comment letting me know you have done that.
Not too hard.
Winners will be chosen by random number generator on March 21st, 2020 at 8pm PST. Entries close on March 21st, 2020 at 5pm PST. US residents only. CONTEST HAS ENDED.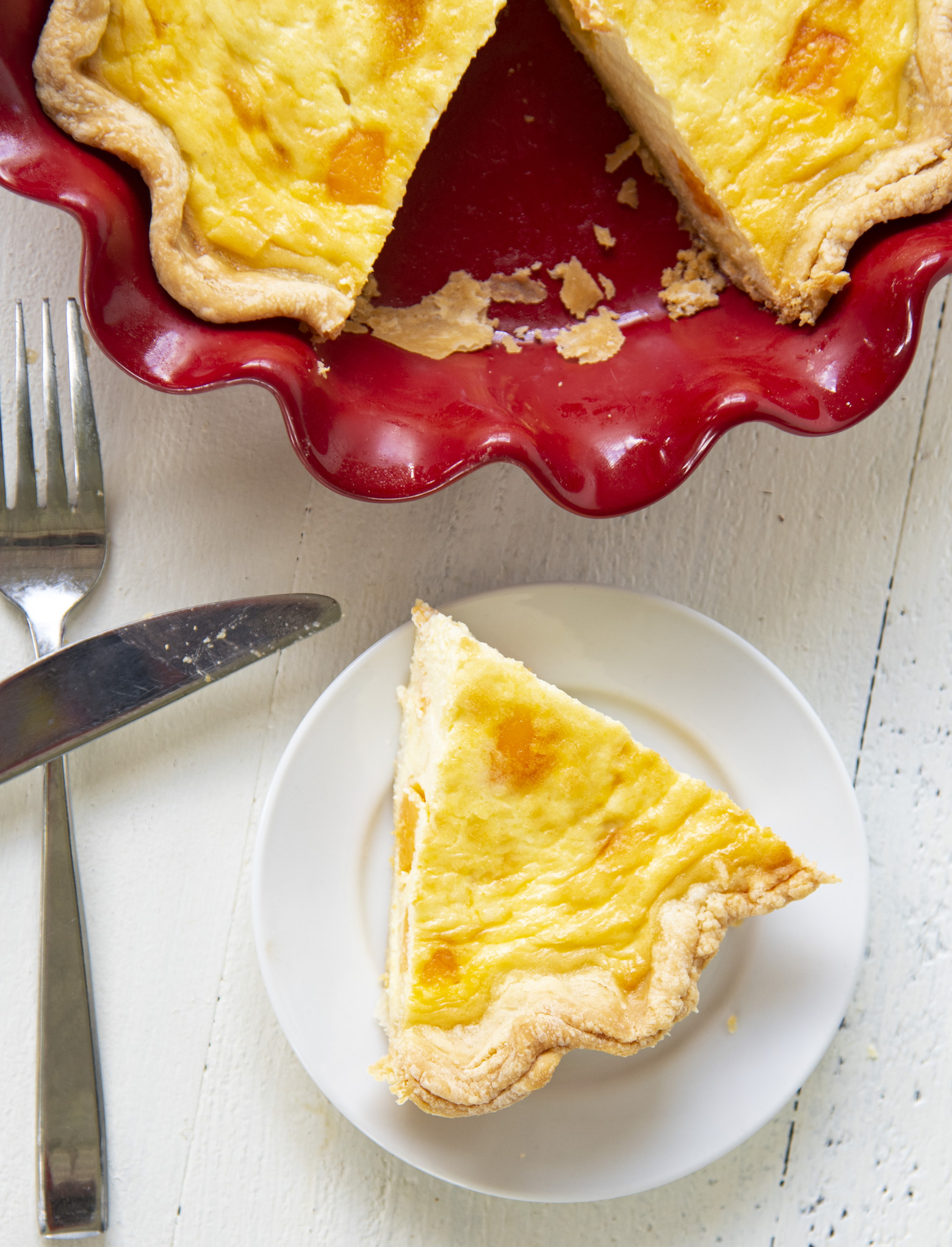 Saturday is Pi Day.
And as a former math teacher I of course love it! I've celebrated it for as long as I can remember, way before it was a thing.
Far before it was celebrated with pie.
But anytime you can have pie I'm all for it. 🙂
You may be looking at this Vegetarian Triple Cheddar Quiche and saying that's quiche not pie.
But quiche really is pie.
It's baked in a pastry crust and that is pretty much the definition of pie.
And this one is baked in a rough puff (or quick puff pastry) which makes it AMAZING.
I sooooo love this crust.
As for the quiche it's a rather simple cheese quiche but what cheese you use will make a difference so use the best cheeses you can find.
P.S. It's a great day to buy my cookbook Holy Sweet!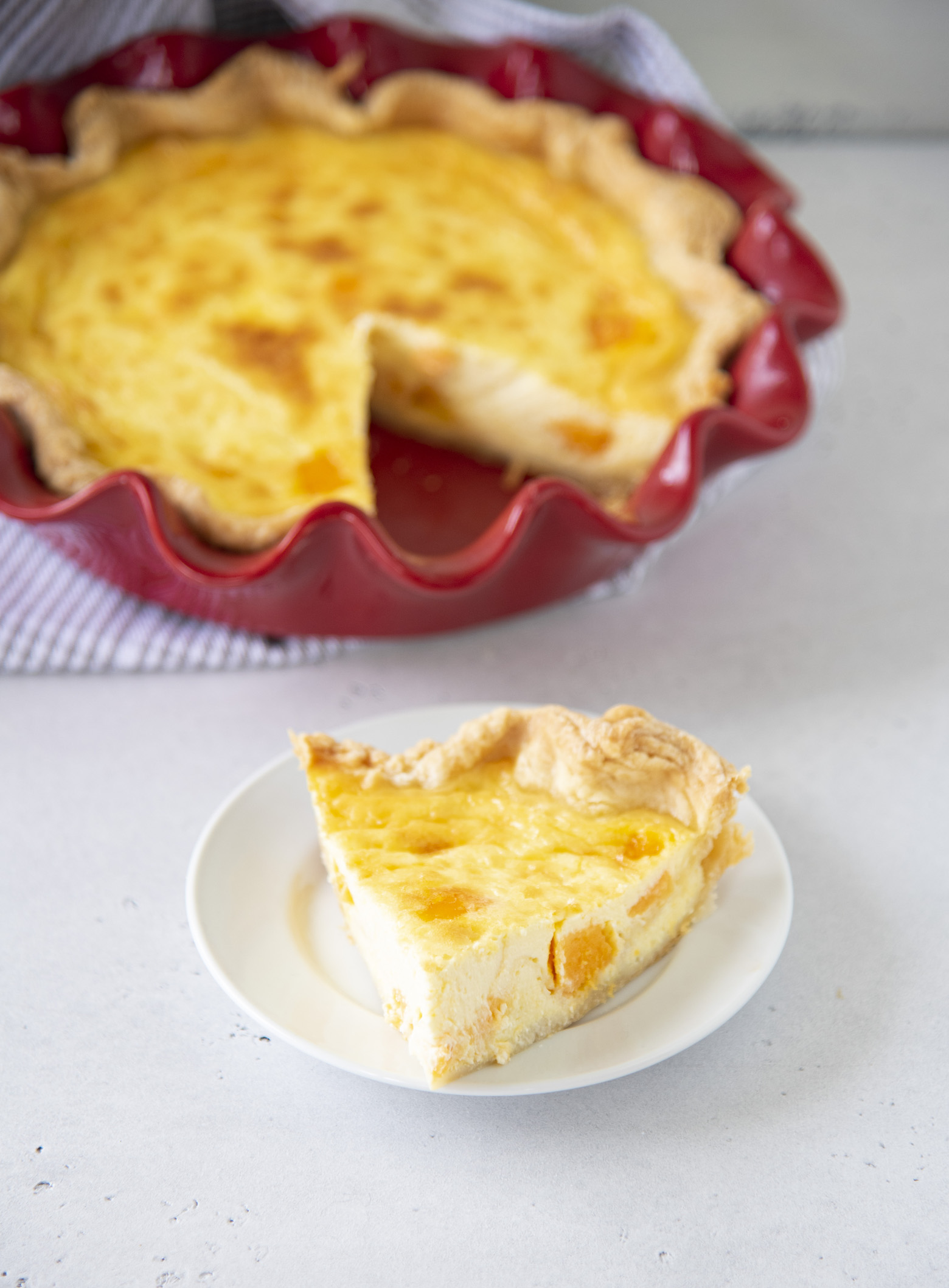 Want More Quiche Recipes?
Vegetarian Spinach Mushroom Quiche 
Pimento Cheese and Cornbread Quiche
Vegetarian Roasted Broccoli Cheddar Quiche
Gruyere Aged Smoked Gouda Caramelized Onion Quiche
Ingredients
For the Crust:
3 1/3 cup all-purpose flour
2 cups unsalted butter, cold and cut into chunks
1/2 cup plus 1/8 cup ice cold water
1/4 tsp. salt
For the Quiche Filling:
1 cup heavy cream
1/2 cup whole milk
3 eggs
1/2 tsp salt
1/8 tsp freshly ground nutmeg
1/2 cup sharp cheddar cheese, cubed
1/2 cup white cheddar, shredded
1/2 cup mild cheddar, shredded
Instructions
For the Crust:
In a large bowl, combine the flour and salt.
Stir with your hands to distribute the salt.
Add the butter and massage the butter into the flour with the tips of your fingers until the butter pieces are a bit smaller, about the size of a dime.
Add the water and smoosh everything around with your hands, coating the mixture with water (this gets terribly messy and sticky). Gently knead until the whole mess looks like it's just barely holding together. Dump the dough out onto a lightly flour surface and form it into a loose square. Cover the dough with plastic wrap and let it rest for 10 minutes on the counter, where the flour will continue to absorb moisture from the water and butter.
Roll the dough into a rough 12 x 20″ rectangle.
Make a single fold by bringing one short edge of the dough to the midline of the rectangle, then fold the other side over on top of the first fold- just like folding a letter.
Turn the dough 90 degrees, roll out the dough again to the same size rectangle, and make another letter fold.
Do this twice more, to make 4 folds and turns total.
Bits are going to fall off and you are going to panic. Don't worry. Just be patient. Place the globs of dough back into the whole and just keep going, t comes together in the end I promise.
Cover the dough with plastic wrap and allow to rest in the fridge for at least 20 minutes or freeze for months.
Remove from fridge and preheat oven to 350F.
Roll out the dough and use it to line a 9-inch pie plate.
Dock (aka stab with a fork in several spots) and freeze it for 20 minutes.
Line the crust with parchment paper and fill it with pie weights.
Bake 20 minutes.
Remove the pie weights and parchment and bake the crust for 5 minutes more, or until he bottom is no longer shiny. Set it aside.
For the Quiche Filling:
In a large bowl, whisk together the heavy cream, milk, eggs, salt, and nutmeg until fully combined. 
Sprinkle 1/2 of the shredded cheese at the bottom of the prepared crust. 
Add 1/2 of the cubbed cheese.
Pour half the quiche filling into the prepared pan. 
Add the remaining cheeses. 
Fill with the remaining quiche filling. 
Bake for 30-35 minutes or until filing begins to puff and turn golden brown.