This Vegetarian Monte Cristo Casserole has honey mustard butter brioche, vegan ham, vegan turkey, and swiss cheese all baked as a casserole.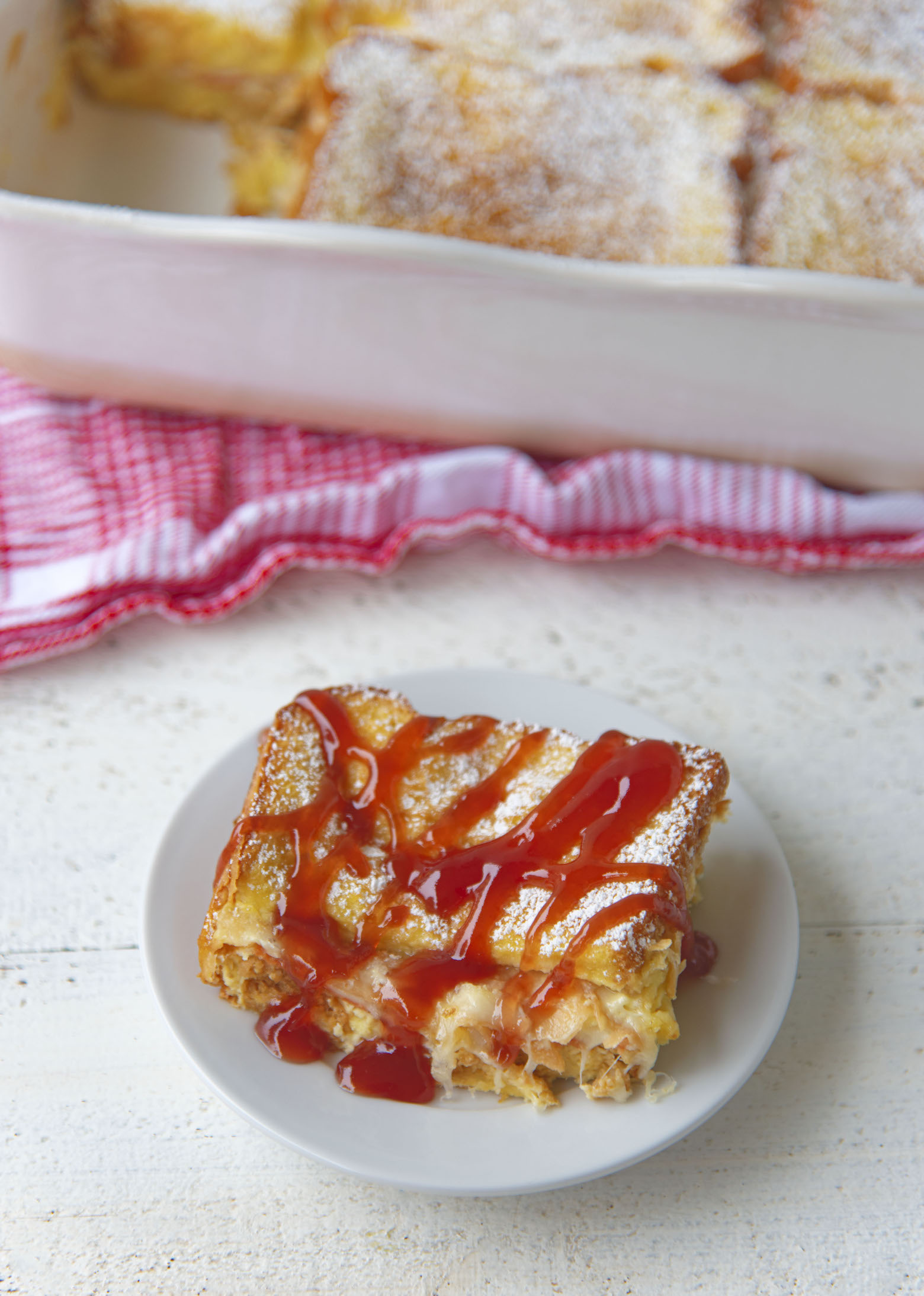 This Vegetarian Monte Cristo Casserole is the super easy way to make the classic sandwich.
Just like so many things, when I stopped eating meat I missed out on many of my favorites.
One of those was the Monte Cristo Sandwich.
It has always been my go to sandwich when eating out.
I mean it's French toast with ham, turkey, and Swiss cheese.
And it's dusted with powder sugar and you dip in jam.
It's rather perfect.
And it's one of the safe things on a menu.
Meaning it's pretty hard to screw up.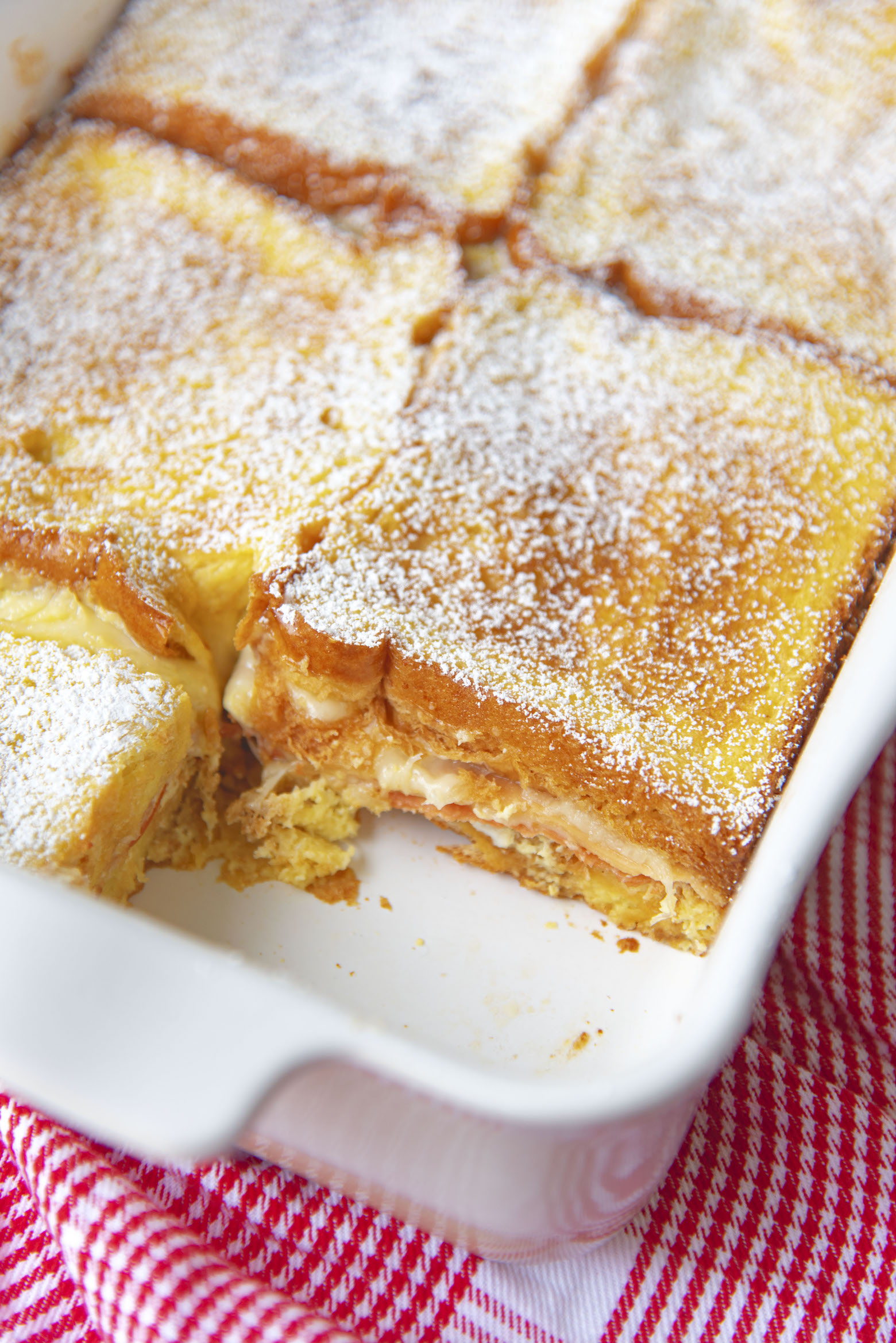 So is better than a Monte Cristo Sandwich?
A casserole.
It's even easier than making the sandwich.
Which can be a little tricky to make sure all the egg gets cooked on the sides.
But the casserole is just layer and then dump and bake.
A lot of these type of casseroles call for you to refrigerate it overnight.
And you can do that.
However, I find it makes for too soggy of a casserole.
That's why I toast my bread beforehand as well.
Most recipes don't call for it but I find it helps.
Similar to why you use stale bread for bread pudding.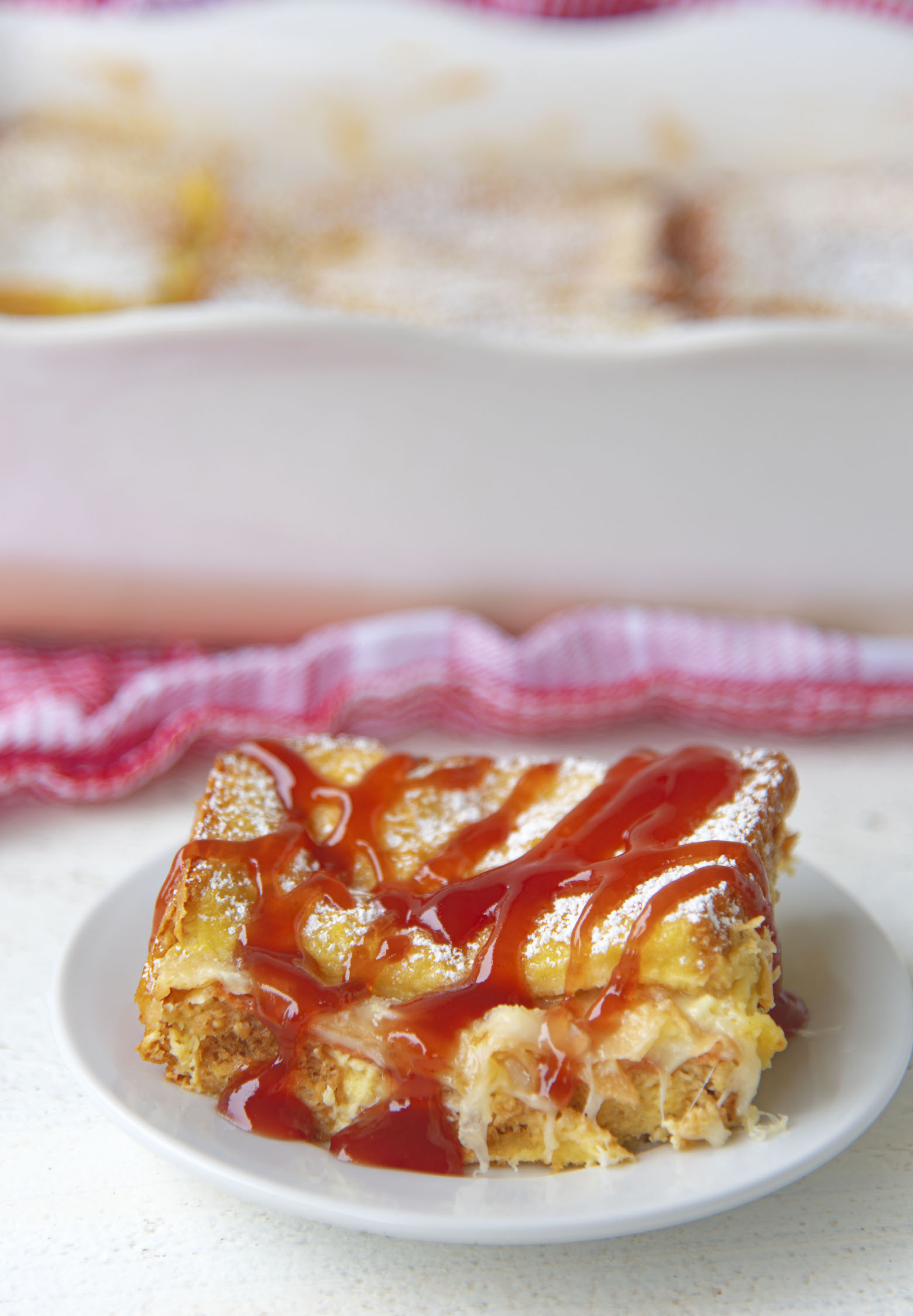 Making it vegetarian however, is another thing.
We still eat cheese and eggs so that was easy.
It's the non-meat meat.
I'm honest when it comes to vegan and vegetarian substitutes.
They have made leaps and bounds in the options.
And there are a lot of them I cannot tell the difference on.
However, ham is not one of those.
I have yet to find a vegan ham that I was like wow, that taste like ham.
Which is why up to this point I had yet to make a Monte Cristo Sandwich.
I thought about just omitting the ham and just doing the vegan turkey which does taste close to turkey.
But I just decided to go for it and add the vegan ham I thought was the closest to ham.
And well, amazingly it worked.
I think with all the other things in the casserole and dipping it in jam really helps.
Because it did taste like ham which surprised my husband and I.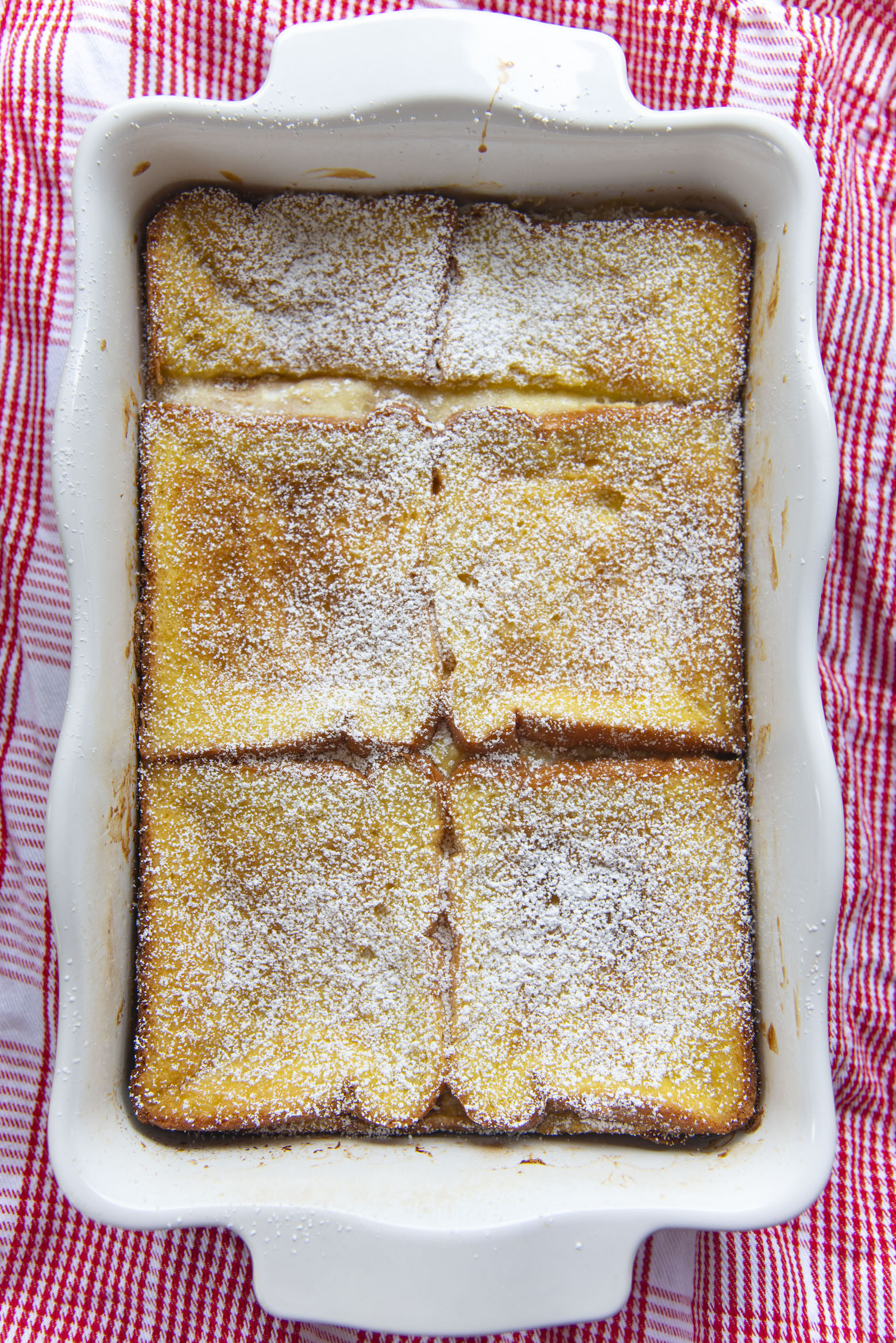 Can you make this using meat?
Of course.
Just because I don't eat meat doesn't mean you can't.
And just substitute ham for vegan ham and turkey for vegan turkey.
I just like having options for those of us who don't eat meat.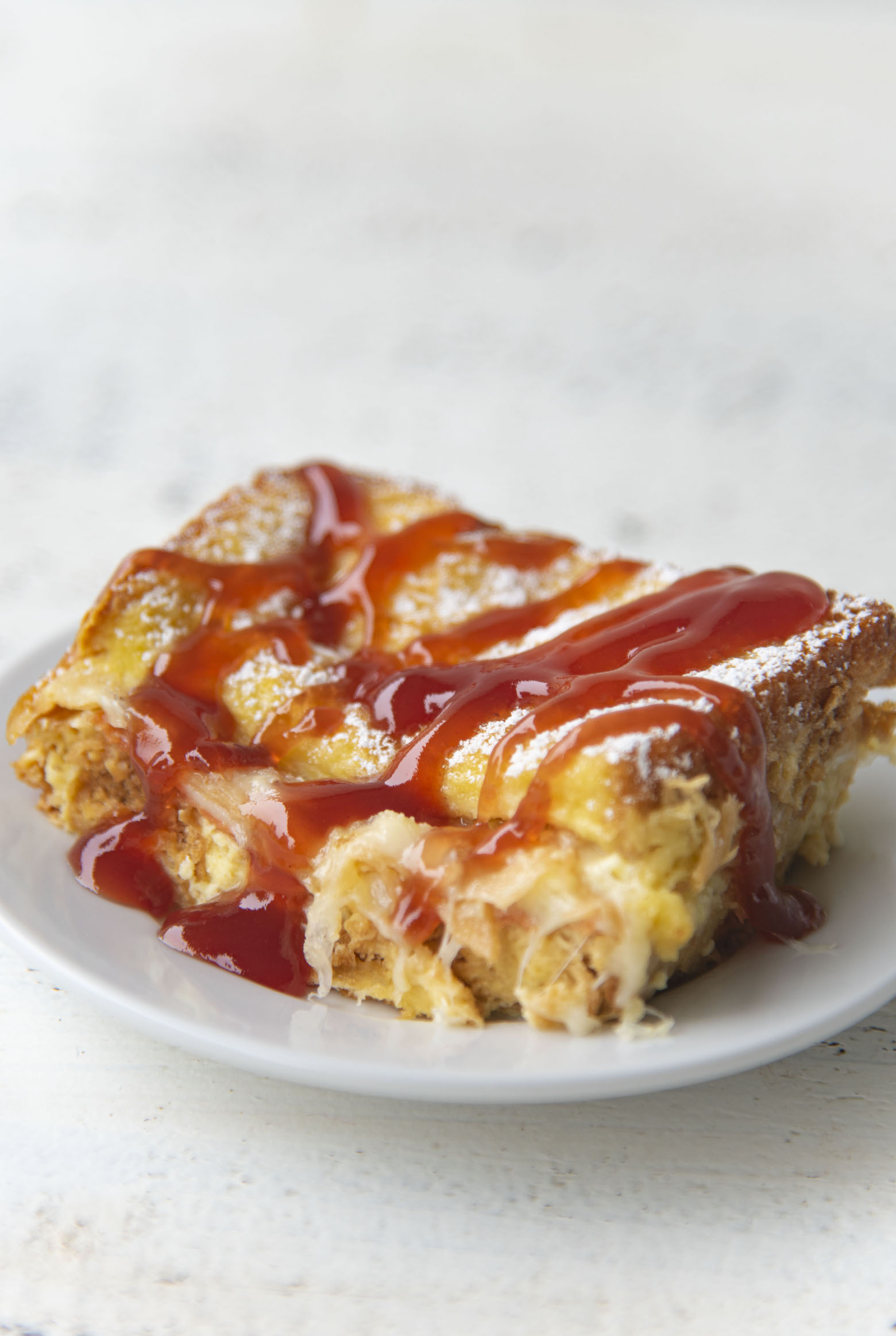 Don't forget to sprinkle it with powdered sugar.
It really does add something.
I used strawberry jam for mine but it's often served with raspberry jam.
It's really up to your preference or in my case, what was in the fridge. 😀
P.S. It's a great day to buy my cookbook Holy Sweet!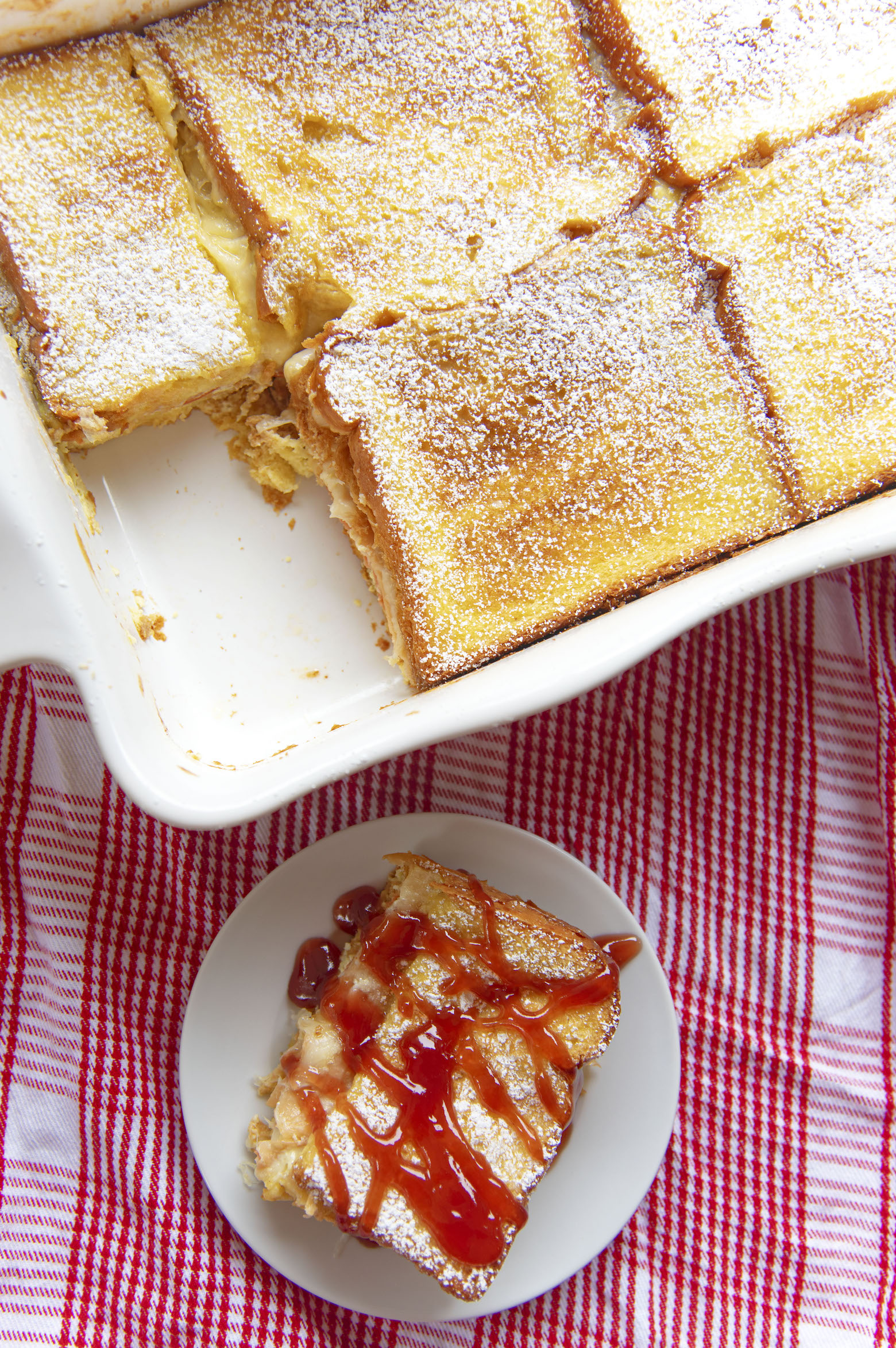 Easy Vegetarian Reuben Casserole
Grilled Cheese Tomato Soup Casserole
Vegetable Biscuit Pot Pie Cobbler
Easy Baked Spaghetti Casserole
Ingredients
10 slices of brioche bread, toasted
2 TBSP Dijon mustard
2 TBSP honey
2 TBSP salted butter
10 slices vegan ham (or regular ham)
10 sliced vegan turkey (or regular turkey)
20 slices of Swiss Cheese
6 large eggs
1-1/2 cups half and half
4 tsp granulated sugar
1/8 tsp freshly ground nutmeg
2 tsp vanilla extract
powder sugar
strawberry or raspberry jam
Instructions
Line a greased 13×9-in. baking dish with half of the toasted bread. I got 5 pieces of bread per layer. I had to cut one of the pieces in half to make it fit.
In a small saucepan melt together the mustard, honey, and butter.
Brush the toast pieces with the mustard mixture over bread.
Layer the vegan ham across the toast pieces.
Then do a layer of half the Swiss cheese over the vegan ham.
Layer the vegan turkey over the Swiss cheese.
Add the remaining Swiss cheese.
Top with the remaining toasted bread.
In a large bowl, whisk eggs, half and half , sugar, nutmeg, and vanilla; pour over top.
Preheat oven to 350F.
Bake, covered for 30 minutes.
Then remove foil and bake for 15-20 minutes.
Let casserole stand 10 minutes before cutting.
Sprinkle with powdered sugar.
Serve with strawberry or raspberry jam.